NBA Pre Season - Laker's defeat Clippers 87-81 in Pre-Season Opener
Los Angeles Lakers flexed their muscle without LBJ and AD against their home rivals LA Clippers in the opener of the pre-season games. Laker's won the game 87-81.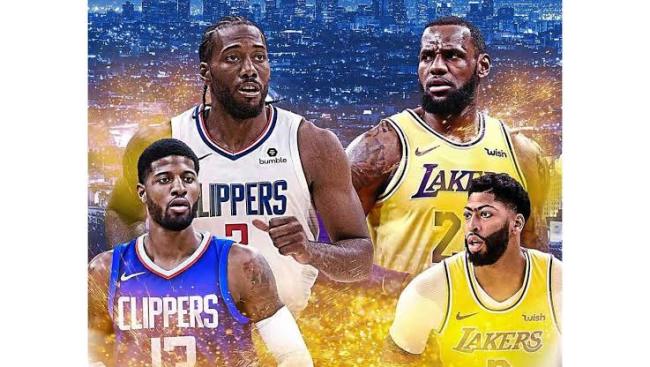 As anticipated, the LA Lakers 2 top players Lebron James and Anthony Davis were kept out of today's game however Tryon Lue in his first outing with the Clippers as a head coach goes full strength with Paul George, Patrick Beverly, and Kawahi Leonard along with new entrants Serge Ibaka and Nickolas Batum. 
The LA Lakers had other plans in mind as they take the court with Dennis Schroder, Wesley Matthews, Talen Horton-Tucker, Kyle Kuzma, and former Clipper Montrezl Harrell.
Both teams started off a little rusty probably due to the small break but soon get to be themselves. Lakers owned the first quarter with a lead of 3 points. By mid-second quarter, the Clippers get their first lead ending the half at 46- 43. 
The LA Clippers start the second half with a comparatively younger lineup to rest George and Leonard who played a little above 14 minutes. The Clippers held on to the lead till about 90 seconds before the end of the 3rd quarter. 
The LA Lakers see a drastic change on the scoreboard due to an outburst in shooting from Kuzma and Horton- Tucker. Mfiondu Kabengele, off the bench for the Clippers provided some respite displaying agility and skill thus, providing a good start to his season. The Lakers rally to win this one 87- 81 on their own strength.
For the LA Lakers, it was Talen Horton-Tucker who was spot on as he scored 19 points with a 6/17 FG. He was also perfect from the line as she shot 6/6 FT.
The Clippers had only, George, as he led the points table with 10 points with a sloppy performance from Leonard.
Lakers checked all boxes today asserting that they won't be complacent and are all set to defend their title. The Clippers will have to go back and re-assess their combinations after tonight. But keeping in mind that the pre-season is all about players getting back in the groove, it's fair not to judge anything too much now.