The 2017-18 La Liga Team of the Season
The 2017-18 La Liga season was a bit similar to previous editions of Spain's top-tier league. Similar in the sense that 20 teams competed for the title and FC Barcelona won it. With the season now done and dusted, it is time to recognize the best players for the whole duration in our La Liga Team of the Season.
While making our own La Liga Team of the Season, we first and foremost kept in mind the stark difference in competition among the teams. Take this into account; the Catalans won the league by a comfortable margin of 14 points, with Messi and co. posting 93 points on the table. The top 4, however, was pretty much set in stone. Fourth-placed Valencia were 12 points above fifth-placed Villarreal.
Thus, we had to consider what some of the less fancied sides like Getafe, Real Betis, Eibar, Girona etc. also accomplished. The dearth of quality competition also meant that we held the top-sides to a much higher standard than usual.
With the primary factor aside, we also considered the players' statistics and overall influence on their team. So, you should not be surprised by seeing an Atletico Madrid dominated defensive unit. And of course, Messi and Ronaldo are in the team. There's no stopping them at all now is there? Also, we only considered performances in La Liga. Champions League or Europa League results were not given any look from our end.
Choosing the team was tough, especially due to the stark difference in team quality. But after careful deliberation and thinking, here it is, SportCo's La Liga Team of the Year.
Formation: 4-3-3
Goalkeeper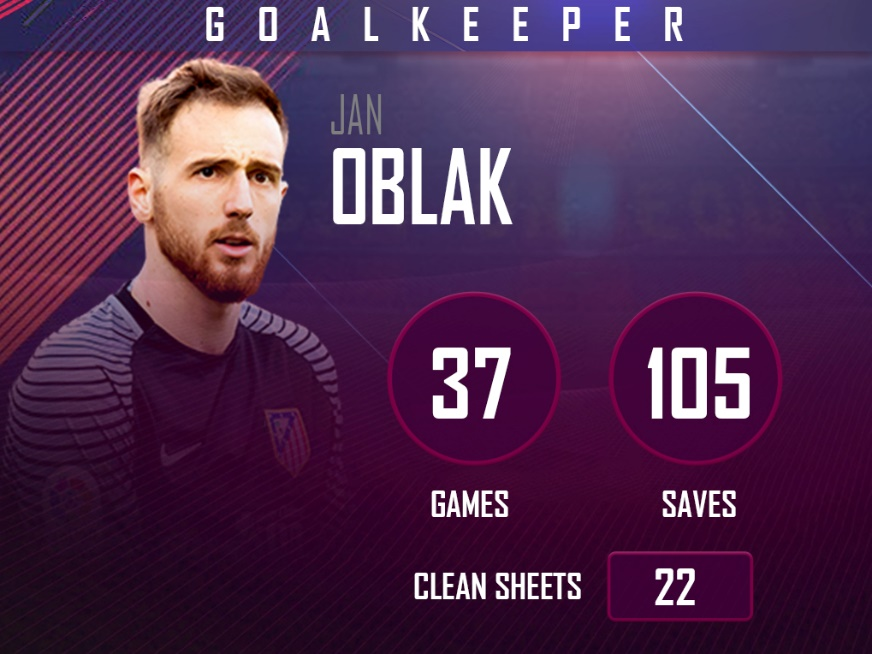 This was a two-way shootout between Marc-André ter Stegen and Jan Oblak. We went for the latter because of one main reason. The Slovenian had more clean sheets over the course of the season.
Both goalkeepers had excellent seasons between the sticks. The German ironed out the occasional errors he was known to commit and has emerged as one of the world's best. Oblak, meanwhile, wowed fans across the world with his unmatched athleticism and reactions. The Slovenian was very rightly in the conversation for best goalkeeper in the world along with David De Gea this season.
Oblak's 22 clean sheets in the season are the best in La Liga. Through his keeping exploits, the Slovenian captured his third successive Ricardo Zamora Trophy. Oblak also kept goal for the most miserly defence in the league this year. As mentioned before, ter Stegen and him were the options for this position. Oblak edges the German out on account of superior numbers.
Defenders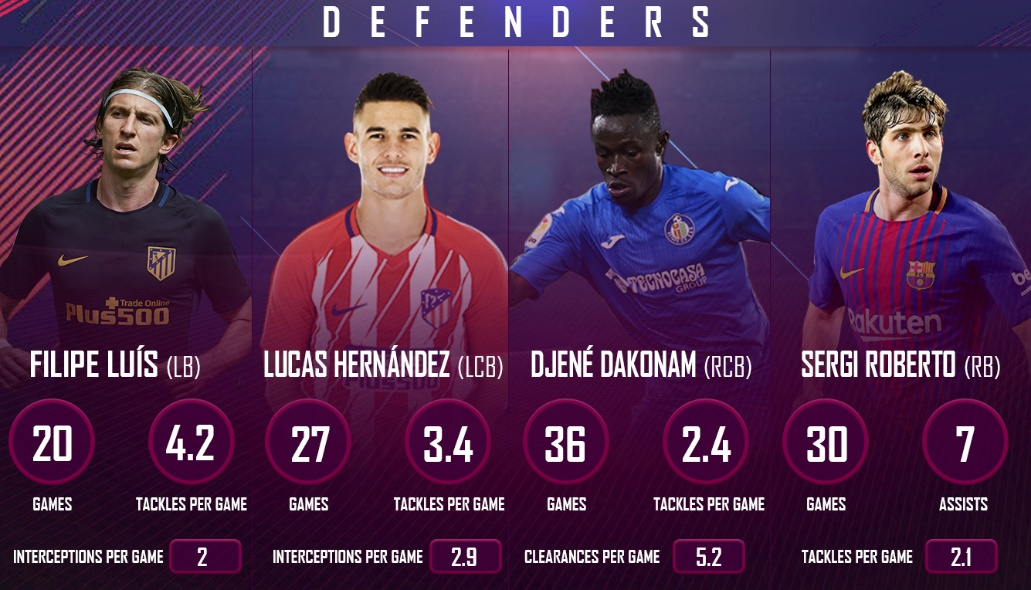 Two of the defenders in our back four are from Atletico Madrid. It makes sense because Los Rojiblancosonly conceded 22 goals in the season.
La Liga veteran Filipe Luis is the left-back for our La Liga Team of the Season. The Brazilian's name has become a byword for consistency in La Liga and this season was on a similar note. The former Chelsea defender only played 20 games this season. His performance in those 20 games, however, was so good that it was hard to consider someone else. Jordi Alba did come to our mind, but Luis' nearly error-free run was too much to not include here.
Joining Luis on the left-side of defense is Atletico's breakout defender this season, Lucas Hernández. The Frenchman showcased his versatility, suiting up as both a CB and a LB this season. We feel his best position is in central defence. Averaging over three tackles a game, and close to three clearances, Hernández has become a defensive stalwart for the Wanda Metropolitano outfit. His breakout performance this year gives him the nod over Diego Godin. The Frenchman also earned a call-up for France's squad at the World Cup this year.
For the other central defense spot, our first consideration was Samuel Umtiti. Make no mistake, Umtiti is a world-class defender in our books. But he plays for FC Barcelona, arguably the best club in the world. He already is in a squad full of world-class talents which makes his job a tad bit easier. Therefore, we looked at some lesser stacked teams for our CB, and no player fit the bill better than Djené Dakonam of Getafe. The Madrid based club actually conceded only 33 goals this season, the third-lowest of any club. Mighty Real Madrid conceded 11 more goals than their humble neighbours. The primary cause of that was Djené's no-nonsense defending, as his statistics showcase. Djené won't get a lot of love from casual fans, but his contributions should not go unnoticed.
Rounding up our defensive line is Sergi Roberto of FC Barcelona. The Spaniard took giant strides in his professional career this year, becoming a legitimate threat down the right flank. Seven assists for a guy who operates as a full-back is astonishing and he deserves plaudits for the same. In addition to his attacking output, Roberto has also improved defensively. The one thing he needs to work on is his composure and focus. That being said, he gave one of the finest crosses you'll see in El Clasico this year.
Midfielders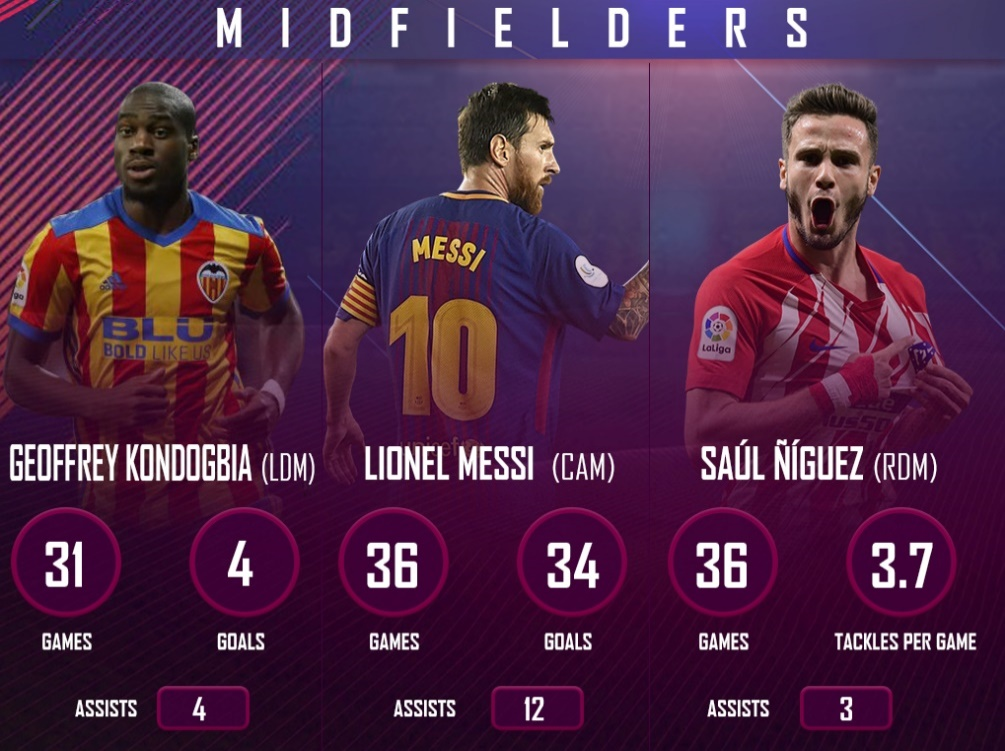 Geoffrey Kondogbia is a man who was written off after a poor spell at Internazionale. The 2017-18 season should, in all fairness, take away the 'flop' tag from the defensive midfielder. The Frenchman has been a key player for a Valencia side that will be contending in the Champions League season. Keep in mind that Valencia finished 12thin the 2016-17 season. Kondogbia's direct impact this year has resulted in massive improvement for Los Murcielagos. A midfielder who likes to start attacks with his long strides, Kondogbia has shown his quality this season for which he starts in our La Liga Team of the Season.
Partnering Kondogbia in defensive midfield is the next big thing of Spanish football, Saúl Ñíguez. At just the age of 23, Saúl has made over 100 appearances for Los Rojiblancoswhich points to his quality. The Spaniard has become a tough-tackling midfield enforcer who can also distribute the ball really well. In addition to his 3.7 tackles per game, Saúl also has a pass accuracy of 82.4% with an average of 48 passes attempted per game.
This is a bit of a cheat because Messi is generally considered a forward. But, as he has played as a withdrawn forward for the most part under Valverde, we decided to keep him as our attacking midfielder.
With 34 goals in La Liga, Messi was not only the League's top-scorer, but also across all of Europe. The Barcelona talisman won a record fifth European Golden Shoe this year. Interestingly, Messi was trailing Mo Salah in April but eight goals in the last six La Liga games turned the tables. That scoring run saw Messi score two hat-tricks, against Leganes and Deportivo.
The Argentine was not only the league leader in goals, but also assists. Messi's 12 assists were tied for top-most, with teammate Luis Suárez. An attacking midfielder who can score regularly and assist as well. One word for that; perfection.
Forwards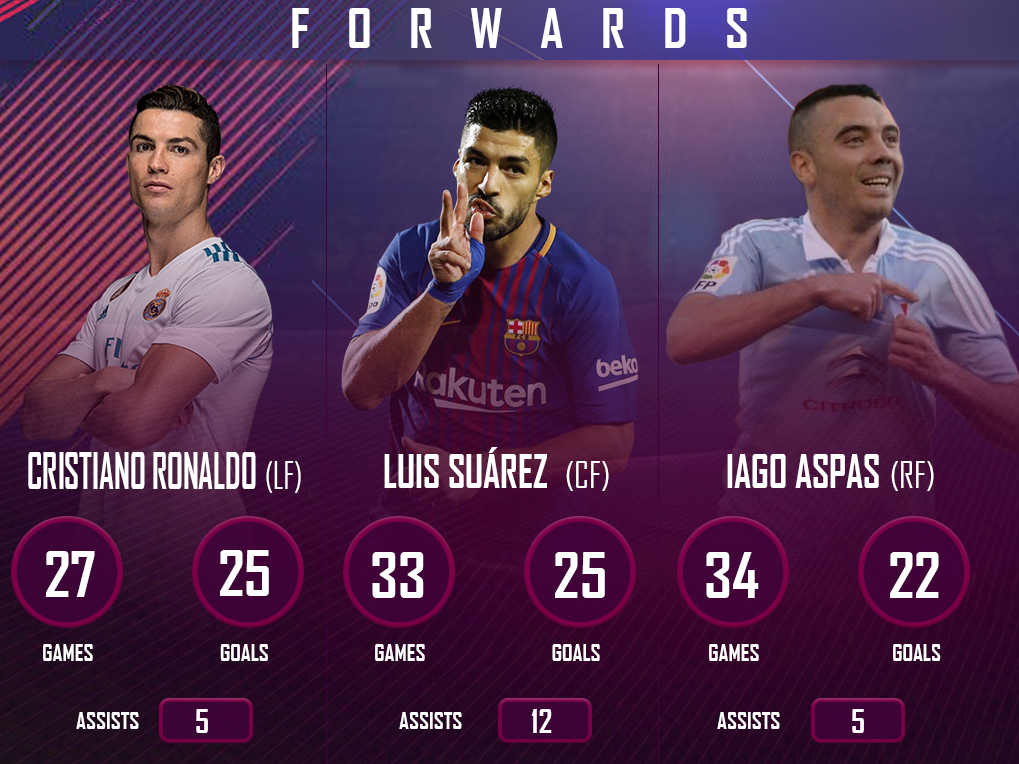 Defending La Liga Champions, Real Madrid had a very disappointing league campaign, by their lofty standards. That is why there is no Toni Kroos, Luka Modric or any other outfield Los Blancoin our La Liga Team of the Season. All players, apart from Cristiano Ronaldo, were underwhelming, to say the least.
Even Ronaldo did not have the most auspicious of starts to the league campaign. By the end of 2017, he had only scored four goals in La Liga. The new year, however, sparked a reversal in fortunes as the Portuguese superstar netted in 22 goals in La Liga in 2018. This included a fantastic, four-goal game against Girona which resulted in a 6-3 win for Los Merengues. Ronaldo's incredible goal-scoring exploits warrant him a place in our La Liga Team of the Season.
On the other side of attack, we have Iago Aspas holding fort. Once more famous as a Liverpool cast-off, Aspas' re-emergence on the big stage has been a pleasant surprise. Capable of playing as both a centre and right-sided forward, Aspas earned praise for his ice cool finishing this season. The Spaniard found the net 22 times for Celta Vigo this season, finishing fourth in the scoring charts. Aspas' performances were so impressive that he has earned a call-up to the national side for the World Cup. Talk about being considered a lost cause at one point of time!
Luis Suárez completes our attacking line, slotting in as the centre-forward. The Uruguayan seems to have slowed down a bit but is still as effective as ever. A great indicator of it is that from 56 overall shots on target, the former Liverpool man scored 25 times. That means he approximately scored from every second shot that he took in a game. Suárez has also adapted the team-play ideals of Barcelona and was an avid creator for the Blaugrana as well. With Messi, the Uruguayan has shared the title of top-assist provider this season with 12.