Will Lewis Hamilton eclipse Michael Schumacher's records and legacy?
Formula 1 is a sport, where one racer celebrates and other calculates that had he speeded up at a particular time, then he would have been on top of that podium. The result of the race is decided by a few miles or seconds. The slightest mistake can cost you a lot.
Every sport in the world, witnesses a period, where one person or a team dominates. Comparing the peaks of different teams/individuals, thus, becomes a natural tendency for a sports fan.
There have been multiple such eras in F1 history. One that stands out, especially to millenials, is Michael Schumacher's era. The German racer ruled the Grands Prix with Ferrari from 2000 till 2004. This was a time when Schumacher surpassed everybody in terms of records and created his own sports legacy.
The German racer owns the record of most World Drivers' Championship titles (7). Add to that list, the most Grand Prix wins (91), the highest number of fastest laps (77), and the most races won in a single season (13).
When Schumacher clinched his seventh World Drivers' Championship title, everybody thought that no F1 racer ever will surpass the records of the German driver. However, as we all know that records don't last forever as someone is always there to break them.
When Lewis Hamilton entered a Grand Prix grid for the first time in 2007, there was a lot of hype around his talent. Coming through the ranks via McLaren's young drivers support program, Hamilton also became the first (and till date, the only) black F1 driver.
Despite the hype, no one, in 2007, would have thought that he would soon be contesting one of the greatest legacies in sports history.
The British driver won his first World Championship title in 2008. After that, he fought to retain the title but could only manage to finish at the fourth and fifth position till 2013. Then he signed with Mercedes AMG Petronas and has never looked back since then.
After clinching his second World Championship title in 2014, Hamilton didn't give anybody a chance to beat him on the track. Leaving the 2016 Championship battle, where the British driver finished second only to then teammate and longtime rival, Nico Rosberg.
This, however, was the last time when Hamilton took things lightly. As of now, the British driver has won the second-most Championship titles (5) and has already surpassed Schumacher's record of most pole positions and the number of circuits won at.
The British F1 driver is leading the 2019 Championship battle with eight wins in 12 Grands Prix. Only nine more Grands Prix are to take place in the coming days. Valtteri Bottas and Max Verstappen are the other F1 drivers, who have won two races each in the ongoing Championship season. Leaving out any radical twist of fate, the 2019 World Drivers' Championship is destined to be Hamilton's.
As Hamilton is moving swiftly towards the records of Schumacher, let's take a look at five Schumacher records that Hamilton might break in the coming years:
5) World Drivers' Championships
When Schumacher won his seventh World Drivers' Championship, neither Hamilton nor Sebastian Vettel made their F1 debut. Today, Hamilton is on the verge of winning his sixth Championship title while Vettel has won four.
The British driver has already equalized the record of five Championship titles of Juan Manuel Fangio.
Hamilton's contract with Mercedes will last till the end of 2020. This means that if the British driver continues his winning streak than he will match Schumacher's record of seven World Championship titles.
Moreover, he is 34 currently and will race for at least four more years considering Schumacher also retired at the age of 38. So, according to the calculations and current trend, if Hamilton keeps on winning the Championships then he might end his career with 10 World Drivers' Championship.
4) Most Grand Prix Wins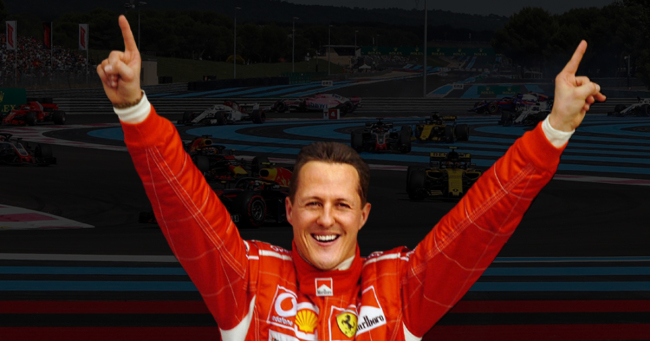 Michael Schumacher surpassed Alain Prost by winning his 52nd Grand Prix at the 2001 Belgian GP. In 2006, Schumi returned to the racing track just to increase his winning record. After winning the 2006 Chinese Grand Prix, Schumacher set the current record of 91 Grand Prix wins.
At that point of time this record was considered unassailable. One, however, cannot predict the future and that's what happened in this case.
Hamilton went on to win four titles in five years since 2014 and currently, he is just 10 wins behind the 91 Grand Prix wins mark. If the British driver carries forward his current form, then he will touch the 100 Grands Prix mark by the end of 2020.
3) At least one Grand Prix win in each consecutive season
Along with other records, this record of winning at least one Grand Prix in consecutive seasons is also in the name of Michael Schumacher. The German driver has won at least one Grand Prix in 15 out of his 18 seasons with Formula 1.
Lewis Hamilton, on the other hand, has won at least one Grand Prix in 13 seasons; including the ongoing Championship season. If the British driver decides to extend his contract after 2020, then most probably in 2021, he will equalize the Schumi's record. Hamilton might also break the same record if he decides to extend his Formula 1 journey after 2021.
2) Most wins at the same Grand Prix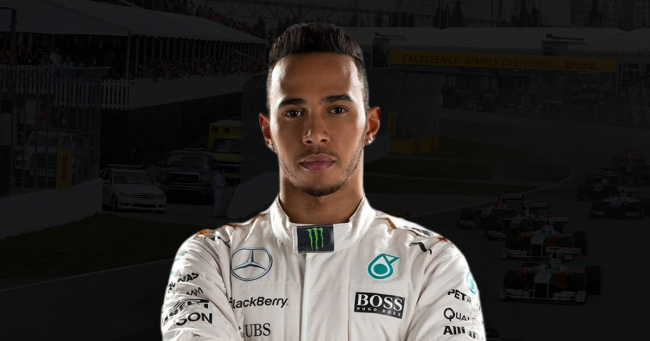 Even though Schumacher holds the record of most Grand Prix wins at a single circuit, it is Lewis Hamilton who has won more Grands Prix at multiple circuits.
As of now, the German driver has won eight French Grand Prix while the British driver has won seven Hungarian Grand Prix titles and Canadian Grand Prix titles. Also, if Hamilton manages to win at the Circuit of the Americas this year, then that will be his seventh win at the United States Grand Prix.
So, if Hamilton wins at one out of the two circuits next season, then he will equalize Schumacher's record of most wins at the same Grand Prix.
1) Most Grand Prix Podiums
Hamilton has sprayed champagne at 80% of races since the start of 2014. This is the most by any modern era driver. Also, the British driver has finished at the podium 144 times, which is just 11 less than Schumacher.
Nine Grands Prix are left in the current year. Hamilton has to wait for next season to break the German driver's podium record. Most probably, within the first five Grands Prix next season, the British driver will be celebrating this achievement.
My take
There is no doubt that Hamilton is one of the best Formula 1 drivers of the modern era. Also, with so many Schumacher records ready for the British driver to surpass, he has surely made his name in the history books of F1.
However, to say that after breaking records of the German driver, Hamilton will surpass his legacy would be a debatable comment. There is almost a decade difference between Schumacher's and Hamilton's era.
Different rules and regulations surely have made comparing F1 eras a tedious job. Statistically, Hamilton is close to eclipsing Schumacher but the advancement in technology (read DRS), more aerodynamic cars, changing rules surely have played in a role. 
One could also argue that luminaries like Ayrton Senna, Niki Lauda, Alain Prost and more drove in a much more competitive era as compared to Schumacher's and Hamilton's. Thus, one of them should be considered the GOAT.
In my opinion, comparing both their legacies is a futile task. For my generation, Schumacher will always be "the guy" but for the future, Hamilton will be "the one". The right thing to do is assess their impact in taking the sport forward during their respective peaks.