UEFA Super Cup: Liverpool vs Chelsea - Match Preview and Prediction
Champions League winners Liverpool will take on Europa League winners Chelsea in the 44th edition of the UEFA Super Cup. Will the Blues be successful in stopping the juggernaut that is Liverpool in European competitions?
The match will be the first all-English UEFA Super Cup, and the eighth overall Super Cup to feature two teams from the same country. It will be played at Vodafone Park in Istanbul. This will be the eleventh meeting between both clubs in UEFA competition. 
Chelsea is a team in transition under the newly appointed stewardship of club legend Frank Lampard. After their comprehensive defeat to Manchester United in the opening match of the season, the task seems improbable.
The Anfield based club has all their bases covered.They have gone from strength to strength after appointing Jürgen Klopp as their manager. They are well equipped in all the areas. They have world class forwards and a mean defence led by the reigning PFA Player of the Year, Virgil van Djik. 
Battles to look out for:
Virgil van Dijk vs Pedro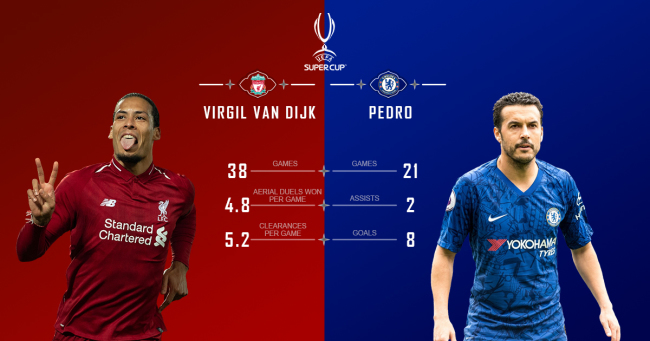 Van Dijk is a colossal presence at the back for Liverpool. Liverpool had the meanest defence in all the European leagues last season as they conceded 22 goals and scored 97 points which is the most points scored by a team without winning the title. 
The Dutchman was never dribbled past in the league as well as the Champions League, which is a huge achievement in itself. He made 5.2 clearances per game as well as winning 4.8 of aerial duels per game in the league. He also scored four goals and assisted two more for his teammates.
After the departure of Eden Hazard to Real Madrid, Pedro is the only forward of note who can be trusted to come up with regular goals and assists. He scored 8 goals and provided two assists in 21 games last season. This is a decent return for someone who is not an out and out striker. 
Pedro has the expertise and the experience of playing in such high profile encounters. Pedro, being the senior most forward has to take the responsibility of goal scoring. 
This will be no easy task against someone like Van Dijk, who, at 6ft 4 inches, is a towering presence at the back. Pedro and Chelsea have to play out of their skin to create some magic in this encounter.
Mohamed Salah vs Emerson Palmiery
This is a battle between a proven goalscorer and a promising Italian left-back. The way Emerson handles Salah in this encounter will suggest if he is a good enough upgrade on Marcos Alonso or not. Salah has already proved himself on the big stage by recording staggering numbers. 
This is the perfect opportunity for Emerson to prove himself on the European stage. If he succeeds in restricting Salah to a few touches, his reputation would increase significantly. 
'The Egyptian Messi' as he is fondly known, Salah has been a revelation for Liverpool ever since he signed. 
His goal scoring prowess has gone up a notch, having played 37 games for Liverpool last season and racked up 22 goals and 18 assists. The Egyptian is also the reigning EPL Golden Boot winner. 
Emerson displaced Alonso as the first choice left-back in the later stage of last season. He played just seven games but recorded 1.4 tackles per game which would come in handy if he is to stop Salah from wreaking havoc in the Chelsea penalty area. 
The Italian also made 0.8 clearances per game. He is very direct in his approach when he is on the offensive and possesses a wicked left foot.
Emerson has to curb his attacking instincts and has to help out his defence and communicate well with the centre-backs so as to not allow the Liverpool forward-line to get a sniff of the goal. Salah likes to drift inside and shoot and Emerson has to be wary of that. 
They have played together for AS Roma previously and should be aware of each other's strengths and weaknesses. This would be an enthralling battle to watch.
Prediction
Liverpool are well stacked in all the departments and did not make any significant purchase in the recent transfer market whereas Chelsea was banned from signing new players and has also lost pivotal figures such as Eden Hazard and Alvaro Morata. 
The London based club, though, has an array of youthful talent, who are waiting on the wings for an opportunity to showcase their vast potential.
The newly formed Chelsea defence would need some time to get comfortable with each other and this encounter against one of the most lethal forward lines comes at the wrong time. 
Chelsea is also bereft of creativity after the departure of their talisman, Hazard. They will be hoping that Pedro and other forwards show some grit and fight for the badge.
Liverpool has a chink in their armour as their outstanding Brazilian goalkeeper Alisson Becker has been ruled out of the clash with an injury. Adrian will deputize in his absence. 
This could prove crucial in this intense clash as Adrian is not used to the spotlight and such high-profile encounters. Chelsea can benefit from this and will try to upset the six-time Champions League winners.
Considering everything, we believe that Liverpool would have it easy in this tie. There is a considerable amount of difference in the quality of the squads. 
The form of both the teams also suggests the same. Liverpool's mean defence would be impregnable for the Chelsea attackers to breach and their newly formed defence has its task cut out as they face one of the deadliest troika of forwards.
Score Prediction- Liverpool 3-0 Chelsea