Liverpool 3-1 Man City: VAR, City's poor finishing and more talking points
The eve of Remembrance Day became a day to remember for both Liverpool and Manchester City, for different reasons.
Liverpool thumped the Cityzens, 3-1, at Anfield, to stay eight points clear ahead of Leicester City at the top of the Premier League. Man City, meanwhile have dropped to fourth, a point behind both Leicester City and Chelsea (26 points).
The Reds' only Premier League loss last season was to Manchester City – one that proved to be the ultimate difference maker in the title race. Having staved off their title rivals this time out; Liverpool are poised to win their maiden Premier League title.
Despite being an entertaining match, the game was marred by officiating and VAR controversies. The opening goal was arguably the starkest example of it. 
Trent Alexander-Arnold handled the ball in while defending City's forays into his box. Liverpool countered straight after it which led to a wonderful long-range goal by Fabinho. There was a VAR check done but the goal was not overturned.
Liverpool doubled its lead in the 13th minute via Mohamed Salah. The Egyptian forward headed in from a beautifully weighted Andrew Robertson cross to extend Liverpool's lead. Replays showed that Salah might have been offside but a VAR check deemed him to be onside.
Pep Guardiola's side did create chances but they lacked the composure to finish off moves. They paid for it in the second half as Sadio Mane added to his goal tally with a headed finish.
Jurgen Klopp's men did concede in the game as Bernardo Silva found the bottom right corner after receiving the ball from Angelino.
Liverpool were the better side last night and outmatched Man City in the midfield. They are yet to taste defeat in the current Premier League season and incredibly, are unbeaten at Anfield for the last 900 days.
Talking points
VAR – What is and what isn't?
Let me start again by saying that VAR, if implemented consistently, is an incredibly helpful tool in the game.
If its implementation is inconsistent, then it creates more confusion than a misjudged offside/penalty/handball call.
Alexander-Arnold's clearly handled the ball in the sixth minute which led to City calling for a penalty. The visitors' calls were not heeded and Liverpool went on to score the opener seconds later. 
Looking at the replays, you can see that Bernardo Silva handled the ball first before Alexander-Arnold's hand caught the ball. So, the calls for a penalty were unfounded but should Liverpool's goal have counted then, considering that there was a handball in the build-up?
The Premier League did give an official explanation but it sounded more like hogwash than anything.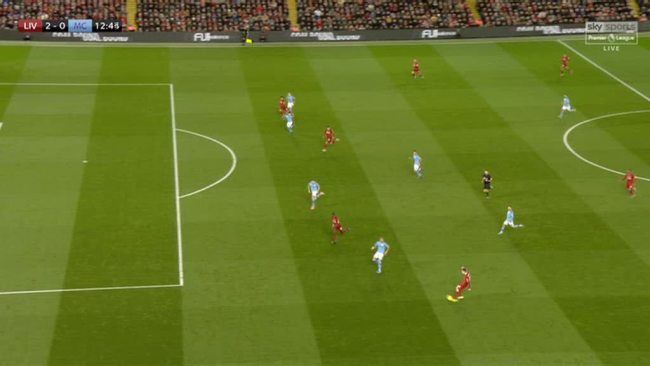 A close look at Salah's goal also showed that he was probably offside before heading in the ball. VAR checked it for a grand total of four seconds and deemed him onside, despite there being some questions. On Saturday, Sheffield United's goal against Tottenham after VAR spent close to three and a half minutes to determine that John Lundstram was offside as his big toe was ahead of the last defender.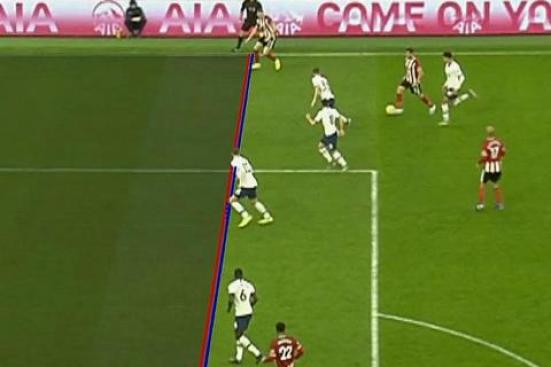 The only question that brings up is that why was Salah's position not scrutinized as much as Lundstram's was on Saturday? On one day, VAR takes a considerable amount of time to clear any close calls. The next day, it ceases to be as scrutinizing in similar passages of play. This inconsistency in implementation definitely needs to be ironed out.
Klopp's midfield outclasses Guardiola's men
Its not every day that you see Guardiola's midfielders be second best on the field.
The decision to not play David Silva, however, backfired on the former Bayern Munich manager as Georginio Wijnaldum, Fabinho and Henderson bullied City's midfield.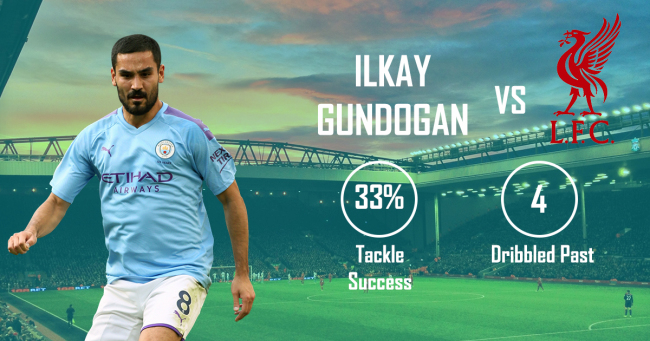 Ilkay Gundogan, who slotted in in place of David Silva, put in an uninspired shift. His poor decision-making and underwhelming defensive work - two successful tackles from six attempts and dribbled past four times - allowed Klopp's midfield to successfully provide passes to the heralded trio of Salah, Mane and Roberto Firmino.
Kevin de Bruyne operating as a second striker also left City outnumbered in the middle of the park. It was evident that City needed David Silva's experience and composure in the midfield as they were unable to rotate possession and link up with their front trio.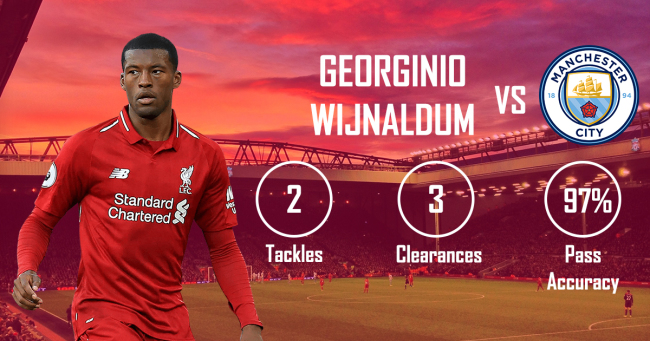 Wijnaldum's performance deserves special mention. The Dutchman isn't the most talked about Liverpool player but is proving to be the most consistent man for the Reds. Wijnaldum utilized his strength and size to keep Rodri at bay and his composed passing prevented any errors that could have led to goals. A top-drawer performance from the former Newcastle man.
The Cityzens left to rue their lack of clinical finishing
Manchester City had 18 shots in the game – five more than Liverpool.
Of those 18 shots, only three were on target with one leading to a goal.
Guardiola's men, uncharacteristically, were missing their shooting boots last night.
Compare that to Liverpool, who had five shots on target. Their first two shots on goal had a hundred percent conversion rate.
It doesn't take a genius to figure out that had Sergio Aguero and Raheem Sterling (both took a combined seven shots) been more clinical, the result could have gone Manchester City's way.
Cover image credits: The Independent