Liverpool vs Chelsea: Premier League Preview and Prediction
Liverpool taking on Chelsea has always been a spicy fixture but with the former's unbeaten home record as well as trophy presentation, and the latter's Champions League ambitions at stake, the game tomorrow at Anfield will hold greater weight.
Frank Lampard's Chelsea clearly have more at stake in this game. Three points could help the Blues confirm a top-four spot with a game to spare. Coming off a 3-1 win over Manchester United in the FA Cup semi-final is likely to give the Blues a confidence boost.
Liverpool will be looking to maintain an unbeaten record at Anfield and also to regain some pride. The Reds had been on the front foot for most of the season and deservedly won the 2019-2020 Premier League. Their form since the restart, however, has been indifferent. They were pummeled by Manchester City at the Etihad Stadium and last week, shockingly succumbed to Arsenal.
The Reds will also lift the Premier League trophy at the Kop after the game and Liverpool fans will be hoping that a loss doesn't sour the much-awaited moment.
Current form
The hosts have won two, lost two and drawn one in their last five Premier League games. The losses, worryingly, were to two of the traditional Big Six of the Premier League – Manchester City and Arsenal. The draw came against Burnley at Turf Moor.
Chelsea have won three and lost two in their previous five Premier League outings. Across all competitions, the Blues have won four and lost one in their last five games.
Before beating Manchester United in the FA Cup, Lampard's side ground out a 1-0 win over relegated Norwich City thanks to a first-half stoppage time strike from Olivier Giroud. Chelsea had been beaten by Sheffield United, 3-0, in the Premier League game before the win over Norwich.
Head to Head
In what will be the fourth meeting between the sides in the 2019-2020 season, Chelsea will be looking to post a second win over Liverpool.
The Reds kicked off their season with a penalty shootout win over Chelsea in the UEFA Super Cup. Backup goalkeeper Adrian was the hero for the Reds, saving Tammy Abraham's penalty in the shootout to win the trophy.
The Reds followed that up with a hard-fought win at Stamford Bridge in the Premier League in September. Goals from Trent Alexander-Arnold and Roberto Firmino helped Jurgen Klopp to get the three points.
The Blues got their revenge in March 2020 when they knocked out Liverpool in the fifth round of the FA Cup. Willian and Ross Barkley found the net for Lampard's side and ended Liverpool's hopes of a treble.
Team News
Jordan Henderson and Joel Matip are sidelined for the Reds and are unlikely to take part in the remainder of the season. James Milner and Dejan Lovren's status is doubtful.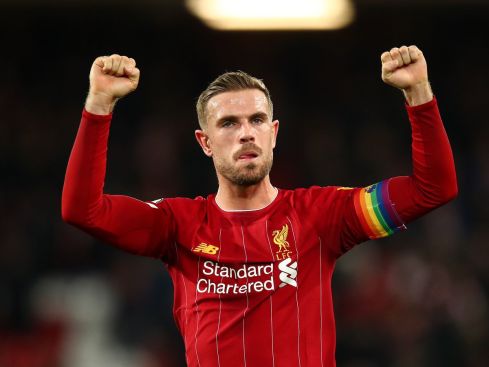 Billy Gilmour and Fikayo Tomori are long-term absentees for Chelsea. 
N'Golo Kante was not fit to be in the lineup for the FA Cup semi-final and is unlikely to make the cut for this game.
Key Battles
Roberto Firmino vs Kurt Zouma
As much as Liverpool fans want to elaborate about Firmino's importance in Klopp's system, the truth is that the Brazilian has had an underwhelming season.
The former Hoffenheim is yet to find the net at Anfield in the Premier League this season. He has also not scored or assisted in the league since February. 
The Brazilian, quite frankly, is having a torrid time in front of goal, especially since football restarted.
Lampard will be looking at Kurt Zouma to make life miserable for Firmino. The French center-back is far from perfect but has shown great improvement as the season has progressed.
Zouma's physicality is his biggest advantage and is a hard opponent when engaging in aerial duels. Firmino is likely going to try to draw him out of the zone to open more space for Sadio Mane and Mohamed Salah up front. It will be interesting to see what Lampard does to prevent such a situation.
Sadio Mane vs Cesar Azpilicueta
Salah might have scored more but Mane has again been Liverpool's most important player up front.
The Senegalese's decision making is his greatest asset and it is well reflected in his goal and assist totals. He has scored twice in the last four and has scored five times against Chelsea in 11 games in his career. He also has provided two assists against the Blues.
Mane's direct approach and attacking awareness will make him a tough foe for Cesar Azpilicueta.
Chelsea's defense has teething issues and Azpilicueta has also underperformed in a few matches. Still, the Spaniard is one of the best at nullifying opponents and you can expect him to stick to Mane like flies to honey.
Virgil van Dijk vs Olivier Giroud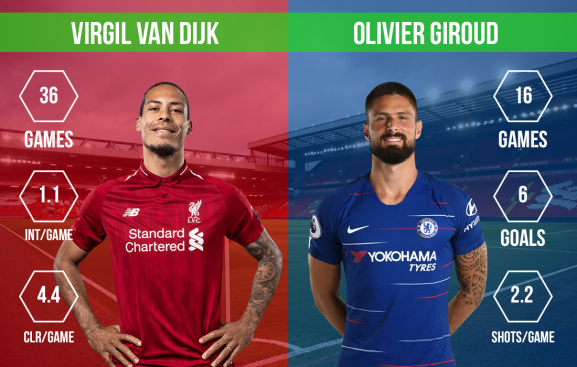 Liverpool's loss to Arsenal saw two rare occurrences – Arsenal winning against a top six side and Virgil van Dijk committing an error that led directly to a goal.
The Dutchman's misplaced pass under pressure saw Alexandre Lacazette capitalize and equalize for the Gunners.
It was highly uncharacteristic of the former Southampton defender and the error being a one-off is highly probable.
Liverpool and van Dijk, however, should not underestimate what Giroud brings to the table.
The Frenchman specializes in hold-up play which helps create space for the wingers. With both Christian Pulisic and Willian in fine form, the onus will be on Giroud to do what he does best.
The former Arsenal striker has also scored five times since football restarted, including two in Chelsea's last two games. He still remains a big threat from crosses and will not make things easy for Liverpool.
Prediction
A win would guarantee a top-four finish for Chelsea. That should provide the required motivation to Chelsea and Lampard to give it all in this game. 
Still, fatigue from the FA Cup semis could play a role and against Liverpool, that can be fatal.
Fans have pointed out that Liverpool have been complacent since the restart. A commanding win over Chelsea would put that to rest. 
With the trophy presentation scheduled after the game, what better way to kick things off than with a win over your rivals.
Predicted scoreline: Liverpool 1-1 Chelsea