Liverpool vs Manchester United: Match Preview and Prediction
The day is finally here as two of the most successful English clubs in history take over each other, tonight. Is it going to be a red-letter day or will Manchester United and Liverpool bore everybody with their defensive approaches?
Anything is possible, to be honest as the two bitter rivals might take a different approach to stay unbeaten against each other this season. The last time these two sides faced each other was back in October when the Red Devils managed to clinch a point.
As of now, Liverpool are the league leaders and it doesn't look like anybody is going to stop them from winning their first Premier League trophy. As they sit 13 points clear of second-placed Manchester City with a game in hand.
United, on the other hand, are on the fifth position with five points off the Champions League spot. Also, the Red Devils have gathered their lowest point-tally at this stage of the season since 1989-90.
The Jurgen Klopp's side have already constructed a lot of records and they might create a few more before this season comes to an end. The Reds have created the third-longest unbeaten streak in the league (38 games). Also, they have managed to win more points at this stage of the season than any club in the top-five European league's history.
United, however, will enter Anfield with a target of ending their arch-rivals unbeaten streak as they have done it two times in the past to the other Premier League sides. The Red Devils ended Arsenal's 49-game unbeaten streak in 2004 and Chelsea's 40-game in 2005. The Old Trafford outfit, however, were a dominant force back then and things have gone upside down since then at the English club.
Injury Update
Liverpool will be without Naby Keita, Nathaniel Clyne, and James Milner when they face United tomorrow.
As for the Red Devils, Scott McTominay, Paul Pogba, Marcus Rashford, Marcos Rojo, Axel Tuanzebe, and Luke Shaw have been sidelined due to injury issues.
Key Battles:
Sadio Mane vs Aaron Wan-Bissaka
I'm eagerly waiting for this battle as the two players have performed quite well at their respective positions. It won't be easy, however, for Aaron Wan-Bissaka to stop the African Player of the Year, Sadio Mane.
The two players didn't face each other last time when these two clubs met in the league as Mane was playing on the right-wing due to the absence of Mohamed Salah.
The Senegalese has scored 11 goals and provided six assists in his 20 Premier League appearances this season. The Englishman, on the other hand, is averaging 4.1 tackles per game along with two clearances in his 19 league appearances.
The Liverpool winger will try to find an early break-through, which will increase the pressure on the visitors while Wan-Bissaka will focus on keeping Mane off the ball and decrease his involvement in the game.
Virgil Van Dijk vs Anthony Martial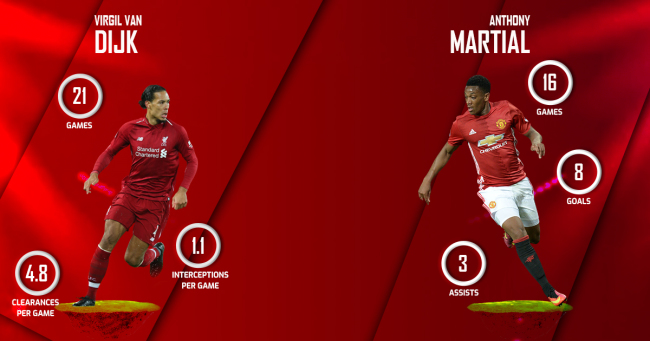 Anthony Martial and the Reds have come quite far since the Frenchman scored his debut goal against Liverpool and won the game 3-1 with United in 2015. The same Liverpool side are now Champions League winner and are on their way to the Premier League title.
The Reds do have one of the best defensive line-ups in the top five European leagues with Virgil Van Dijk leading it. The Dutchman is the wall for Liverpool who doesn't let anything go past him easily.
Martial has scored eight goals and provided three assists in his 16 league appearances while Van Dijk has made 1.1 interceptions per game and 4.8 clearances in his 21 EPL appearances for Liverpool this season.
The Anfield outfit have kept a clean sheet in their last six league games and that does tell why it is hard to breach their defensive line. Also, Marcus Rashford is sidelined due to back injury, which means the Frenchman is the only goal scoring hope of United.
Prediction
Liverpool have not lost a home game in the last 1000 days. Their last defeat at Anfield came back in April 2017 against Crystal Palace. United, however, is the only team that has managed to pick a point against the Reds this season.
Also, the Red Devils have lost just one out of their last 10 games against the Anfield outfit. However, looking at the inconsistent run of Ole Gunnar Solskjaer's side, it doesn't seem right to predict them as the winner of this crucial fixture.
So, I believe that the hosts will get past David de Gea on three occasions while United will get only one goal back in the absence of their highest goal scorer this season, Rashford.
Predicted score: Liverpool 3 – 1 Manchester United