Manchester City vs Chelsea: Match Preview and Prediction
Does the news of 'International break is over' makes you happy? Well, it surely puts a smile on my face as I can watch some exciting and competitive football after quite a break.
As all the players return to their club duties. The foremost fixture of the Premier League is also set to take place tomorrow, where Manchester City will host Chelsea at Etihad Stadium.
This is going to be a pivotal fixture for the two sides as only one point separates them. The reigning champions are on the fifth position with 25 points from 12 fixtures, while Chelsea are on the third position with 26 points from 12 games.
This season has been unexpected for the two sides. After winning back to back Premier League titles, everybody had lots of hopes from the Citizens. While from the Blues no one had a lot of hopes as their talisman, Eden Hazard left for Real Madrid and the club was banned from participating in the transfer window.
Chelsea are entering this fixture with six consecutive wins in the Premier League while Manchester City have won 23 out of their 26 league matches. The latest defeat of the Citizens came right before the international break, where they were defeated by league leaders, Liverpool 3-1.
A win in this fixture for either of the sides will keep them in the race for Premier League title, however, with Liverpool sitting comfortably at 34 points. It is looking next to impossible to stop the Reds from winning their first Premier League title in history.
Injury update
Manchester City injury issues continue as once again they will be without Leroy Sane, Aymeric Laporte, Oleksandr Zinchenko and Ederson. Their problem just increased a bit more as Bernardo Silva will be absent due to a ban this weekend after admitting a breach of FA rules.
As for Chelsea, Ruben Loftus-Cheek, Antonio Rüdiger, Ross Barkley, and Christian Pulisic are going to be sidelined due to injury.
Key Battles:
Sergio Aguero vs Fikayo Tomori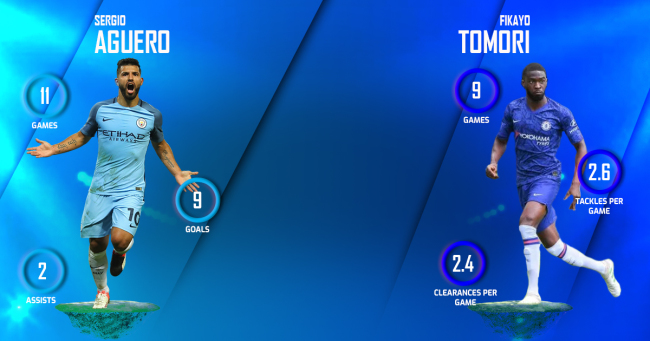 Sergio Aguero failed to score sitters in the last game against Liverpool. On any other day, the Argentine would score them easily along with some stunner. Aguero, however, wasn't at his best, but that performance will surely wake him up and he is going to come strongly against Chelsea.
Fikayo Tomori impressed everybody with his performances in the ongoing season, however, stopping Aguero at Etihad is going to be a tough task. The Chelsea defender is going to be under pressure, but if he succeeds in keeping the Argentine silent, then he will receive praise from everyone.
The City forward is the leading goal scorer from his side with nine goals and has also provided two assists in his 11 appearances this season. Tomori, on the other hand, is averaging 2.6 tackles per game and 2.4 clearances per game.
Fernandinho vs Tammy Abraham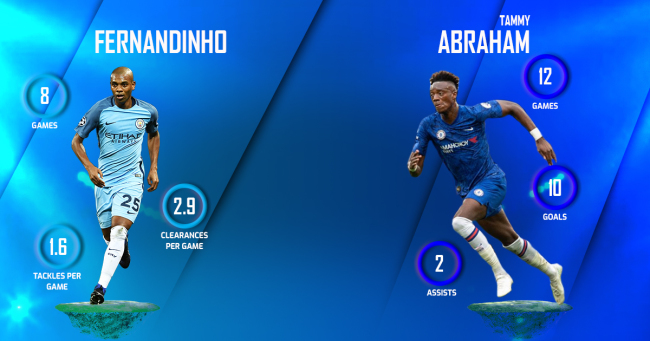 Once again Fernandinho has to take care of the center-back position. The Brazilian is averaging 1.6 tackles per game and 2.9 clearances per game in his eight appearances so far. The City midfielder has helped his side in crucial situations and once again he will be tested.
Tammy Abraham, on the other hand, came out as a surprise package this season. The Englishman has stood up to the responsibility and won the hearts of everyone, especially of Frank Lampard. Abraham is currently the second-highest goalscorer in the ongoing Premier League season.
The Chelsea forward has scored 10 goals and provided two assists in his 12 appearances. The performance of Abraham also boosted the confidence of the whole squad and after the 4-0 defeat to Manchester United. They did bounce back quite strongly.
Fernandinho might face issues here as Abraham is quick and his ball control is great. This puts the forward in a better position than the City midfielder, however, the player who will keep his calm and composure will win this battle.
Prediction
Manchester City have been a better side in past few games against Chelsea. The Citizens have managed to win five out of their last six fixtures against the Blues in all competitions.
The home side have a better squad and more experienced players than the visitors, however, the current form of the Blues does make them a lethal opposition.
With Man City desperate for a win and coming to this fixture after losing against Liverpool despite being a better side makes them a tough competitor. So, after considering all the points, I believe that City will thrash Chelsea tomorrow.
I'm expecting the Citizens to score at least three goals and concede one goal as their defense hasn't been at their best.
Predicted score: Manchester City 3 – 1 Chelsea