Manchester United vs Arsenal: Match Preview and Prediction
Once the biggest fixture in English football, Manchester United taking on Arsenal is now a battle for fourth place. Their Premier League duopoly of the 2000s has been supplanted in the battle for supremacy between Manchester City and Liverpool.
The Red Devils are hosting the Gunners tonight at Old Trafford as Ole Gunnar Solskjaer looks to inject life into an abject campaign so far. Manchester United sit 11th in the Premier League, having won two, lost two and drawn two. The 13-time Premier League winners, quite fantastically, are just three points above the drop zone.
For Unai Emery and Arsenal, the time seems to be ripe to finally get a win at Old Trafford. The Gunners are winless at the "Theatre of Dreams" since 2006 but looking at the hosts' injury problems, a win could be on the cards for Arsenal.
Contrasting fortunes in Matchweek 6
Manchester United slumped to a 0-2 loss to West Ham at London Stadium last week. The loss was further compounded by an injury to Marcus Rashford, leaving Mason Greenwood as the only natural forward in the squad.
Arsenal, meanwhile, registered a dramatic victory over Aston Villa. The Gunners overturned a 2-1 deficit while playing with 10 men on the pitch. Club record signing Nicolas Pepe scored his first goal for the club and Pierre-Emerick Aubameyang continued his blistering form, scoring the winner from a direct free-kick.
The Gunners had a solid outing in the Carabao Cup, downing Nottingham Forest 5-0. The match saw the much-awaited return of Hector Bellerin and Rob Holding with the latter scoring Arsenal's fifth goal. Kieran Tierney, signed from Celtic this summer, also made his debut in the win.
Solskjaer's men, on the other hand, were embarrassingly held to a 1-1 scoreline by League One side, Rochdale. The Red Devils could only progress by beating the minnows in a penalty shootout.
Last time out
Arsenal were 2-0 winners at the Emirates when the sides met last (March 2019). Goals from Granit Xhaka and Aubameyang gave Unai Emery the win over the Red Devils.
In the earlier fixture last season at Old Trafford, the two sides played out to a 2-2 draw. Anthony Martial and Jesse Lingard scored for the hosts whereas a goal from Shkodran Mustafi and an own goal from Marcos Rojo helped the Gunners' cause.
Injury updates
Manchester United's decision to sell both Romelu Lukaku and Alexis Sanchez has resulted in a paper-thin squad. This is not more evident than the fact that Solskjaer's primary attacking options – Rashford and Martial – are both injured.
Paul Pogba, who played in the game against Rochdale, is not expected to take part in this crucial clash.
Arsenal has received a boost with the return of Bellerin, Holding and Tierney. Alexandre Lacazette (ankle) is the only major absence but the Frenchman is expected to return in October.
Key Battles
Harry Maguire vs Pierre-Emerick Aubameyang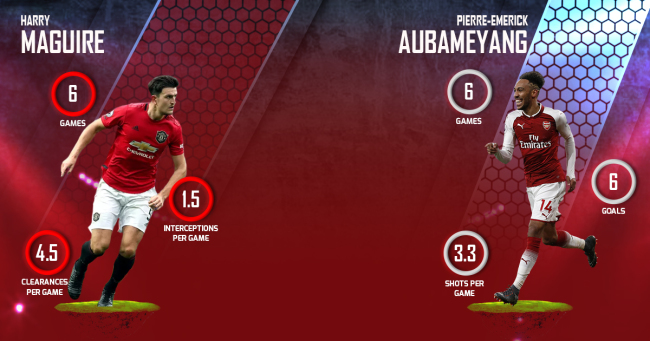 English defender, Harry Maguire, has had a lukewarm start to his career at Old Trafford. The former Leicester City man is imperious in the air but his lack of pace has been exposed on multiple occasions. He is also not helped by an underperforming bunch of teammates.
His issues with pacy players might be brutally exposed as he'll be up against the deadly Aubameyang. The Gabonese is in red hot form, scoring six goals in as many Premier League games this season. Aubameyang can leave Maguire in his rear-view mirror with his searing pace and the forward's finishing needs no introduction.
Maguire will require great coordination from his defensive line to keep Aubameyang in check. A well-worked offside trap should neuter the Arsenal forward's threat but that is easier said than done.
Daniel James vs Sokratis
Welshman Daniel James has been a shining light for Manchester United in what has been an underwhelming Premier League campaign so far.
The former Swansea man has impressed with his pace and direct play which has seen him score three goals. In Rashford and Martial's absence, James and Jesse Lingard (who has four goals against Arsenal) will be the primary facilitators in offense for the Red Devils.
Sokratis' aggression could be his undoing when pitted against James. The Greek defender is a solid defender but James' pace might lead to Sokratis committing dangerous tackles. Arsenal are no strangers to rash tackles inside the box (look away Granit Xhaka!) and James would be looking to lure Sokratis into something similar tonight.
Scott McTominay vs Matteo Guendouzi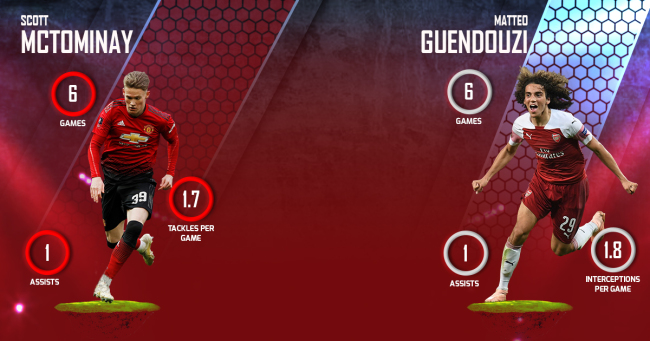 Two hard-running, all-action midfielders pitted against each other.
Scott McTominay is like a pitbull in action, cutting down spaces and running throughout the 90 minutes.
Guendouzi, just 20, is giving world-class performances in the heart of Arsenal's midfield, helping his team on either end of the field. The Frenchman was a big factor in Arsenal's comeback against Tottenham as well as Aston Villa.
Between the two, Guendouzi excels in charging with the ball to open up spaces for his attacking unit. McTominay will have to tightly mark the Frenchman so as to slow down Arsenal's midfield which can create chances for their fleet-footed forwards.
Prediction
Looking at current form, Arsenal edge out Manchester United. The Gunners showed a lot of heart and determination in the comeback win over Aston Villa last night. Overall, there are more positives around the North London side than at Manchester United currently.
That being said, Arsenal still look like a fragile side away from home. They let a two-goal lead slip away at Watford and their record at Old Trafford is not encouraging. The lesser said about Unai Emery's defensive unit, the better.
Considering all of this, I expect both teams to share points today with a goal being scored by both. Yes, Manchester United's offense is weak but this Arsenal defence is notorious for letting any random player find the net.
Predicted Score: Manchester United 1-1 Arsenal.