Marcus Rashford: A fine United leader in the making
It is not often that you get to spearhead one of the most reckoning forces of the football roster across the entire globe. Though undergoing tough times, Manchester United are still touted as one of the best forces in Europe that has dominated England for more than half a century now. 
However, like the legendary English poet, playwriter, and actor, Shakespeare once said, "Uneasy lies the head that wears the crown", it is nothing different for the twenty-two-year-old Manchester-born striker, Marcus Rashford. A kid still clawing his way out to the metal surface of the grueling football world out there has been shouldered with the titanic task of leading Manchester United in hot pursuit of its former glorious past. 
Rashford has been absolutely phenomenal for United up front and has been one of the consistent performers for the Devils since the departure of Sir Alex Ferguson. There has only been a handful that has stayed loyal to the crest and has tried belting out the epic brand of football that United was known for over the years. David De Gea and Anthony Martial are the other two who has kept United's hopes of revival high.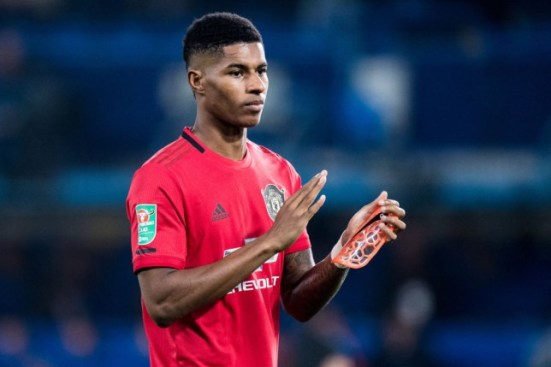 The Englishman used to idolize Brazilian striker, Ronaldo Nazario De Lima as a kid. The first game which he witnessed was the defeat of United at the hands of Real Madrid where Ronaldo left United in splits after firing home a stellar hattrick. Marcus used to idolize him because of his free playing nature. He also wanted to fly free of chains. 
Destiny, however, had something different in store for this strapping lad. He was chosen to come out for United in one of its darkest phases, where Rooney started showing signs of withering and United were still to find a perfect replacement for Robin Van Persie. 
This kid always knew how to make an entrance and on his very debut, his brace blew away Midtjylland and three days later, his debut in the Premier League came in an even more flamboyant fashion, when his brace destroyed Arsenal. 
His brace rattled a fifty-year-old record of George Best which made the United star the youngest player to score for United. Rashford's record was upheld for almost four and a half years unless Mason Greenwood overtook him by scoring against Astana in the UEFA Europa League 2019. 
In his very first season at Old Trafford, Rashford went on to win the Jimmy Murphy Young Player of the Year. The ensuing season wasn't a promising one for Marcus as United roped in Zlatan Ibrahimovich. However, the Swede couldn't make much of an impact in the striking force as he was mainly sidelined with injury for most of the time. However, Rashford couldn't make inroads for himself as Ibrahimovich and Martial ruled the roost for the lion's share of the season. 
As the dust settled, with the departure of Rooney, Zlatan, Di Maria and Mourinho, all that United was reduced to had nothing to offer. Scraps as one would call it were left over to Ole Gunnar Solskjaer and he was expected to excel. 
The baby-faced assassin resorted to his best option in his repertoire. It was none other than Rashford. Being very candid, the Englishman is still not up to that legendary mark of donning the United jersey and blazing his opponents day in day out. This kid, however, is surely about a lot of promise. 
His blistering runs in the opposition half have left the world's best defender at the moment, punchdrunk. Virgil Van Djik was apparently tossed and tormented by the blistering pace of Rashford. Three days later, the forward drilled home an incredulous banger from 35 yards away to give United a victory over Chelsea in the latter's own den. 
Leading United at 22 is too much of an ask of this kid. However, this kid has never really given up, succumbing to the gigantic pressure on his small shoulders. This kid has fell over a thousand times has been lambasted day in day out  and censured for his misses by players who aren't even a regular in a championship side. Vilified for several United defeats but has come out to Manchester's deliverance for countless occasions. 
With PSG almost through to the quarters, United notched up a penalty in the dying embers of the game. Whoever will choose to step up, will probably toss his career on the line. One of the world's best custodians will be standing up against you. 
Do you have the guts to take all of it and yet hammer home the glory that comes with that incredulous moment of madness? Despite, Lukaku being in the squad, Rashford stepped up. He started running and kaboom! United were through to the quarters, thanks to the away goal rule. 
This kid is all about pressure. He is all about hard times. He is about the ethos of United who are known as the comeback Kings. Probably an introduction of a seasoned striker who has a lot of experience up his sleeve will reprieve this Englishman of some of his duties will give this talent a lot more time to develop himself as a complete forward. 
If someone, however, is dreaming to become another Ronaldo for United that is this lad, Rashford. Hailed as Jadon Sancho's inspiration and Trent Alexandre-Arnold's toughest competition yet. The Englishman has a long way to go.
Cover image credits: Sky Sports