Marcus Rashford Player Profile: Early years | Stats | Playing Style | MBE
Marcus Rashford, despite being just 23 years old has been an example for several people on and off the field. A Manchester-born and bred, Rashford is known for his work ethic and his charity work during the pandemic made him a very impactful public figure apart from being a talented football player at Manchester United.
How it Began for Marcus Rashford:
Marcus Rashford became a United player from the age of seven and made his debut as a Manchester United forward in the senior team in the UEFA Europa League in 2016, scoring on his debut. 
Rashford fired on his Premier League debut against Arsenal, his first Manchester derby, EFL Cup debut, and UEFA Champions League debut also.
Rashford was also on the scoresheet during his England debut, becoming the youngest Englishman to score in his International debut. Rashford has grown into a very responsible player, and his public campaigns for the homeless and child hunger in the UK have been a blessing for millions of people.
Rashford himself did not have the best childhood, with a single mother working on multiple jobs to feed him and his family.
Marcus Rashford: Statistics
Having made his debut in the 2015-16 season, Rashford bagged eight goals in 18 appearances, followed by 11 goals in 53 the next season. With every passing year, Rashford's importance in that United squad has only multiplied, and with the club in a rebuilding stage, Rashford has contrived to articulate his skills on the pitch, especially in the big games.
Rashford then netted 13 goals in the 2017-18 season under Jose Mourinho, scoring the same number of goals in the next season but fewer displays. The 23-year-old has grown into a mature winger now, while his pace is a lot for most defenders that go against him.
In all, Rashford has 85 goals for the Red Devils, but there are no doubts that the tally is about to get better and better with time.
Marcus Rashford: Style of Play
Marcus Rashford prefers to play from the left, but we have seen him playing in as a striker as well. His aerial abilities may not be the best, but he has all the talent in the world. His defensive work rate is what sets him apart from a lot of gifted players.
The young Englishman is also known for his free-kick techniques, and he is perhaps the closest to Cristiano Ronaldo when attempting the unique 'knuckle-ball' free-kick.
Marcus Rashford against Poverty: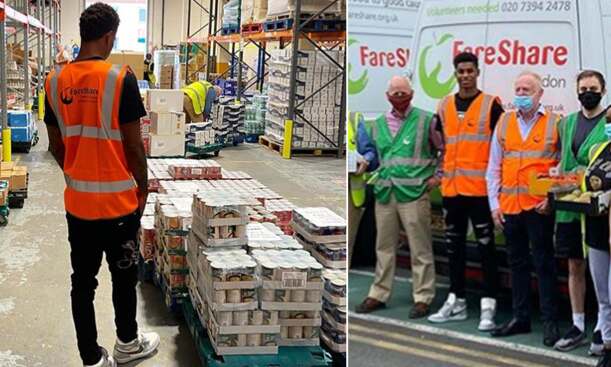 When the world was under a great threat from the COVID-19, Marcus Rashford was busy reaching out to several people that were affected by Boris Johnson's lockdown imposition. He then teamed up with the poverty and food waste charity FareShare to help them deliver meals to people in the Greater Manchester area as the UK government had stopped their free school meals.
Marcus Rashford managed to raise 20 million pounds to implement food for children nationwide or anyone at school to receive free meals. 15 July 2020 saw Marcus Rashford receiving an honorary doctorate from the University of Manchester for his commitment to end child poverty in the UK.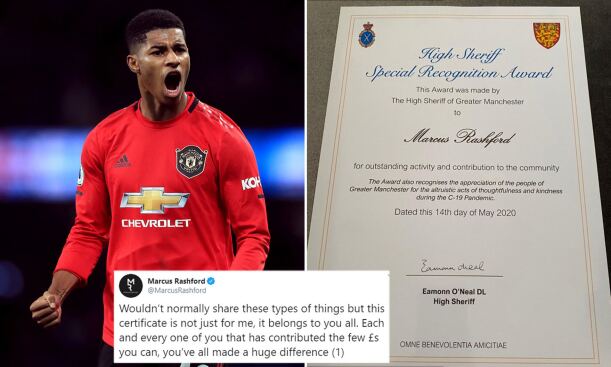 It made him the youngest person to receive an honorary doctorate from the university. October 2020 saw the youngster being appointed MBE in the 2020 Birthday Honors for his efforts to make millions of lives happier and free from hunger.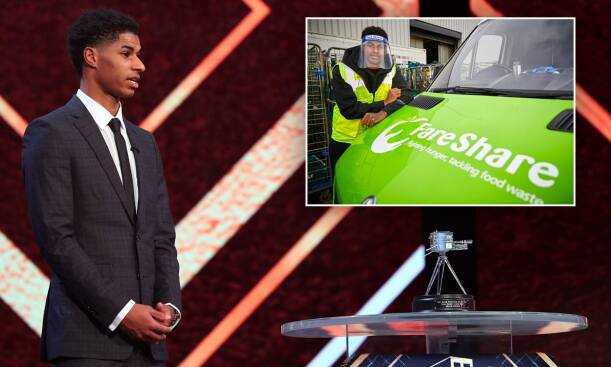 Marcus Rashford: Major Honors
⭐ FA Cup: 2015–16
⭐ EFL Cup: 2016–17
⭐ FA Community Shield: 2016
⭐ UEFA Europa League: 2016–17
⭐ UEFA Nations League third place: 2018–19
⭐ Jimmy Murphy Young Player of the Year: 2015–16
⭐ PFA Fans' Player of the Month: December 2019
⭐ Premier League Academy Graduate of the Year Award: 2019–20
⭐ PFA Community Champion Award: 2019–20
⭐ UEFA Europa League Squad of the Season: 2019–20
⭐ Member of the Order of the British Empire: 2020
⭐ Campaigner Of The Year in the 2020 GQ Men Of The Year
⭐ Expert Panel Special Award in the 2020 BBC Sports Personality of the Year
The awards may not be the most significant at the moment but Rashford's commitment and grit towards becoming a better version of himself, both on and off the field is something rare in today's times, and it comes as a promise of how great this young player from manchester could go on to achieve.