NBA Finals: Miami Heat vs. Denver Nuggets - Game 3 Preview
              Miami Heat Vs Denver Nuggets NBA Finals: Game 3 Preview
Denver Nuggets and Miami Heat are battling here in NBA Finals. Denver has the best record in the western conference and is the favorite to win the NBA Title whereas Miami Heat is the Underdogs in the NBA Finals. 
The Heat will be winning the title after 10 years and Denver Nuggets will be winning for the first time in franchise history.
Denver Nuggets opened NBA Finals with a dominant win in Game 1, But the Miami Heat reminded everyone why they are the best team in the East.
As the Miami Heat steals game 2 they stole the home-court advantage from Denver Nuggets. The Denver Nuggets were Leading by 8 points to start the fourth Quarter, But Jimmy Butler, Duncan Robinson, and Max Strus took over in the last quarter.
Max Strus scored 14 points and Duncan Robinson had 10 points all of them in the Fourth. Strus who was 0 for 10 in Game 1 had four 3-pointers in Game 2.
The team that has been doubted all Postseason had made the shocking win in Game 2 on the road to take the home-court advantage from the Denver Nuggets and send the series back to Miami at 1-1. 
Denver's Jamal Murray missed a 3-point attempt at the buzzer that could have forced overtime.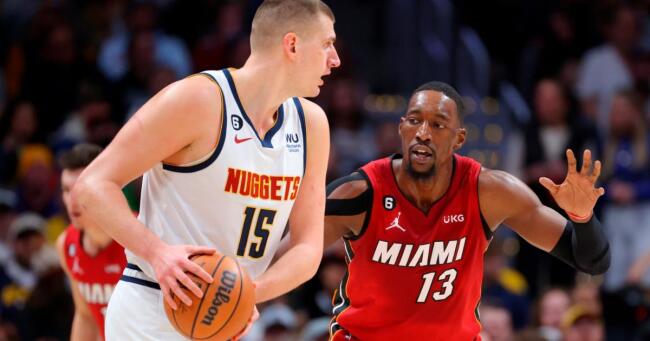 Miami Heat played an impressive fourth quarter, overcoming an 83-75 deficit and outscoring the Nuggets 36-25 in the final 12 minutes of 4th Quarter the Miami Heat tied the NBA Finals where Gabe Vincent's scored 23 points, Jimmy Butler had 21 points, and Bam Adebayo had 21 points and Heat beat the Nuggets with the scoreline of 111-108 in Game 2.
This marked the Denver Nuggets' first home loss of the playoffs and the fourth time the Miami Heat head home for Game 3 of a series where they have stolen the home-court advantage.
The Miami Heat were better in the second game after a lethargic performance in Game 1.
They were more aggressive in Game 2, They made more 3-pointers, and shot 20 more free throws, 18 more than they did in Game 1, Miami has the next two games at their homecourt it would be difficult for the Denver Nuggets to win both games.
Miami did the adjustment after studying the film of Game 1, Despite the thrilling win by the Miami Heat, the odds are in favor of the Denver Nuggets in Game 3.