Top 5 records Mohamed Salah has attained in his Liverpool career
Mohamed Salah has been breaking records every week, leading Liverpool to new heights in all competitions. 
The Egyptian has been firing on all cylinders from left to right and showing no sign of stopping. 
He has been hailed as the best player in the world currently with this impressive form this season. The 29-years-old has scored in every game bar this campaign and setting records after records.  
The Liverpool talisman has been creating history in this season, and on that note, we take a look at the top five records that Mohamed Salah has broken so far.  
1. Highest scorer from Africa in the Premier League 
The Egyptian king has now surpassed Didier Drogba to become the highest-scoring African in Premier League history. Mohamed Salah notched up a hattrick in a 5-0 win over Manchester United. 
Salah managed to score 107 goals to his name in the English top-flight in 167 Premier League matches, taking him above Chelsea great Drogba, who scored 104. While Sadio Mane is not far behind with 100 goals to his name in Premier League. 
2. First away player to score a hat-trick at Old Trafford in the Premier League
The last time a player scored a treble at Old Trafford was Brazilian Ronaldo, however, that was in the Champions League quarter-finals back in 2003. 
In the Premier League era, no away player has bagged three goals at Old Trafford, however, history was created when Mohamed Salah found the back of the net thrice against Manchester United at Old Trafford. 
3. First Liverpool player to score 10 consecutive goals
Ever since the new season has started the 29-years-old is at his peak and has been scoring goals in every game. 
Salah's hat-trick against Manchester United made him the first-ever Liverpool player to find the net in 10 successive games. 
He started his tally against Chelsea where he netted a penalty following up with goals against Leeds United, Milan, Crystal Palace, Brentford, Porto (two), Manchester City, and Watford.
His goal against Watford made him the fourth Liverpool player to net in eight straight matches alongside Sam Raybould (1902-03), John Aldridge (1987-88), and Daniel Sturridge (2013-14). 
Salah also became the first Liverpool player to score most away goals for an English team, he has scored in each of his last six away games for Liverpool in the Champions League. Only Aguero has attained more successive away goals for an English club. 
4. 36 league goals in 2017-18 season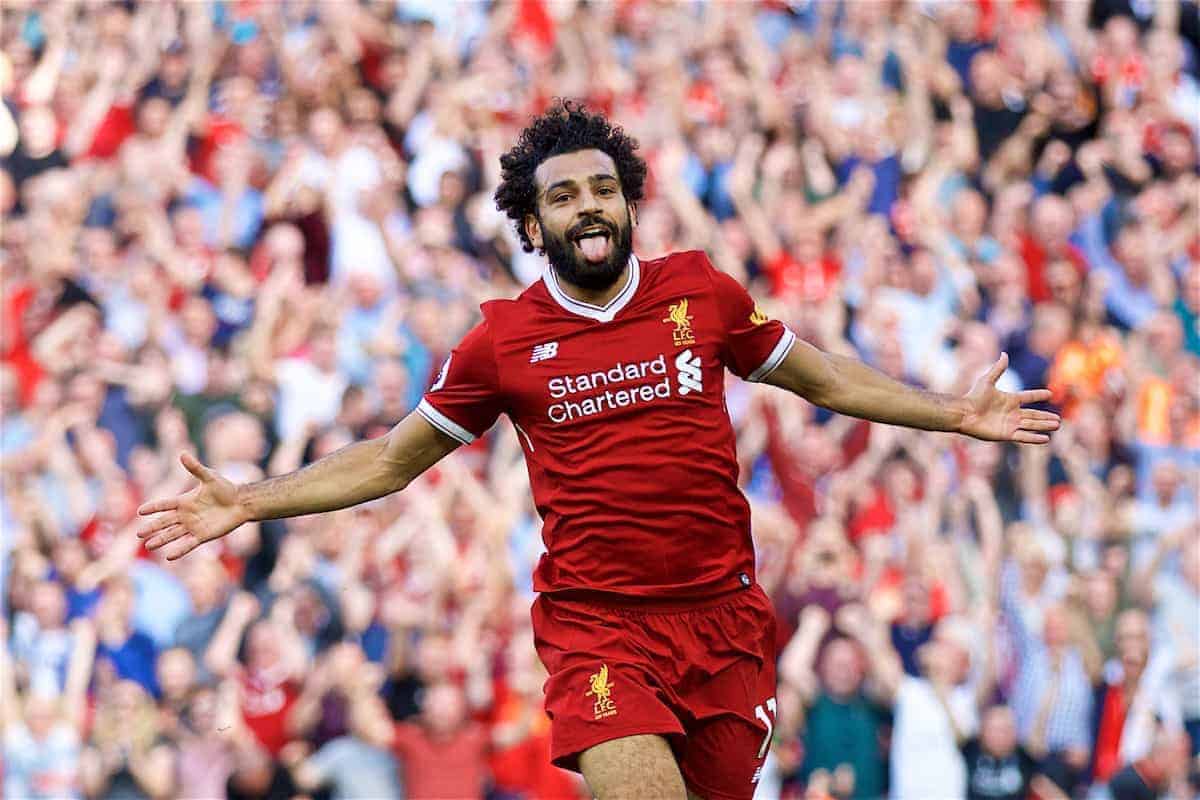 Since joining the Merseyside the Egyptian man has chalked up 107 goals and 39 assists in 167 matches. 
In his first season as a Reds player, Mohamed Salah introduced himself with style netting 36 league goals in a season overtaking Cristiano Ronaldo's record of 31 goals for Manchester United in the 2007/08 season. 
5. Most Premier League Player of the Month awards 
First-ever Premier League player to win the player of the month award thrice in a season. Mohamed Salah has won the award three times in a season, the first player to do so in the 2017-18 season. 
While eight players have won in consecutive months: Robbie Fowler, Dennis Bergkamp, Cristiano Ronaldo, Harry Kane, Jamie Vardy, Mohamed Salah, Bruno Fernandes, and İlkay Gündoğan.  
Mohamed Salah has been shattering records every week for Liverpool this season, and we hope that the 29-year-old can continue his superlative form for the Merseyside club.