French Open 2021: Rafael Nadal vs Novak Djokovic: Will the Spaniard shine or Will the Serb step up?
Modern-day greats Rafael Nadal and Novak Djokovic lock horns in a scintillating semifinal at the 2021 French Open. This is the 58th match of their riveting 15-year rivalry. Top seed Djokovic narrowly leads the head-to-head record against the third seed Rafa by a margin of 29-28.  
When Nadal and Djokovic face each other, it is not just about the records that they have achieved and the trophies that they have won, it's much more. The fans can expect high-voltage shotmaking, relentless hitting, and tremendous comebacks even from precarious situations. The match is never over till the last point is played as these two gladiators use every ounce of their energy.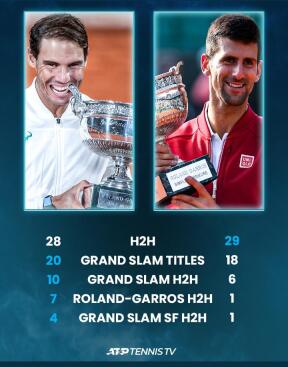 Significance of the French Open 2021 semifinal for Rafael Nadal
It is a record 14th semifinal at Roland Garros for the King of Clay (13-0 win-loss record). The Spaniard has won his 5 matches in a row on the red dirt against the World number 1, Djokovic. A win for Nadal against Djokovic in the semis will take him a step forward to a milestone 14th French Open title. 
Rafael Nadal will also try to grab the title at Paris and overtake Roger Federer's record of 20 grand slam titles. No player has ruled the clay surface like Rafa and a victory in the big match would also take him to a 5th Roland Garros final in a row. It is a testimony of Nadal's fighting spirit and sheer consistency despite several injuries to his back, knee, and wrist affecting his career. 
"It is a match that you know what you have to do if you really want to have chances to succeed, some ways we are practising, and are living the sport for these moments, the negative thing is that it is difficult because you play against one of the best players in the sport's history," remarked Nadal expecting a tough battle against Djokovic in the French Open semifinals. 
What is at stake for Novak Djokovic in the Roland Garros semis 2021?
Djokovic is the only player in the current crop to defeat Nadal at the French Open. He achieved that incredible feat when he outplayed Rafa 7-5 6-3 6-1 in the quarterfinals in 2015. The Serb will take inspiration from that wonderful win and try to oust the Spanish superstar in his own den. Novak Djokovic is bidding to become the first man in the Open Era (since 1968) to win each grand slam at least twice. 
The 18-time grand slam champion will be gunning for revenge against Rafael Nadal in Paris after a straight-set drubbing (6-0 6-2 7-5) in last year's finals. The Serbian is playing his 11th semifinal at Roland Garros and third in a row. 
If Djokovic pulls off a win, he will reach his 6th French Open final (1-4 win-loss record). Nole will be extra motivated having last beat Nadal on clay in May 2016. A victory for the Serb will end Rafa's staggering 35-match winning streak at Roland Garros. 
"It is not like any other match, it is the biggest challenge that you can have, playing on clay against Nadal, of course, each time we face each other, there is that extra tension and expectations, the anticipation for the match against him, any match, any surface, any occasion is always different from any other," said Djokovic reflecting on his glorious rivalry against Nadal. 
Will the conditions in Paris favour Rafael Nadal or Novak Djokovic?
Djokovic found it difficult to adjust to the cold conditions in last year's French Open finals against Nadal. The Serb said that he took a lot of time to adjust and get into the groove. However, by then, Rafa had taken full control of the match. 
Novak battled past the 9th seed Matteo Berrettini in 4 sets in a tiring 3-hour 28 minute thriller in the quarters. The Serb got off to a strong start winning the first 2 sets. A couple of unforced errors in the tiebreaker saw him lose the 3rd set. The top seed was sharp in the fourth set and pounced on the limited breakpoint opportunities to sail through. 
The Serbian is confident of putting up a good show against Nadal. After playing a late-night quarterfinal ladened with a run-in with the crowd and a scary fall, Djokovic will be pleased with the evening start for the Roland Garros semifinal against Rafa.
Nadal too survived in four sets against the 10th seed Diego Schwartzman in the quarterfinals. Rafa was cruising with a first-set lead. However, the pressure of an early break in the second set affected him as he lost it 6-4. It was the first set that Rafa had lost in Paris after winning 36 sets in a row. 
The Spaniard stood like a wall against a barrage of hitting from Schwartzman in the third set, grabbing it 6-4. Diego's intensity dipped in the fourth set as Rafael Nadal bageled him in just 28 minutes. The King of Clay won a whopping 30 out of the last 35 points against the Argentinian. 
Known to be sluggish in the start, Rafa will be trying to get off the blocks quickly in the first set against Djokovic. Nadal will look to adjust to the warm conditions and clinch the opening set. Rafa has a mind-boggling 96-0 win-loss record after winning the first set in the French Open and the Spaniard will try to maintain that.
The 6 stats that Djokovic will use to overcome Nadal
| | | |
| --- | --- | --- |
| Player Name | Novak Djokovic | Rafael Nadal |
| Aces  | 40 | 23 |
| Double Faults | 11 | 20 |
| Win % on Second Serve | 56.96% | 55.27% |
| Breakpoint Conversion Rate | 63.04% | 49.25% |
| Winners | 192 | 165 |
| Unforced Errors | 122 | 134 |
The 4 numbers that give Nadal a big edge against Djokovic
| | | |
| --- | --- | --- |
| Player Name | Rafael Nadal | Novak Djokovic |
| Sets Lost | 1 | 3 |
| Win % on First Serve | 79.53% | 78.82% |
| Points Won at the Net | 77.63% | 69.72% |
| Time spent on the Court | 11 hours 46 minutes | 12 hours 31 minutes |
What do experts say about the Nadal vs Djokovic blockbuster?
"I don't think there is anything more difficult in sports, any sport, than beating Nadal here, in three to five sets, I mean, look at his win-loss record (105-2), as great as Novak is, I just don't see it over five sets," said Paul Annacone, a former coach of Pete Sampras and Roger Federer. 
"I am not a clairvoyant, but the top favourite for me remains Nadal, that has not changed," said Boris Becker, who is also the ex-coach of Novak Djokovic.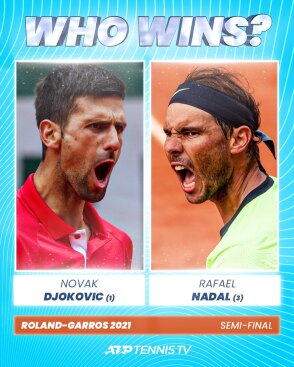 Wrapping Up
More pressure will be on Rafael Nadal in the semifinal as he is defending 2000 points after winning the French Open last year. Novak Djokovic will also be aiming to protect 1200 points after losing in the Roland Garros finals to Rafa in 2020. Though the Serb leads by a comfortable 950 points ahead of Nadal in the ATP Finals Race to Turin, he will know that a setback in Paris will reduce his margin significantly.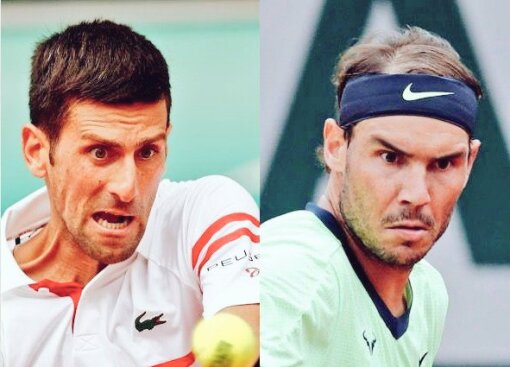 Nadal will primarily depend on his powerful forehand (both cross-court and down-the-line) while Djokovic will rely heavily on his potent two-handed backhand. Get set for the classic to unfurl in Paris on a fantastic Friday.
So, dear fans, who are you supporting for winning the blockbuster semifinal at Roland Garros 2021? The King of Clay Rafael Nadal or the World number 1 Novak Djokovic?
Do share your thoughts for the French Open 2021 below.