French Open 2021 Round 4: Monday Mania: Will Nadal & Djokovic survive Sinner & Musetti?
The fourth round of the French Open on Monday will witness a captivating clash between two generations of tennis as Novak Djokovic and Rafael Nadal take on the young Italian duo Lorenzo Musetti, and Jannik Sinner respectively. 
On the other hand, Roger Federer has withdrawn from the French Open which means Matteo Berrettini (Federer's opponent for the 4th round) will get a walkover against the Swiss.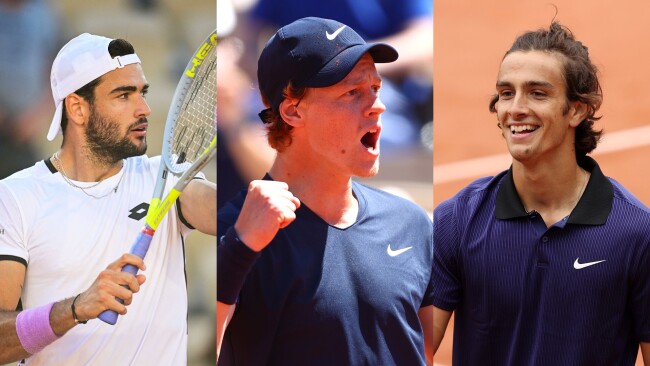 Sportco analyzes the numbers that matter in deciding the winner of these two mouth-watering matches.
1) Novak Djokovic vs Lorenzo Musetti
This is their first meeting on the ATP Tour.
Did you know? 
* Djokovic is playing the fourth round at Roland Garros for the 12th year in a row. 
* Musetti is the 6th player since 2000 to reach the 4th round of a grand slam on his debut.
Novak Djokovic comfortably dispatched Ricardas Berankis 6-1 6-4 6-1 in the third round. The Serb did not face a single breakpoint, grabbed 88% of his first-serve points, and also took 73% of points at the net. 
On the other hand, Lorenzo Musetti triumphed against compatriot Marco Cecchinato in a five-set tussle. The Italian teen clinched 65% of his first-serve points and pounded 50 winners.
"He can play with a lot of spin, he has got a great feel, he can play short balls, dropshots, flatten out his serve, open up with a good kick and slice, he has got a really all-round game," said Djokovic praising Musetti for his rise up the charts.
"I practiced a lot with Djokovic together, so we know each other a little bit, the sacrifice and hard work I did in childhood became reality now, so I am just enjoying the moment and I will try to do my best," reflected Musetti ahead of the biggest match of his life.
5 Stats that give Djokovic an edge over Musetti
| | | |
| --- | --- | --- |
| Player Name | Novak Djokovic | Lorenzo Musetti |
| Sets lost | 0 | 2 |
| Aces | 19 | 9 |
| Win % on First Serve | 83% | 67% |
| Breakpoint Conversion Rate | 58.33% | 39% |
| Time spent on the Court | 5 hours 36 mins | 7 hours 34 mins |
Both Djokovic and Musetti have won equal points at the net (66.33%) each after three rounds. Interestingly, Musetti has a higher Win % on Second Serve (56.67%) than Djokovic (54.33%).
Analysis: Djokovic will be wary of Musetti's impressive record against higher-ranked players. The Italian teenager defeated Stan Wawrinka and Kei Nishikori last year and beat Diego Schwartzman and David Goffin in 2021. 
Lorenzo won 56.11% of points in 0-4 shot rallies. Hence, Novak will try to tire him down in the long exchanges from the baseline. Expert the Serb to sail through after dropping his first set in the tournament. 
Djokovic vs Musetti Predictions: Novak Djokovic to win in four sets against Lorenzo Musetti
2) Rafael Nadal vs Jannik Sinner
Nadal leads the head-to-head record 2-0 against Sinner
Rafael Nadal overpowered Brit Cameron Norrie 6-3 6-3 6-3 in the round of 32. The 20-time grand slam champion fired 34 winners and won 79% of his first-serve points. 
The Spaniard advanced to the fourth round of a grand slam for the 50th time in his career. He has won a staggering 32 sets in a row at Roland Garros. 
Jannik Sinner outhit Sweden's Mikael Ymer 6-1 7-5 6-3 in the third round. The Italian pounded 43 winners and broke Ymer's serve five times.
"You cannot expect an easy opponent out there, Jannik is not the best fourth round, without a doubt, he is a dangerous one, he is a great player, we know each other well, so let us see, I need to play a very high level of tennis to have chances to be in the quarter-finals, and I am going to fight for it," said Nadal eager to lock horns against the talented Sinner in the round of 16.
6 Numbers that give Nadal a huge advantage over Sinner
| | | |
| --- | --- | --- |
| Player Name | Rafael Nadal | Jannik Sinner |
| Sets lost | 0 | 3 |
| % of Tiebreaks Won | 100% (1 out of 1) | 0% (0 out of 1) |
| Win % on First Serve | 81.33% | 75% |
| % of Net Points Won | 75.33% | 60.67% |
| Time spent on the Court | 6 hours 44 mins | 8 hours 13 mins |
The 3 Stats that will help Sinner to upset Nadal
| | | |
| --- | --- | --- |
| Player Name | Jannik Sinner | Rafael Nadal |
| Aces | 18 | 13 |
| Win % on Second Serve | 61% | 52.67% |
| Breakpoint Conversion Rate | 51.35% | 43.33% |
Analysis: Jannik Sinner would have been overawed after playing Rafael Nadal for the first time in the French Open quarterfinals last year. Sinner did push Nadal with his power-hitting in the opening set. However, his level dropped down in the second and third sets. 
The Italian also led by a break in both sets in the second round of the Rome Masters last month against Spaniard. However, Nadal had the last laugh as Sinner struggled to finish off games with his inconsistent serving.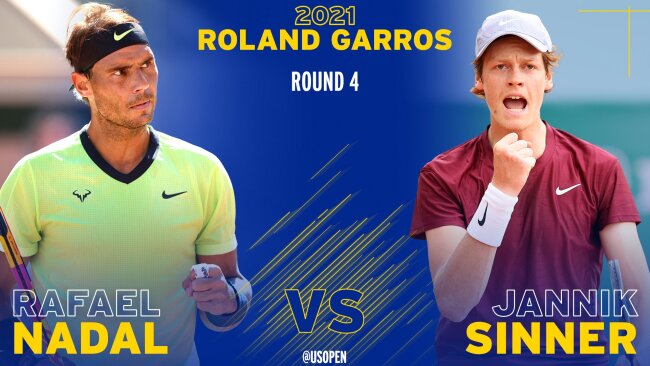 Rafael Nadal with his terrific record in big matches at Roland Garros speaks for itself. The Spanish star is peaking at the right time and will play aggressively against Jannik Sinner. The heavy forehand of Sinner will help him take a set against Nadal.
Nadal vs Sinner Prediction: Rafael Nadal to win in four sets against Jannik Sinner 
So, dear fans, who are you supporting for winning the fourth round? The Old Guard duo of Djokovic and Nadal or the Italian Next-Gen combo of  Musetti and Sinner?
Do share your thoughts for the French Open 2021 below.
Featured Image Credits - Reuters