Naomi Osaka vs Jennifer Brady Prediction | H2H : Australian Open 2021 Women's Final
Naomi Osaka vs Jennifer Brady: Journey to the Finals
After two weeks of thrilling matches, stunning upsets, and come-from-behind victories, we are all set for the big final as the third seed Naomi Osaka takes on 22nd seed Jennifer Brady in the Australian Open at Melbourne Park.
Naomi Osaka convincingly beat the legendary Serena Williams 6-3 6-4 in the semifinals ending the American's hope of winning her 24th grand slam. 
Despite starting slowly, Osaka found her rhythm as the match progressed smashing 6 aces, pounding 20 winners, clinching 85% of points on her first-serve and converting all her four breakpoints.
On the other hand, Brady dug deep to outlast 25th seed Karolina Muchova in 3 sets. The American fired 8 aces, committed 38 unforced errors, won 69% of her first-serve points, and converted all her three breakpoints.
Jennifer Brady vs Naomi Osaka H2H Record:
Naomi Osaka leads the head-to-head record 2-1 against Jennifer Brady. Brady only has one win against Naomi Osaka which came in the New Braunfels TX 50K tournament in 2014.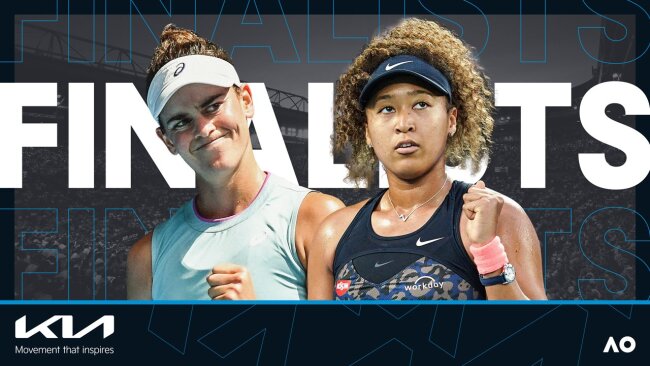 Did you know?
Naomi Osaka has never lost a match in a grand slam after reaching the quarterfinals. She has a win-loss record of 11-0.
The Japanese will be aiming to win her second Australian Open title after her maiden triumph in 2019.
Osaka is playing her 4th grand slam final and has a perfect win-loss record of 3-0.
Jennifer Brady is playing her first-ever grand slam final.
Osaka is on a 20-match winning streak.
"I never really look at stats or achievements or anything like that, I am the type of person that is always trying to go on to the next thing, which may be bad or good, I feel like maybe later in my life, I will appreciate the things that I have done more, but as of right now, I feel like I am chasing records that cannot be broken no matter how hard I try, I think it is the human trait of not being satisfied," said Osaka expressing her view about breaking sports records in her career.
"It took a lot longer than I hoped for, I was just so nervous, I could not feel my legs, my arms were shaking, I was just hoping she would miss and she did not, she was playing more aggressive, then I would say I started rambling, mumbling on and on, it was just point by point, and eventually I was able to close it out," opined Brady quite relieved after her thrilling victory in the semis against Muchova.
Performance of both the players in the 2020 Australian Open
Naomi Osaka - was defeated by Cori Gauff in the third round in straight sets
Jennifer Brady - lost to Simona Halep in the first round in straight sets
Important numbers of Naomi Osaka and Jennifer Brady related to the Australian Open
| | | |
| --- | --- | --- |
| Player Name | Naomi Osaka | Jennifer Brady |
| Win-Loss Record in the Australian Open | 21-4 | 13-3 |
| Win-Loss Record in Three-Set Matches | 6-0 | 5-1 |
| Win-Loss Record against Top-10 ranked Players | 4-2 | 0-1 |
Statistical Comparison of Naomi Osaka and Jennifer Brady in this year's Australian Open
| | | |
| --- | --- | --- |
| Player Name | Naomi Osaka | Jennifer Brady |
| Aces | 44 | 32 |
| Double Faults | 20 | 13 |
| Points Won on First Serve | 81.33% | 78.50% |
| Points Won on Second Serve | 60% | 59.67% |
| Sets Lost | 1 | 2 |
| Breakpoint Conversion Rate | 49.01% | 64.29% |
| Win-Loss Record in Tiebreaks | 0-0 | 0-0 |
Jennifer Brady vs Naomi Osaka Prediction (Pronostico)
Osaka's prior experience in grand slam finals would come in handy against Brady. The American struggled to close out games against Muchova in the semifinals and that could affect her chances in the final against Osaka. 
The Japanese has been the most consistent player on hard courts for the past three seasons. Her calm demeanour has helped her to grab the crucial points and capitalize on the momentum. 
Naomi Osaka needs to get quickly off the blocks as she cannot afford to have a rusty start as she did against Serena. Jennifer Brady can unsettle Naomi Osaka if gets her range of shots right and her powerful forehand can fetch a lot of winners. 
The World No. 3 will be a bit worried about her first serve percentage of 43% and also her double fault count of 8 in the previous match against Serena. It was an error-strewn performance for Brady versus Muchova with a whopping 38 unforced errors. 
Osaka's impressive lateral movement and the uncanny ability to find excellent angles will give her a huge edge.
Prediction - Naomi Osaka to win in three sets against Jennifer Brady and win the Australian Open
Featured Image Credits - US Open - Twitter