Napoli boss claims his team will buy helmets & armors for Barcelona clash
Antoine Griezmann scored a second-half equalizer for the visitors to cancel out Dries Mertens' early striker on Tuesday night as the Italian side frustrated their opponents all match, eventually seeing Arturo Vidal sent off. 
Napoli head coach Gennaro Gattuso says his side will have to battle in order to progress in the Champions League, following their 1-1 draw with Barcelona. The Napoli boss is determined by one thing that his team will not go down without a fight. 
He said, "Nothing is ever for us when we're playing the last 16 in the Champions League, not even when we play cards. We know the difficulties we are going through."
"We will buy helmets and armor. We will get all the necessary tools and will play the next game. Nothing is over." The away goal will, of course, benefit Barcelona ahead of the tie at Camp Nou, but considering it was his first game in charge of Napoli in Europe, Gattuso didn't do too bad of a job.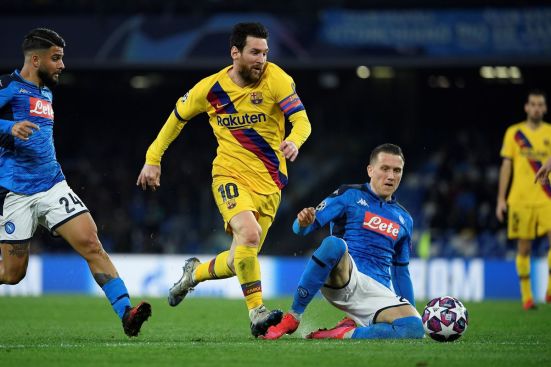 However, his frustration was clear as he commented on his dismay at the manner in which Napoli conceded. Gattuso was very disappointed because of the defensive error and the fact that the side could have done much better. 
Gattuso was happy with the team's overall performance though as they did everything according to the tactics discussed before the game.
He also admitted that the only thing he regrets after the game is that his team could have done better in the area of passing. Napoli have four outings as they prepare for the reverse fixture at Camp Nou on March 18, including the Copa Italia semi-final against Inter which they lead 1-0 on aggregate.
Napoli's game against Torino at the weekend is one of the only Serie A games this matchday that won't be played behind closed doors due to coronavirus scares. 
featured image credits- twitter.com