Another red card, another record for Sergio Ramos in the UCL
Real Madrid captain Sergio Ramos equalized a Champions League record after being sent off again. Sergio Ramos was shown the 26th red card of his career as the Real Madrid captain equaled a Champions League record in the loss against City.
Ramos was sent off late in the 2-1 defeat at the Santiago Bernabeu after bringing down Gabriel Jesus at the edge of the penalty area on Wednesday. 
It was also the Spaniard's fourth red card in the UCL. Ramos has now joined Zlatan Ibrahimovic and Edgar Davids on a record of four reds in the Champions League.
The 33-year-old will miss the crucial second leg at the Etihad Stadium, which City lead after Jesus nullified Isco's opener and Kevin de Bruyne converted an 83rd-minute penalty. Juan Andujar Oliver, Marca's resident referee expert, backed both the decisions against Ramos.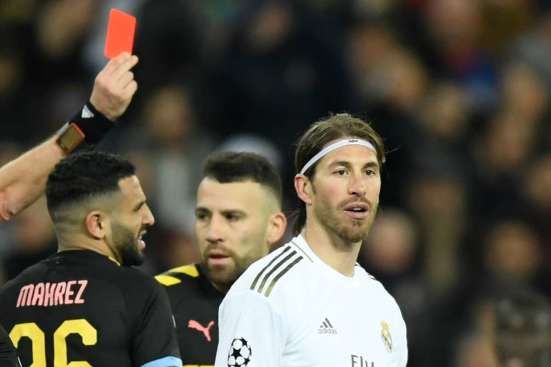 He said, "On first viewing, it looks like there's a clear push on Sergio Ramos, but the replay shows us that there's no foul and that Gabriel Jesus only puts his arms on the Real Madrid defender's back." 
"He's the last man and he pushes Gabriel Jesus in a goalscoring opportunity. It's a very clear red card for the Real Madrid skipper."
He also shared his thoughts on the penalty that was awarded to City, after Dani Carvajal brought down Raheem Sterling in the area. "The foul from Carvajal on Sterling is clear and the referee was right to give the spot-kick." 
The second leg is scheduled to be played on March 17 in which the Los Blancos will have to score at least twice to progress, provided they do not concede at all. 
The Citizens not only have the favor of the aggregate scoreline but also that they have two precious away goals to help them and cause problems to the 13-time European champions. 
featured image credits- foxsportsasia.com