Serie A - Napoli vs Juventus: Match Preview and Prediction
Over the past couple of seasons, Napoli have represented the biggest challengers to Juventus' monopoly in the Serie A. The Blues ended on the second spot in last two seasos, however, the ongoing season has been a regressive one for them as they are currently in the 11th position, struggling to battle for the top four spots. 
Napoli, however, progressed through the Italian Cup midweek but are on a poor league run after consecutive defeats against Internazionale, Lazio and Fiorentina. The Old Lady, on the other hand, are starting to take long strides with Cristiano Ronaldo back to full fitness and form.
With Internazionale dropping points in their last two games, Juventus will be looking to take full advantage of the four-point lead and strive hard to increase the gap to seven points. Napoli versus Juventus has always been a cracking fixture, the biggest example being when the sides faced each other at the Allianz Stadium, where Napoli made a comeback from three goals down but sadly lost after an own goal from Kalidou Koulibaly. 
Injury Update: 
Dries Mertens and Kalidou Koulibaly will be some major missings as Napoli are in desperate need of Serie A points. 
Juventus will be without the young Merih Demiral, who made a strong impact in the games he has been a part of, while Sami Khedira will be missed too. Mattia De Sciglio, who has almost recovered will mostly not feature for the Old Lady, after a swap with PSG's Kurzawa being confirmed. 
Key battles: 
Kostas Manolas vs Cristiano Ronaldo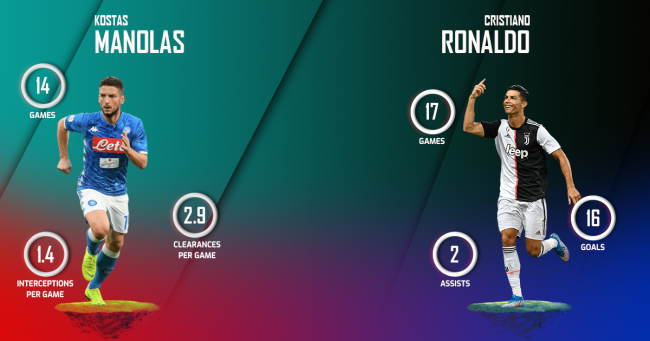 This battle will be a great one as Ronaldo will definitely be looking to catch Ciro Immobile, who is the Serie A top scorer. Kostas Manolas, on the other hand, will be up for a tough task but the Napolian has potential and will be looking forward to the clash confidently.  
The Juventus striker may not be at his blistering Real Madrid best but his recent form shows that he still has a lot left in him as the numbers have been superb recently, netting seven times in four games. It was crucial for Ronaldo to step up as Internazionale was closing down on Juventus, however, the Nerazzurri are four points off the Old Lady at the moment.
Maurizio Sarri has already made it public that the manager-player duo is looking forward to more and more goals, which helps CR7 claim his sixth Ballon d'Or, which will level him with his arch-rival, Lionel Messi.
Arkadiusz Milik v Matthijs de Ligt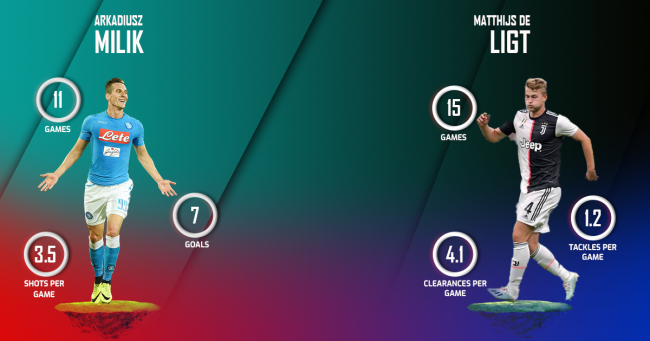 Arkadiusz Milik has not been at his best of forms and yet he is a threat to Juventus as he is the leading scorer for Napoli. Milik has seven goals in Serie A this season, six of them coming from inside the box. The striker will try to get side side an early breakthrough, which will put pressure on the visitors.
Matthijs de Ligt was questioned a lot of times about his future with the club but he stuck with his side and made sure that he got enough time on the field. The injury to the club captain, Chiellini came was a blessing in disguise for the former Ajax captain, who is now a regular starter in the defensive line for the Old Lady. 
This clash with Milik is going to show, what De Ligt is capable of and will also ensure whether he will stay at the Italian club for a long time or not.
Prediction
Looking at the Juventus' form, they are clearly the favorites. Napoli, on the other hand, are a strong side but their locker room differences are clearly shown on the pitch now. The Blues have to overcome their issues soon or they will finish way below the top-four spots in the Serie A.
Predicted score: Napoli 1 - 2 Juventus