Report: Sixers Eyeing James Harden Trade in NBA Free Agency
NBA Free Agency: Sixer Reportedly Interested In Trading For James Harden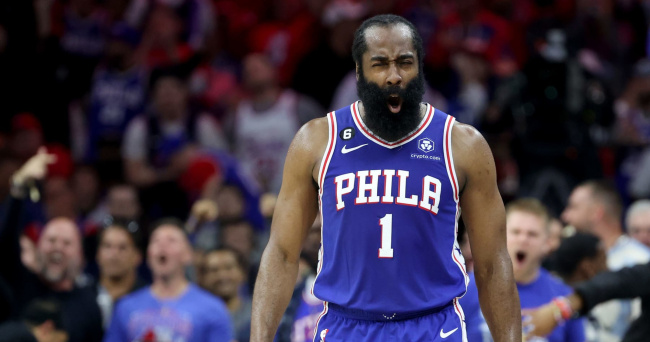 James Harden informed the 76ers of his choice Thursday ahead of the 5 pm deadline to pick up the option, according to the person who spoke to the AP on condition of anonymity because the decision was not made public.
James Harden is opting into his $35.6 million deal for next season in order for the 10-time NBA All-star and the 76ers to work together on a trade out of Philadelphia, league sources told the Athletic.
James Harden who will turn 34 years old in August, averaged 21 Points, a league-high 10.7 assists, and 6.1 rebounds per game for the Sixers this past season, James Harden is a 10-time All-Star but essentially forced his way with trades out of Houston and Brooklyn.
Harden has played for three different teams since January 2021. He has torched superstar partnerships with Dwight Howard, CP3, Russell Westbrook, Kevin Durant, and Kyrie Irving over the past seven years.
It appears playing as the second option behind NBA MVP Joel Embid and chasing a championship in Philly is no longer seriously on the table.
James Harden led the NBA in assists last season with 10.7 per game but it was his widely fluctuating offense that frustrated Sixers fans and helped doom them in the Eastern Conference second-round loss to Boston.
The 76ers per league rules, could not talk contract with Harden's representatives before Friday and they were sent to abide by the terms after they were found guilty of tampering last off-season and ultimately stripped of second-round draft picks.
The L.A. Clippers are expected to be heavily involved, Per Bleacher Report's Chris Haynes. Woj adds the New York Nicks as an interested party, as well.
Following the reports of the possibility of Harden Landing in LA, which is his hometown where the Clippers can lure him from the Sixers.