Top 5 North London derbies in Premier League
The games between Arsenal and Tottenham have constantly dominated the headlines whenever two fierce rivals meet, and it becomes more than a football match for the fans. It's one of the anticipated games in football, which produces a lot of entertainment. 
Since the inception of the derby, we have seen many mouth-watering clashes and plenty of drama between Tottenham and Arsenal. With this, we look at highly anticipated games of the North London derby. 
1. Tottenham 4-5 Arsenal: 13/11/2004
A goals galore game between the two North Londoners which saw a total of 9 goals scored in this match; it's been 17 years, but it is still fresh in Arsenal fans' memories. 
The derby game featured many great players, Noureddine Naybet and Thierry Henry, who scored first-half goals.
Hell broke loose in the second half as both the teams were rampant in front of goal. Arsenal scored two quick-fire goals to increase their lead to 3-1, courtesy of Lauren's penalty and Patrick Vieira's goal. However, Jermaine Defoe found the net to keep the gap close. 
Soon after, Arsenal stretched their lead with Freddie Ljungberg making it 4-2; again, Spurs pulled back. 
Captain Ledley King finished off a free-kick to make it 4-3. Although the game ended with Robert Pires making it another two-goal lead, Frederick Kanoute's strike kept Spurs in the game with a 5-4 score-line. However, it was the final score of the game, as Gunners escaped narrowly. 
2. Arsenal 4-4 Tottenham: 29/10/2008
Another classic derby that ended as an 8-goals thriller. Tottenham, who opened the account with a 40-yard volley in the 13th minute through David Bentley. Arsenal bounced back within 20 minutes from Mikael Silvestre's strike. 
The gunners went a goal ahead within six minutes of the second half thanks to William Gallas' 46th-minute strike. Then 60,043 crowd witnessed three goals inside four minutes. Adebayor extended the Gunners lead by 3-1, but Spurs replied as Darren Bent kept Spurs hopes alive. 
Robin van Persie scored Arsenal's fourth and final goal to give them a two-goal cushion; However, in the 89th minute, Jermaine Jenas blasted a left-foot curler and salvaged a point for Spurs in the 4-4 draw. 
3. Arsenal 5-2 Tottenham: 26/02/2012
In the 2012 season, Spurs suffered numerous defeats, and their next game was against North London rivals. 
The game began with Tottenham playing with aplomb as they managed to get 2-0 lead courtesy of Louis Saha's early strike and an Emmanuel Adebayor penalty before 35th minute. 
Arsenal upped their ante and leveled the score before the halftime whistle; Bacary Sagna and Robin van Persie were on the scoresheet. 
The second half followed another three goals from Gunners, Tomas Rosicky's goal, along with a brace from Theo Walcott made it 5-2, and two consecutive 5-2 derby wins for Arsenal at the Emirates. 
4. Arsenal 2-3 Tottenham: 20/11/2010
Spurs finally captured a win over Gunners as many youngsters made a great impression, the likes of Bale and Modric. Arsenal was on target with two goals from Samir Nasri, and Marouane Chamakh's goal kept the score 2-0 until Bale netted and started a comeback for the Spurs. 
The game saw many fouls; a total of 36 fouls were committed, and only 4 yellow cards were given; spurs played with more composure and controlled the play. They finally found the target, with Dutchman leveling the score in the 67th minute.
Tottenham registered another after Laurent Koscielny earned a yellow for his tackle on Bale 86th and Van der Vaart perfect cross met Younes Kaboul, who headed the ball home. This was Spurs' first-ever victory at the Emirates stadium.
5. Tottenham 2-2 Arsenal: 05/03/2016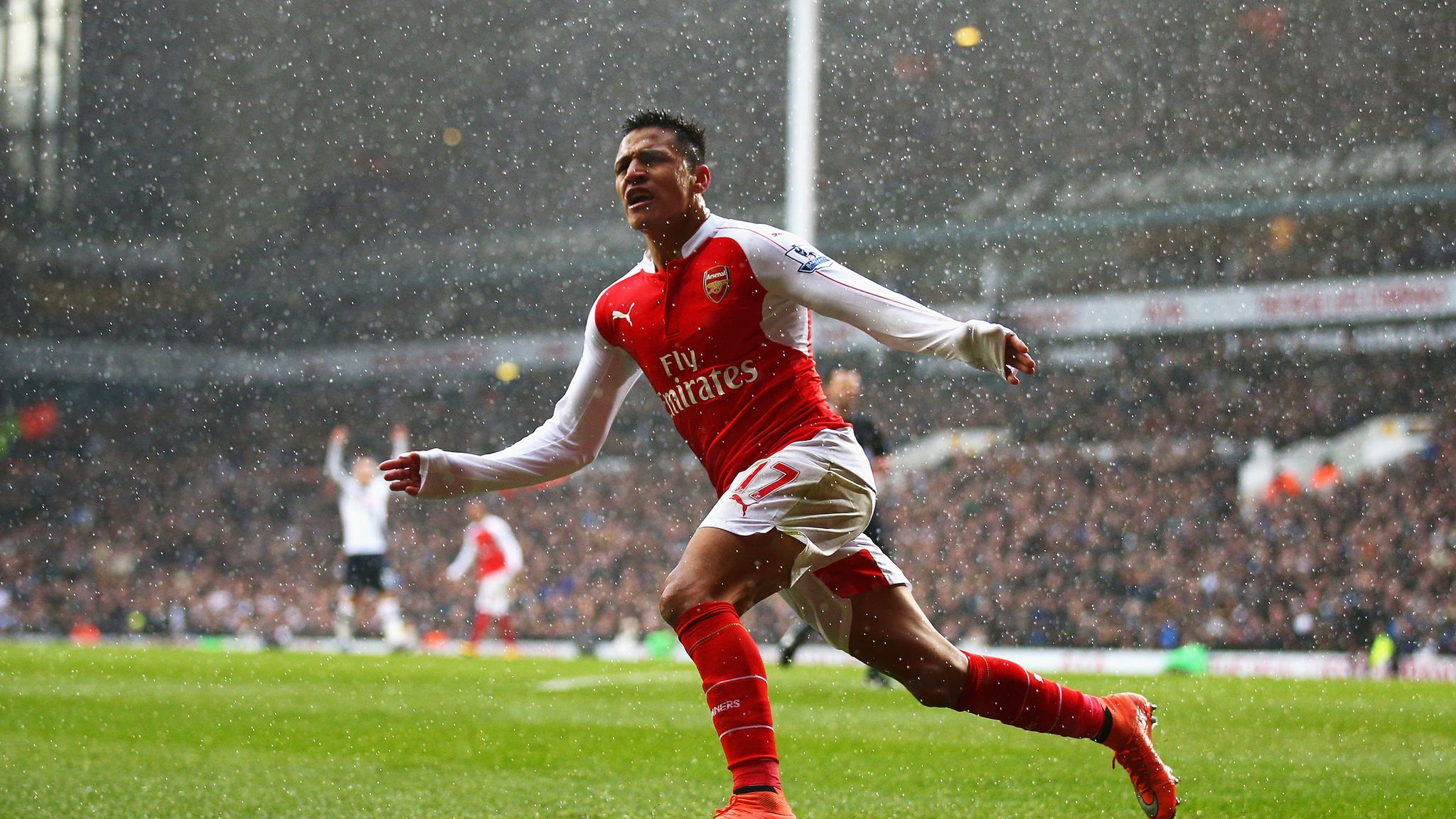 Another entertaining draw between the North London rivals at White Hart Lane was a day to forget for the Gunners fans as Francis Coquelin was sent off for a second yellow at the beginning of the second half. 
Arsenal's 1-0 lead from Ramsey's backheel finish changed into 2-1 after Toby Alderfeireld and a Harry Kane strike. 
Tottenham monopolized the match as the Gunners were 10-men down; taking advantage of this opportunity, they recorded 26 shots on goal, 11 of which were on target regardless Arsenal managed to keep their forwards on leash. 
Alex Sanchez, who joined Arsenal hadn't scored a goal since October, found a better approach to end his drought and provided Arsenal with a much-needed 2-2 draw. 
Arsenal concluded their season unbeaten and ended 2nd in the table behind Leicester, Arsenal's best result since 2004/05.