Sportco Premier League Legends Series: Thierry Henry
Thierry Henry is one of the best foreign players to have ever graced the Premier League. The Frenchman achieved a lot of accolades for himself and also for Arsenal. But do you know how his story as a professional footballer began? Let's have a look. 
How it Began
| Player Profile | Thierry Henry |
| --- | --- |
| Nationality | France |
| Height | 6'2" |
| Position | Forward/Left Wing |
| Preferred Foot | Right |
| Favorite Skill | Finesse Shot |
Thierry Henry embarked on his professional career with Monaco in 1994. After five years at the French club, Henry moved to Turin to join the Old Lady Juventus who were the Serie A champions back then. 
However,  this move did pan out to be the best as there were many issues and disagreements, leading the Frenchman to move to the Premier League and join Arsenal. 
Today, Thierry Henry is regarded as one of the best players to wear an Arsenal shirt in the history of their club. After being in England for eight years, Henry moved to Barcelona before he moved to the MLS.
Clubs represented: AS Monaco, Juventus, Arsenal, Barcelona, NY Red Bulls.
Thierry Henry International Career
For France, Thierry Henry won the 1998 World Cup, UEFA Euro 2000, and 2003 FIFA Confederations Cup. After scoring over half a ton of goals for France as well, Henry retired from international football after the 2010 FIFA World Cup. 
Thierry Henry Statistics
For Monaco B in the 1994-95 season, Henry scored six goals in 19 games, and then he went on to score 28 goals in 141 appearances in Division 1 for Monaco.
At Juventus, Thierry Henry scored three goals in 20 games before he moved to Arsenal. 
It was at Arsenal and under Arsene Wenger that Thierry hit red hot form and fired 226 goals in 370 displays. 
When he featured in the La Liga, Henry played over 120 games, scoring 49 goals, and he also scored over 50 goals in Major League Soccer. He returned to Arsenal on loan for the 2011-12 season, but only seven appearances, finding the net twice.
| Thierry Henry Stats | Matches | Goals | Goals/Game |
| --- | --- | --- | --- |
| Monaco | 141 | 28 | 0.20 |
| Juventus | 20 | 3 | 0.15 |
| Arsenal | 370 | 226 | 0.61 |
| Barcelona | 121 | 49 | 0.40 |
| New York Red Bulls | 135 | 52 | 0.38 |
Thierry Henry Style of Play
Thierry Henry was a versatile player who could play upfront and even had a creative side that could operate from the left-wing. However, when Henry hit his peak at Arsenal, it was majorly due to Arsene Wenger who set him upfront with another Arsenal legend Dennis Bergkamp.
Following the footsteps of the legendary Marco Van Basten, Thierry Henry was very dedicated to his shooting and dribbling. To date, Henry credits these legends and his perseverance to have become such a lethal threat on goal.
Thierry Henry was spectacular when it came to 1v1's and not many defenders could keep him away from the goal. 
Henry proved that he could also be a creator from the wings, amassing almost half a ton of assists between the 2002-03 season and the 2004-05 season.
Thierry Henry had all the ammunition in his Arsenal that you would expect from a modern-day great striker. Be it a header, long-range shot, set-piece, finesse shot, left foot, right foot, Henry could do it all. 
His electric pace was one of his biggest strengths along with a clever footballing brain. Defenders would gasp for breathe as they couldn't keep up to Henry's pace and quickness.
Managerial Career
Thierry Henry commenced his coaching career with the Arsenal youth teams in 2015, and after he earned a UEFA  'A' License, Henry did not reckon twice before he moved in the quest for a full-time managerial job.
A year later, Thierry Henry became the second assistant coach of the Belgium national squad under Roberto Martinez. The Arsenal legend was hugely influential in the dugout and was also praised by the likes of Romelu Lukaku who found his methods and expertise effective.
Henry saw Belgium losing to his homeland France in the 2018 World Cup as well, and then picked up the bronze medal as Belgium beat England and claimed third place.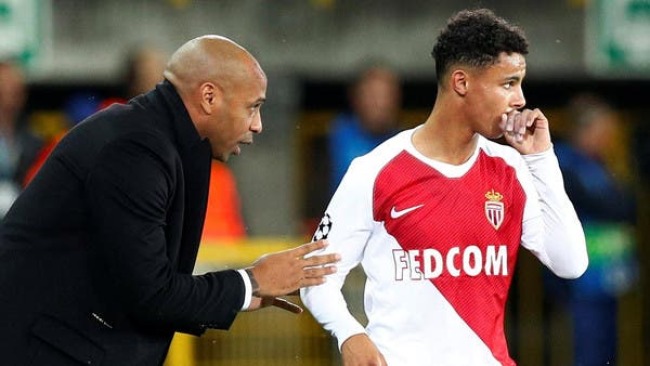 Soon he had offers on his plate, Bordeaux being the first of them. After rejecting it, Thierry Henry became the Monaco boss in October 2018. However, Henry's lack of experience at the top managing level took him down.
After an underwhelming 2018 season, Henry signed some players, one of them being his Arsenal teammate Cesc Fabregas. But as these signings did not add up much, Henry was then dismissed on 24 January.
Thierry Henry: Trophies & Honors
✦ Premier League: 2001–02, 2003–04
✦ FA Cup: 2001–02, 2002–03 
✦ UEFA Champions League: 2008–09 
✦ La Liga: 2008–09, 2009–10
✦ Copa del Rey: 2008–09 
✦ FIFA Club World Cup: 2009  
✦ FIFA World Cup: 1998; Runner-Up: 2006
✦ UEFA European Championship: 2000 
✦ Ballon d'Or runner-up: 2003; third-place: 2006  
✦ FIFA World Player of the Year – Silver Award: 2003, 2004  
✦ European Golden Shoe: 2003–04, 2004–05, 2006  
✦ PFA Players' Player of the Year: 2002–03, 2003–04
✦ PFA Team of the Century (1907–2007)
✦ Team of the Century 1997–2007 
✦ FWA Footballer of the Year: 2002–03, 2003–  04, 2005–06 
✦ Premier League Player of the Season: 2003 – 04, 2005–06
✦ Premier League Golden Boot: 2001–02,  2003–04, 2004–05, 2005–06 
✦ UEFA Team of the Year: 2001, 2002, 2003,  2004.   
✦ English Football Hall of Fame: 2008
✦ Premier League Hall of Fame: 2021  
 Records in Premier League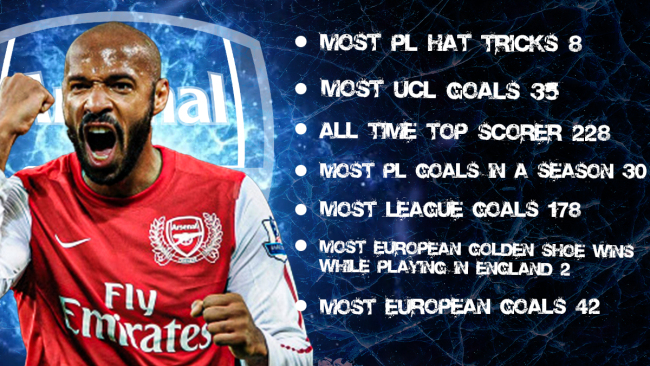 ✦ Most assists in a season: 20  
 ✦ Most Golden Boots won: 4  
 ✦ Most consecutive 20+ goal seasons: 5 (2001–02 to 2004–05)  
 ✦ Most Golden Boot's won in consecutive years: 3 (shared with Alan Shearer)
 ✦ The only player to both score and assist 20+ goals in a season (2002–03)