Players of Indian descent who have plied their trade in the NBA
Sim Bhullar became the first player of Indian descent to play in an NBA game in the year 2015. Since then, there have been three others that have participated or been rostered in either the NBA Summer League or G-League. Here, we take a look at the four players of Indian descent that have plied their trade in the NBA and G-League.
4. Palpreet Singh
Palpreet Singh is yet to play in an NBA or G-League game, but he was drafted to the Long Island Nets in the fourth round of the 2016 NBA Developmental League Draft. He is a 6'9" forward.
3. Amjyot Singh
Amjyot Singh went undrafted in 2014. He played two seasons overseas before joining the Oklahoma City Blue, the Thunder's G-League affiliate, for the 2017-18 season. He played in 30 games last season, averaging 2.7 points per game. The Blue waived Singh at the end of the season, but resigned him five days later. The 6'8" forward is on the Blue's roster for the upcoming G-League season.
2. Satnam Singh
Satnam Singh also made history in the NBA, becoming the first Indian player to be selected in the NBA Draft. In the second round of the 2015 NBA Draft, the Dallas Mavericks selected Singh with the 52nd overall pick. He was waived by the Mavericks following the 2015 Summer League but was picked up by their G-League affiliate, the Texas Legends. The 7'2" center averaged 1.5 points and 1.5 rebounds per game in 2015-16 and was resigned by the Legends for the 2016-17 season. He only participated in eight games in the 2016-17 season, averaging 1.6 points and 1.3 rebounds per game.
Satnam currently plays for the St. John's Edge in the NBL of Canada.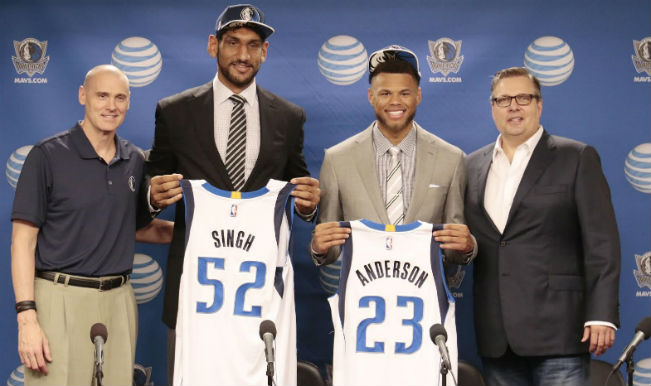 1. Sim Bhullar
Sim Bhullar was undrafted in the 2014 NBA draft but jumped on the Sacramento Kings Summer League team that offseason. The 7'3" center was then picked up by the Reno Bighorns, the Kings' G-League affiliate, where he would play most of his 2014-15 season. Later that season, the Kings signed Bhullar to a 10-day contract and on April 7, 2015, he became the first player of Indian descent to enter an NBA game. The very next night, he became the first Indian player to score in an NBA game when he recorded two points against the Utah Jazz. In the 2015-16 season, he played for the Toronto Raptors' G-League affiliate, the Raptors 905. Bhullar played in 39 games that season as well, averaging 9.6 points, 6.9 rebounds and 1.3 blockers per game.
Bhullar currently plays for Guangxi Weizhuang in the NBL China.