Managers from top clubs criticize fixture congestion for injuries to key players
The fixture pile-up has taken a toll on a few players in this weekend's premier league games leaving the managers frustrated 
The Reds sustained yet another injury as Trent Alexander-Arnold suffered a calf injury. It only added to Klopp's frustration as the right-back was then subbed off leading to reduced pressure from the right for Jurgen Klopp and co. 
The Liverpool boss also confirmed that it is not a knock and Trent will be out for a while, most probably for the International break and now Gareth Southgate will have to deal with it. With all this fiasco, Klopp also vented about the reluctance of the FA to allow five substitutions in the English top-flight.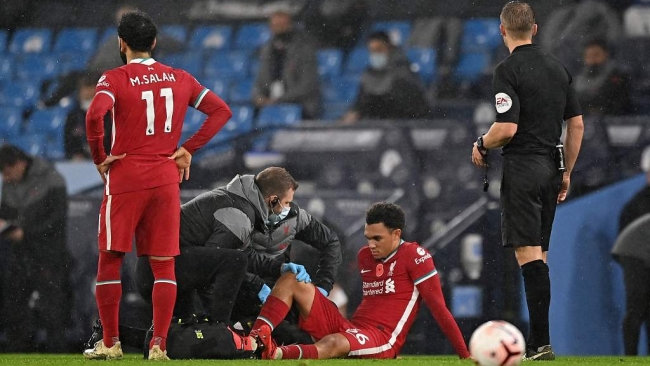 The November international break will see England facing the Republic of Ireland, Belgium, and Iceland in which Trent could've played a huge part. 
It all began with the Premier League cubs simultaneously voting down the rule of permitting five substitutions, a rule that was incorporated when the campaign resumed after a long halt.  
While talking in his post-match conference, he said, "It's a lack of leadership. (Premier League CEO) Richard Masters sold it completely wrong. It's not an advantage, it's a necessity. It happens in other countries, it was sold completely wrong and now you have this situation. Trent will be out for England, he will not be the last or only one Gareth will have to deal with either." 
Pep Guardiola resonated with the same thoughts while speaking to Sky Sports. He said, "We did not speak about the result. We spoke about how we have to fight again about five substitutions," when asked about his little chat with Jurgen Klopp just after the final whistle. 
The German also added to the Manchester United boss' comments on the fixture congestions. 
After the Red Devils' exquisite performance at Goodison Park, Ole Gunnar Solskjaer pounced at the authorities as his side was made to feature in an early kick-off on Saturday despite having played their last game on a Wednesday night, 48 hours after returning from Istanbul. 
Klopp said, "We have to find solutions, it's so tough and we need to play football but Wednesday night and 12:30 pm (Saturday) must not be allowed. If the Tuesday teams are in contention for Saturday that's okay, but the Wednesday teams should be in contention for those games." 
As far as other leagues are concerned, Inter Milan and ex-Chelsea boss Antonio Conte also spoke about the fixtures being adjusted without any rest and that fatigue is 'inevitable.' 
Thomas Tuchel, the PSG boss also spoke about the same for Neymar and Mbappe both, who are called for their international teams despite featuring in almost every game for their clubs. 
featured image credits- dailymail.co.uk