Real Madrid crumble to a 4-1 loss to Valencia in La Liga
Real Madrid suffered one of their worst defeats this season as they stumbled to Valencia 4-1 at the Mestalla Stadium on 8th Nov 2020
It was even more shocking to accept it because the Los Blancos were comfortable, leading by a goal scored by Karim Benzema which was assisted by Marcelo in the 23rd minute.
Another very unusual thing that happened in the game was the fact that Real Madrid conceded so many penalties. The 13-time European Champions have been one of the sides that have been favored by VAR and a lot of teams have not liked it.
Madrid's downfall began as Carlos Soler scored a hattrick of penalties and the defending La Liga champions lost their way completely.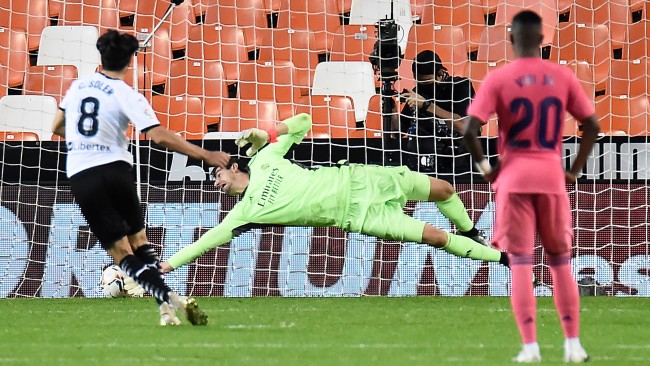 Everyone from the backline conceded a penalty while Raphael Varane scored an own adding to the miseries. 
However, Zinedine Zidane took all the heat and responded by agreeing to the fact that his tactics were not up to the mark.
Zidane did mention that Valencia was not tactically better but Real made things worse for themselves. Thibaut Courtois also expressed his displeasure and according to him, there have been some constant worries in Madrid's defensive part of the game.
He also criticized Maxi Gomez who exaggerated a contact and convinced the referee to award him a penalty.
Things are only getting worse for the Los Blancos as injuries are beginning to come up. The French striker has adductor problems while it was recently revealed that Federico Valverde has fractured his leg.
Valverde was replaced by Toni Kroos in the 76th minute and consequently, the 22-year-old Uruguayan will now miss his country's forthcoming World Cup qualifiers.
There were some records that were made too in this game. Soler became the first player to score three penalties in a single game in the Spanish top-flight in this century.
Real Madrid's next league game will be against Villareal on 21st November.
Featured image credits- youtube.com