Roger Federer: Sportco List of the Top 10 Greatest Moments of the Tennis Maestro
Sportco List of the top 10 Greatest Roger Federer moments  
Tennis won't be complete without Roger Federer. When Roger Federer plays Tennis, the whole world gasps incessantly and watches while holding its collective breath. 
Roger Federer has shown the world and has proved that age is just a number, even taught us to never give up till the end. He is the reason why most people have grown interest and have started watching or started playing Tennis. 
Roger started as a ball boy in 1993. He even said," It's a great memory for me," Federer continued. "I loved being a ball boy here. I was able to see the best players in the world first-hand, and see how they would prepare, and how they would sweat, and how did they deal with the pressure." 
Roger Federer was among his country's top junior tennis players by the age of 11. He turned pro in 1998, and with his victory at Wimbledon in 2003, he became the first Swiss man to win a Grand Slam singles title. Federer has won a record-setting 20 Grand Slam singles championships.
Here are the top 10 greatest Roger Federer moments
10. Roger Federer vs Rafael Nadal Wimbledon Semi-finals 2019
A match where the two tennis greats came into action during the latter stages of Wimbledon 2019 Grand Slam in the semi-finals. Roger Federer won this cutthroat match vs Rafael Nadal in a four-set match. The scores were 6-7, 6-1, 3-6, 4-6 in the favour of Roger.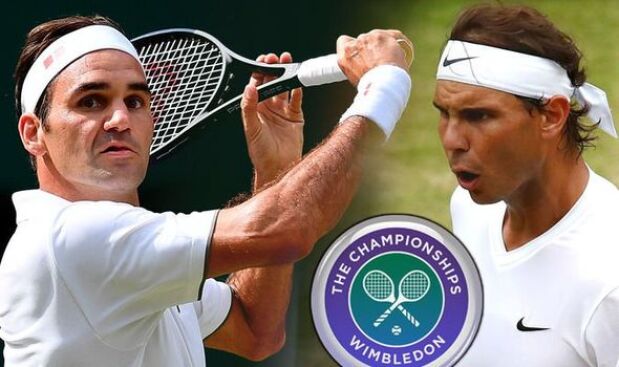 Federer pulled off some brilliant service games and unsettled Nadal to take control from the off. Rafael Nadal fought back, took the second set 6-1 and levelled the match at 1-1. 
Federer's level completely dropped in the second set and Nadal took full advantage of that. Roger Federer had taken the first set 7-6(3) at Centre Court. 
Both the players hardly gave anything to each other in their service games before the tiebreak made it edgy. Nadal broke Federer twice in the tiebreak but could not hold on to the advantage while when Federer got the mini-break, he raced away and took the set.
After the victory, Federer went on to play vs Novak Djokovic in the finals where Novak was victorious. But the victory in the semi-finals is one of the top moments Federer has.
9. Roger Federer vs Marin Cilic Wimbledon 2016
The match between Roger Federer and Marin Cilic which even Roger himself and his fans can't forget. 
The match is famous for the comeback made by Federer after going two sets down vs Cilic, at Wimbledon 2016 in the quarter-finals. In the opening two sets, Cilic dictated proceedings on Centre Court. 
The World No. 35 won 87 per cent of first-serve points, landed 12 aces and saved all three break points he faced to establish a two-set advantage. In the third set, the 6'6'' right-hander earned three consecutive breakpoints at 3-3, 0/40, but could not find a way through the Swiss.
Boosted by that escape, Federer charged back into the match. The 20-time Grand Slam champion claimed three straight games to force a fourth set, where he survived three match points. 
On two of those points, Cilic was unable to find the court on second-serve returns. After edging a gripping fourth-set tie-break, the eight-time champion completed a 6-7(4), 4-6, 6-3, 7-6(9), 6-3 victory after three hours and 17 minutes. It was the 10th time in Federer's career that he had won a match from two sets down.
8. Olympic Gold
Roger Federer is a player who has won almost every tournament that there is in tennis, but there is one prize that still eludes the Swiss Maestro and that is the singles Olympic medal. 
However, he does have a Gold medal in Olympics that he won with Stan Wawrinka in the doubles category at the Beijing Olympics. 
He's come close to winning the gold medal by, reaching the bronze medal match as a 19-year-old in Sydney in 2000, then winning the silver as a 30-year-old in London in 2012.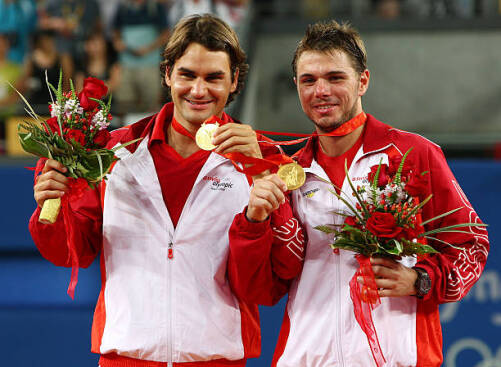 7. Roger Federer vs Nadal Australian Open final 2017
It was the year 2017 when Roger Federer became the very first tennis player to win five or more titles at three grand slam events. He won the Australian Open by defeating Rafael Nadal in a breathtaking final. 
Roger became the second-oldest man behind Ken Rosewall to win a major singles trophy by defeating Nadal by 6-4, 3-6, 6-1, 3-6, 6-3 in three hours and 37 minutes. 
The early stages of the first set provided a familiar sight – both players trying to limit the damage wrought by the other's forehand weaponry. 
The fifth set was full of agonising drama and Federer weathered two break points to serve it out – but his ethereal grace could not be denied. Coming as it does a full five years after his 17th crown, the sight of the great champion's tearful celebration was as pleasingly familiar as it was utterly astonishing.
6. Roger Federer vs Andy Roddick Wimbledon 2009
The 2009 Wimbledon final was a moment everyone wanted to witness. Roger Federer and Pete Sampras were tied for the most Grand Slam titles in the Open Era with 14, and Sampras flew to London for the occasion. The American wanted to be in the Centre Court stands to watch the Swiss star break his mark.
"Today with Pete it was a bit special. When he walked in and I saw him for the first time, I did get more nervous," Federer said. "I said hello to him, too, which is unusual. But I thought, 'I don't want to be rude.'" 
Federer beat Roddick 5-7, 7-6(6), 7-6(5), 3-6, 16-14 behind a career-high 50 aces to earn his 15th Grand Slam crown and deny the American a second major trophy.
But credit goes to the sixth seed for making it that far. Roddick led the second-set tie-break 6/2, giving himself four consecutive set points — including two on his rocket serve — to take a two-set lead. At 6/5, Roddick hit a forehand approach shot, and Federer's ensuing passing shot seemingly froze in the air. Would it fly long or drop on the baseline? Roddick appeared he would let it go, before reaching for the backhand volley at the last second, missing well wide of the doubles alley.
5. Andre Agassi vs Roger Federer US Open 2004
The 2004 US Open quarterfinal between Roger Federer and Andre Agassi is a match remembered as much for the extraordinary weather conditions as the tennis itself. 
Played over two days due to rainstorms, the match resumed for its second day in extreme, blustery conditions that defined the iconic encounter. The Swiss led by two sets to one when rain halted play on a Wednesday night, and Agassi initially handled the daytime wind best as he sent the match to a fifth set when play resumed on Thursday.
"It was really difficult out there," Federer said. "It was one of the worst conditions I've ever played in.

"It was a good situation for me to be two sets to one up (overnight), but once I lost the fourth set I wasn't very relaxed because I knew Andre was playing very well in the wind. I'm just really happy to get through."
Roger won that match 6-3, 2-6, 7-5, 3-6, 6-3 to go through the semi-finals. 
4. Most Number of weeks at top Consecutively 
Roger Federer has been the Rank 1 ATP ranked player consecutively for a staggering 237 weeks consecutively. 
This is an achievement that is not only one of his best achievements in tennis but in all the sports we can say because being in that form, in the best touch, in your prime for so long needs patience, hard work, fitness, mental strength, stability for being the best. 
The record for the most number of weeks at the top is admired as one of the toughest feat to achieve in tennis which has been broken only by a certain Novak Djokovic (351 weeks and counting.....)    
3. Roger Federer vs Pete Sampras 2001
On 2nd July 2001 Roger Federer claimed a stunning victory in the fourth round vs Pete Sampras. Pete Sampras was expected to win his fifth straight Wimbledon Open that year, but Roger had different plans. 
19-year-old Roger Federer won the five-setter match by 6–3, 3–6, 6–3, 2–6, 9–7.  Federer took the boy's singles title at Wimbledon three years earlier but hadn't won a professional singles match at the tournament prior to the start of the fortnight.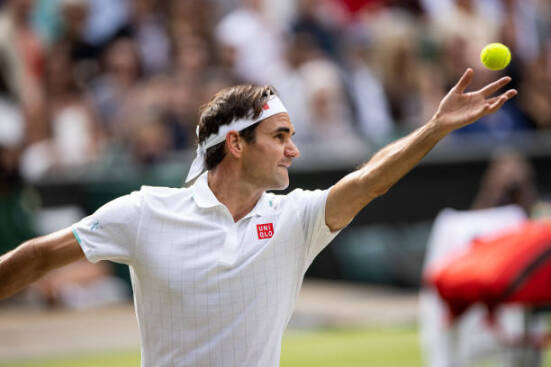 "This match will give me as much confidence as I can get," Federer said. "This is the biggest win of my life."
When Sampras charged back to take the fourth set against Federer and held two break points at 4-4 in the final set, the Swiss teenager showed mental toughness he'd previously lacked in Grand Slams. Federer erased both chances with a volley winner and forehand winner before holding serve. It was Sampras who blinked first in the next game by hitting two unforced errors to trail 15/40.
When Federer cracked a down-the-line forehand return winner to end the match, the crowd leapt to their feet as Federer dropped to his knees. After shaking hands with Sampras, the look of disbelief on his face was accompanied by tears rolling down his cheeks.
2. 23 Consecutive Semi-finals
In the year 2010 Roger Federer created a new record by reaching 23 consecutive semi-finals, which is still one of the greatest records made by any player. It's not any 23 semi-finals it's 23 Grand Slam semi-finals! 
Yes, 23 Grand Slam semis. For doing such a thing the player has to be fit mentally, physically for playing 23 consecutive grand slams. 'Consistency is the key' was the main motivation that encouraged Roger to do so. This is indubitably the most impressive facet of Federer's streak. 
Few players boast the variegated, all-court game to go far in all four majors. In fact, perhaps no one else does. Indeed, Nadal's hard court game is still a bit of a question mark despite capturing the Aussie Open last year, and while Novak Djokovic actually accomplished the feat of reaching every Slam semifinal in 2007, he's more or less unraveled since then. 
Clay courts are considered Federer's only "weakness" (witness his loss to Soderling on Tuesday), but the fact remains that were it not for the emergence of arguably the greatest clay-courter the game has ever seen in Nadal, that Federer would likely have taken home five French Open titles at this point. 
1. Consecutive US opens and Wimbledon titles
Consecutive! Yes, consecutive, but not one, two or three, Roger Federer has won five US Opens and five Wimbledon consecutively. He is the only player who has done so to do it for five years in a row. He won the five US Opens during the time period of 2004 to 2008. 
Roger Federer won Wimbledon from 2003 to 2007 continuously. This makes him the only player to do so in two different major slams. 
Winning one Grand Slam title requires excellence, health and some luck along the way. It means overcoming tough opponents and matchups, and it requires someone to be good enough to win when he is having an off day or facing an opponent's inspired, hot play. 
Two or three championship defenses is exponentially more difficult. There's the pressure of defending while wearing a target, and there are personal expectations and pressure.
The mental strength required to win three championships in a row is absolutely astonishing considering how much changes from one year to the next.
But four or five? How is this possible?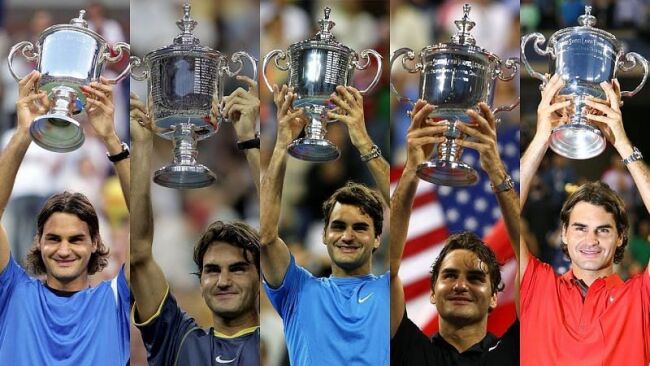 Federer's first U.S. Open title was clinched as a 23-year-old in 2004. He was completing his first year of crushing the ATP, and this tournament sealed his first epic journey with three majors in one calendar year. Federer won his first Wimbledon in the year 2003. He was 22 at that time which was astonishing.