O! Roger!! Tribute to the Maestro of Tennis
The day had to come. I knew it was coming, saw the apparition looming up in the first round and then vanishing with one firm tug on Mannarino's shoes by the grass. Even though it was coming, it seemed like the hallowed courts themselves were willing you on. Noting the struggles in every round, and knowing that sooner or later the opponent would not be willing to lend a hand. That the half step of slowness, the lack of confidence carefully hidden from all but the closest of friends would have to lead to a full stop at some point. With all this knowledge, it made no difference. When it happened, it was like a sledgehammer blow, a punch to the gut, like losing a loved one almost.
Every sport has these moments for the old master. As the Eagles would say, there's a new kid in town, who blasts the old one-off, and rings in the death knell, the Inchcape Bell!! For you, however, it has been such a long sunset, that one had tried to forget it would happen. Most people remember you serving that new kid role for Pistol Pete but the death knell for him really came the following year when he lost to your countryman (and doubles partner once) George Bastl. Wonder how many remember that?
Is a comeback even possible?
I would not count you out completely. After all, at the age of 35, the way you came back in 2017 was mind-boggling. You brought back your topspin backhand drive which had almost vanished. You know how to reinvent yourself. So maybe there are some chapters still to be written, but it sure feels like this time there is no coming back. Clearly, there is a need for a lot more matches to be under the belt at any time – and whether that is congruent with the needs of a 40-year-old body is highly doubtful.
An Artist at Work
To me, like it was to the late David Foster Wallace perhaps, watching you has been a near-religious experience. The super elegance, the artistry in the shot-making, the dance across the court seemingly in the air just above the earth's surface, the joy that your tennis brought, will never be matched. Those angles you created, the sudden rasping offense out of nowhere. The sheer cerebral nature of the way you constructed points taking time away from the opposition. Tennis with pomp is defined by you in a manner no one else can do. 
Right from the first Wimbledon, the angles, the return of serve and volley tennis, the headband, the man-bun (which I thought was extremely ugly at the time) captured the imagination and uplifted tennis for us fans!
I have been to the Australian Open and found that people stood for three to four hours in the fairly intense Melbourne sun waiting for you to show up for a 20-minute practice hit so they could see you at close range and scream Roger! Rooooggggerrrr!! While I am not one of those - I was watching Popyrin playing Ajeet Rai in the juniors on the next court - I have watched every match you played that I could and have marveled time and again at your genius and just felt blessed to watch you play
The Race to become the undisputed G.O.A.T of Tennis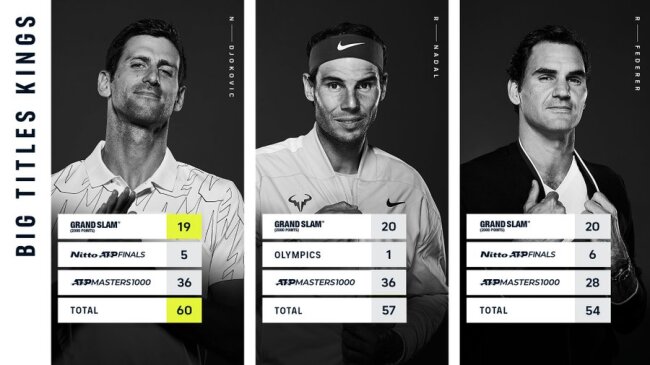 Your record of 20 grand slams has already been equaled by Nadal and is likely to be surpassed by Djokovic, but I do agree with the Rolex commercial - it is not about the numbers. At this point I believe Nole is playing the most complete tennis I have ever seen, tennis which defies every past standard, a level beyond compare. But I truly believe that you, and Rafa, got him there. He had to play that well just to beat you both. Tomorrow when Tsitsipas or Zverev or Felix or Shapovalov or Rublev or Sinner or Medvedev or Musetti or someone else upends Novak by playing even better tennis, you will have had a part to play to get the sport itself to that level. That alone is cause for celebration. 
The amazing thing that all three of you have shown, again without precedent is that an old dog can learn new tricks. That it is possible to be fine wine even in sports, getting better with age. We celebrate having had the good fortune of seeing three absolutely outstanding geniuses play at the same time and give us so much enjoyment. While I am partial to your particular brand of play, can anyone not marvel at Rafa's scorpion shot of a forehand especially that inside-out one? Or Nole's absolute sudden switching from defense to offense with a stroke of genius? Both also bring an incredible will to win which sees them dramatically raise their game at the slightest hint of threat – which in itself, is a treat to watch. No wonder you guys, with a little assistance from Murray, won almost everything in sight for a while. It was so disheartening for everyone else to play against this level of predator – not one but multiple ones!!
Records are meant to be broken
If this is the end, I am sure you will go away satisfied. Why should you not be? You have done everything a sportsman would dream of. Records are meant to be broken, 20 slams, 6 year-end titles will soon not be the pole position. The 31 finals, 46 semi-finals, 58 quarterfinals in the Slams will someday be passed. Perhaps not the 23 consecutive semi-finals (or 36 consecutive quarter-finals) – even Nole has not been able to come close to that!! What else could you ask for? It has been a magnificent run, Roger, thank you!!
For a fan like me, there is maybe some niggling unhappiness if not regrets. Those two match points at 8-7 40-15 in the 5th at Centre court will perhaps remain an indelible scar. I also remember four other fifth sets in a final when inexplicably your head went down and the match was lost. It is after all only a game, but I cannot shake off the feeling that if say Tiger Woods, or even Serena Williams had taken over your mind at the time, the numbers would have put the GOAT debate out of everyone else's reach. But then, that is just us fans, always wanting more. Who only want their hero to win, cannot play but can judge; the fans who also love and make the game what it is. Ignore those musings and know that you went everywhere that you had to - All the best Roger, there will never be another quite like you.
Featured Image Credits: (Reuters Photo)