Roger Federer vs Dan Evans Prediction | H2H | Stats: Doha Open 2021
The second seed Roger Federer kickstarts his 2021 season against Dan Evans in the pre-quarterfinals of the Doha Open. 
Evans dug deep to oust the French veteran Jeremy Chardy 6-4 1-6 6-2. He recovered well from the meltdown in the second set to claim the deciding set. Chardy was troubled by a muscle injury to his left leg in the third set. 
The Brit smashed 7 aces and clinched 64% of his first-serve points in the 2-hour 15-minute clash. He also saved 16 out of 18 breakpoint chances. Federer and his coach Ivan Ljubicic watched Evans beat Chardy from the stands. 
On the other hand, Federer is playing his first match on the ATP Tour after more than a year. He has worked towards attaining full fitness by training extensively in Dubai after undergoing two knee surgeries in February and May 2020. 
Head to Head Record
Federer leads the head-to-head record 3-0 against Evans and is yet to lose a set against the Brit.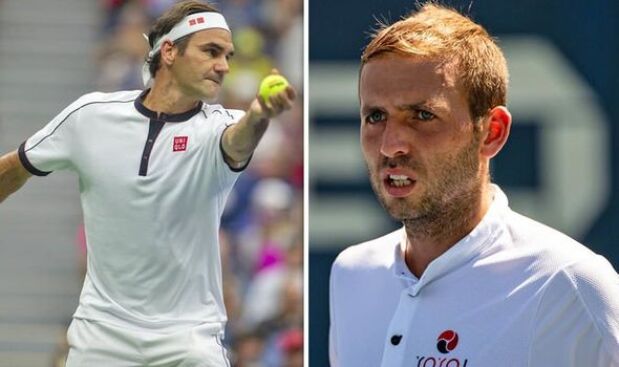 Key Insights
Interestingly, Federer and Evans played 20 sets against each other in their practice sessions in Dubai.
This is the first meeting between Federer and Evans in a non-grand slam event.
Federer has won the Doha Open three times in his career (2005, 2006, and 2011).
The Swiss superstar has an impressive 26-3 win-loss record in the tournament after making his debut in 2003.
Federer is playing for the first time in Doha since his last appearance in 2012.
Evans did not play in the Doha Open last year as he was representing Great Britain in the ATP Cup.
In a rare coincidence, Federer played Evans during his comeback after six months in 2017. He won in straight sets while playing for Switzerland in the Hopman Cup.
Game Analysis
Federer has publicly admitted that his expectations are low in Doha as he is aiming to build his game through match practice against high-quality opponents. His form will be quite rusty. 
Evans can unsettle Federer with his powerful forehand that he can hit both down the line and cross-court as demonstrated in the first-round match against Chardy. The Brit is solid from the back of the court by smartly redirecting the pace of his shots. It is better if his backhand slice is used in a limited manner as Federer can handle it effectively. 
Federer's main strengths lie in his quick-serve and volley strategy and the potent inside-out topspin heavy forehand. Hardcourts favor his style of play as he likes to keep points short by taking the ball on the rise. He has improved his one-handed backhand a lot in recent times and can find clever angles with his elegant returns.
"I am very happy to be back playing a tournament again, it has been a long time, I never thought it was going to take this long, I might surprise myself, I actually already have done well in practice in the past three weeks, but we know matches are a different animal, so right now I just take it day by day, said Federer quite pleased with his comeback to competitive tennis after a 13-month absence. 
'It was a difficult match against Chardy, happy to come through in the third set, it is going to be a great atmosphere, great to come out and play Roger, always good to play someone as good as him and see where my skills are," opined Evans very elated to take on the 20-time grand slam champion. 
Federer's intelligent anticipation skills and better match awareness give him the edge against Evans who would have got a good feel of the conditions by now. This has been a good beginning for the Brit as he won the ATP 250 - Murray River Open in February this year without dropping a set. 
It is Evans's best chance to take a set against Roger as the Swiss may start slowly taking some time to acclimatize to the conditions. Federer will be keen to test himself. On the verge of turning 40 this year, he would look to take it step by step to get into full throttle.
Prediction - Roger Federer to win in three sets
Featured Image Credits - ATP Tour