Rohit Sharma revitalizes his Test career as an opener
With debutante Shabaz Nadeem picking up the final two wickets in an hour, India completed an emphatic 3-0 victory over South Africa in the Test series. 
India outplayed their opponents in both the departments. They were confident and the top-order contributed immensely towards building the momentum for the series right from the very first innings. 
The Indian selectors' decision to promote him up the order as a last chance to resurrect his Test career deserves credit. Rohit is an immensely talented player oozing with potential and a probable future skipper. Although, the priority would have been to optimize the Indian Test team, this move will benefit India.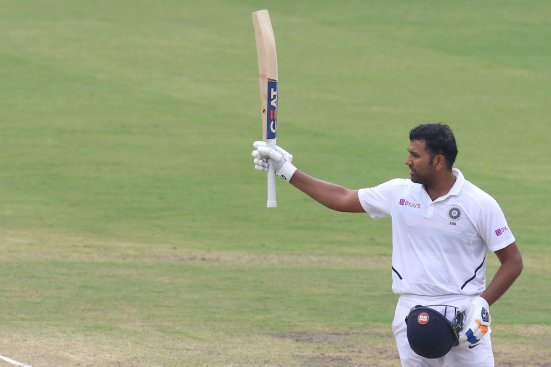 Rohit Sharma's role as an opener
While making his Test debut in 2013, Rohit notched a century against West-Indies from the number 6 spot, batting below Kohli and Tendulkar. He followed it up with another century in his next innings. 
However, he soon faded away and it took him another 35 innings to reach triple figures again. Due to this, he was shuffled in the squad, never being able to cement a position in the side. 
In a final attempt to save his Test career from closing in on him, the management promoted him to the top of the order in the first Test against South Africa and the Hitman responded magnificently.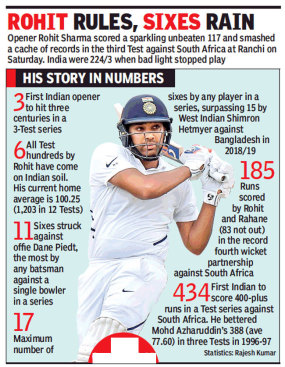 The Kohli effect
Batting ahead of Kohli also allows him to establish himself at the crease. Rohit has proved that he is the second-most dangerous batsman in the side in the shorter format. However, the Indian captain has an outrageous fan base and the crowd's love affair with Kohli is very evident. 
The move to put Rohit ahead of Kohli is a very crucial aspect that is going to help Rohit revitalize his test career in the long run. Kohli's presence on the crease is enough to cause the crowd to roar that will intimidate any player, and this affects Rohit too.
Batting ahead of Kohli ensures that the Mumbai Indians captain can establish himself before Virat steps out to bat. This, in turn, will shield him from any adverse effect the crowd's infatuation with Kohli will have on him.
Rohit's power-packed batting style
Rohit has the potential to reach centuries very quickly, and this knowledge and skill set will benefit him greatly in the long-run in tests. 
Batting at the top, Rohit can also choose the type of innings he wants to play. If he is patient and watchful, he has plenty of opportunities to score when the spinners are in play.  
The twin centuries he scored in Vizag stands testament to that. His initial 20 runs came of almost 10 overs after which he accelerated his innings. 
His ability to shift gears gracefully is his best ally when opening in the longer format of the game. 
Cover image credits: Sportskeeda