Legendary forward calls French sensation "the future of football"
Cristiano Ronaldo praised Paris Saint-Germain star Kylian Mbappe as the present and future of football.
Mbappe already established himself as one of the best players in the world after making the headlines during his time in the Monaco outfit in the 2016/17 season.
The 21-year-old has already on a World Cup, three Ligue 1 titles and three other domestic trophies for France, PSG and Monaco. 
Being continuously linked with a move to Real Madrid, Juventus superstar and five-time Ballon d'Or winner Cristiano Ronaldo heaped praise on Mbappe.
He said, "Mbappe is the future and the present. He's a fantastic player, very fast, and he will be the future." in a promotional video shared by Marca. 
Mbappe has been very sharp since his return after an injury and the youngster also provided an assist in PSG's only goal against Borussia Dortmund in the UCL Last 16 knockout tie recently.
Mbappe is already seen as the heir to Cristiano Ronaldo and Barcelona's Lionel Messi, after having flourished in the French capital.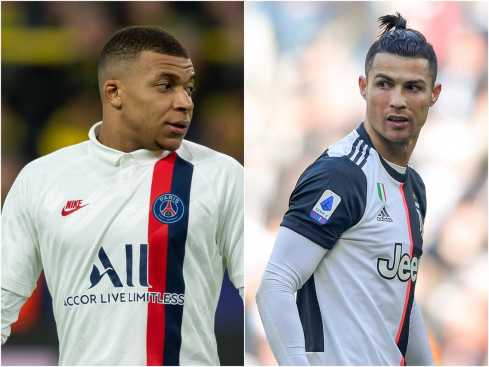 After scoring 39 goals in all competitions last season, Mbappe has 24 in this season already, out of which 15 are Ligue 1 goals. 
The Portuguese is also in red-hot form for the Serie A champions Juventus in the 2019/20 season. The 35-year-old has scored 24 in all competitions. 
Out of these, 20 goals are from the league as there is a tight battle going on between Ronaldo and Lazio's Ciro Immobile to become the top scorer in Italy's top-flight.
Ronaldo has netted 12 goals in his last eight games for Maurizio Sarri's Juve, who are a point clear at the top of the table. 
This season has been challenging for other Juventus players, some are struggling for form while some are fighting injuries. 
All this has put more pressure on Ronaldo, but the Portugal captain is dealing with the pressure the way he deals it every time by fighting it alone without any problem. 
featured image credits- ronaldo.com