Sadio Mane Player Profile: History | Stats | Playing Style | Accolades
Sadio Mane has been Liverpool's best player in recent years. His journey is filled with a lot of ups and downs but with time, Senegal forward has come out stronger and his winning mentality is one of the prime reasons why Liverpool have been such a strong unit in recent years.
How it Began for Sadio Mane
Mane began his professional footballing career with Ligue 2 side, Metz, when he was only 19. After an underwhelming season, he moved to the Austrian giants Red Bull Salzburg in 2012. 
He went on to win the league and a cup, completing the domestic double in the following season and his talent did not remain hidden for long as he was signed to become a part of the most competitive league in the world, the Premier League.
He became an instrumental part of the Saints, Southampton and in 2015, he established himself with a Premier League record for the fastest hattrick, fired in within 3 minutes (176 seconds) in a 6-1 win against Aston Villa.
A lot of big fishes caught his attention after his exquisite performance but the Reds were firm enough to land the Senegalese to Anfield in 2016.
Since then, Mane has managed to make it to the list of elites, helping his side to reach consecutive Champions League finals in 2018 and 2019, winning the latter one and scoring their lone goal in the 2018 defeat to Real Madrid.
Sadio Mane Statistics:
Mane scored only two goals in 23 appearances for Metz but his numbers shot up exponentially as he managed 45 goals in just 87 displays for RB Salzburg.
After battling some issues on and off the field, Mane managed a decent stint with the Saints, scoring 25 goals in 75 appearances before he moved to Liverpool.
Under Jurgen Klopp, Sadio soared to new heights as the forward managed some brilliant performances on the field, performances that cannot be defined by numbers.
For Liverpool, he has managed 91 goals in 199 appearances and the forward still hopes that he can offer more to the club. Being rumored to the big European fishes almost daily shows how worthy of an asset he can be for his club and his teammates.
Sadio Mane Playing Style:
Mane is primarily known for his pace but what people fail to notice is how intelligent he is on the field. His chemistry with Andrew Robertson is out of the world, and he knows when cutting in is the right option and when he can pass the ball to Robertson to whip it in. 
Mane can shoot, he can dribble, while his control over the ball is fantastic too. Mane has also scored some beautiful headers, meaning that option is pretty much open too and his acrobatics are something we've seen on the pitch several times.
Sadio Mane Major Honors: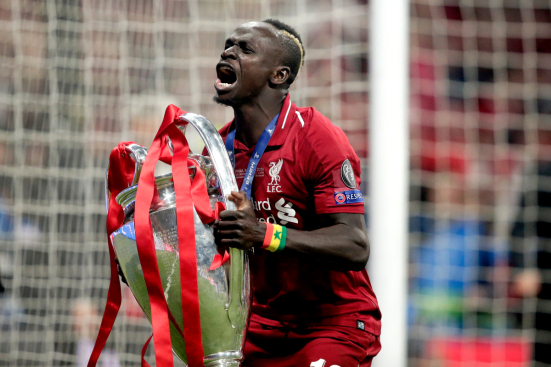 ⭐ Austrian Football Bundesliga (2013-14)
⭐ Austrian Cup (2013-14)
⭐ Confederation of African Football (CAF) Team of the Year  (2015,2016,2018,2019,2020)
⭐ Liverpool Fans' Player of the Season award (2016-17)
⭐ Liverpool Players' Player of the Season award (2016-17)
⭐ PFA Team of the Year (2016-17, 2018-19, 2019-20)
⭐ UEFA Champions League (2018-19), runner-up (2017-18)
⭐ UEFA Super Cup (2019)
⭐ FIFA Club World Cup (2019)
⭐ Premier League Golden Boot (2018-19)
⭐ Africa Cup of Nations runner-up (2019)
⭐ UEFA Champions League Forward of the Season (2nd place in 2018-19)
⭐ African Footballer of the Year (2019)
All these accolades show what a wonderful talent he is and hopefully, his best is yet to come.