Sportco's Exclusive Interview with Samir Banerjee: Wimbledon 2021 Boys Singles Champion
Indian-American Samir Banerjee is the toast of the tennis world after clinching the Wimbledon Boys Singles on July 11, 2021. 
The 17-year notched up a wonderful win by beating his good friend Victor Lilov in straight sets in the finals. Samir also had a great outcome in doubles at SW19. He reached the semifinals along with Japan's Kokoro Isomura.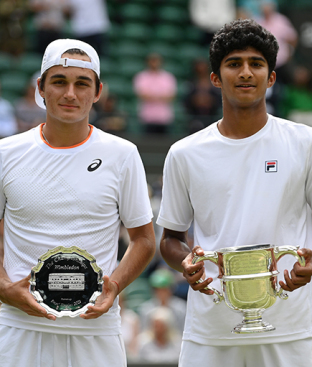 How did Samir Banerjee turn the tables from Roland Garros to Wimbledon?    
The teen sensation is a right-hander with a two-handed backhand. He was seeded 15th in the French Open Juniors 2021. However, he lost in straight sets to Max Hans Rehberg in the first round.  
But, he took the tough loss in his stride. The 17-year old aimed at winning at least 1 match in the Wimbledon Boys singles tournament. It was indeed an unforgettable grand slam for Samir as he won 6 matches in a row to get his name in the history books. 
He notched up 3 straight-set victories and an equal number of 3-set wins. His deep returns and sharp hands at the net made a big difference on the fast grass.  After his maiden junior grand slam title, Samir has jumped from No.17 to No.2 in the ITF rankings.  
What does Kunal Banerjee think about Samir's game?
"He doesn't stick to the baseline, but likes to come up to volley and finish off points early, his backhand has been his biggest shot, but there is a tangible difference in his forehand after a short training stint at the Alexander Waske Tennis University in Germany," disclosed Kunal Banerjee (father of Samir). 
In a free-wheeling chat with Sportco, Samir Banerjee reveals his playing style, the strong Next-Gen talents, thoughts about Novak Djokovic, future plans, and much more. Here we go. 
1) You won 17 out of 19 points at the net in the finals. Do you like Federer's trick shot, Sneak Attack by Roger (SABR) by playing half-volleys and counter-attacking the opponent's serve?
Yes, I have used that tactic in lower-level tournaments. But, I don't yet have the guts to pull it off in big tourneys.    
2) Apart from your opponent Victor Lilov in the finals, is there any junior player that you consider as your favorite?
I definitely admire Carlos Alcaraz Garfia. He is a prodigy. But I am also inspired by Felix Auger Aliassime (20), Sebastian Korda (21) and Jannik Sinner (19). They are all very young and doing well on the men's tour.  
3) You are a big fan of Novak Djokovic, what is the aspect of his game that you love? Is it his strong returning skills, the potent two-handed backhand, his red-hot form, or his better H2H record against Federer and Nadal?
 Yes, Djokovic is the player I most identify with because he has a complete game and amazing mental strength. It is usually very difficult to beat him in a five-setter. That means, he raises his level when it's needed the most. Off the court, he has a friendly personality and is a good pianist too!
4) What are the potential ITF Futures Tournaments that you will be playing in the coming months? Will you feature in the US Open starting on August 30, 2021?
I will start playing a few 15k Futures. I will be looking to play the Junior US Open (6th September to 11th September 2021), unless I land a wildcard into the men's main draw which seems unlikely. 
5) What should you do differently when compared to Somdev Devvarman and Yuki Bhambri? Somdev and Yuki were successful in the junior level but could not be consistent on the senior ATP Tour.
Somdev and Yuki are great players in their own right. I am not too familiar with their circumstances and why they did not go on to have big success on the Pro Tour. All I can say is it's a big leap to the Pro Tour. I have to work hard and further develop the weak parts of my game. Even then, there is no guarantee of making it but it's a challenge I want to take on. 
6) Grass is your favorite surface and it suits your volleying skills and passing shots at the net? Will you work on something specific for the upcoming hard court season? 
My favorite surface is hard courts. I don't play enough on the grass to call it my favorite surface. In fact, most juniors only get to play twice on the grass in any given year, first at J1 Roehampton and then at Wimbledon. For the hard court season, I will continue to develop my forehand and work on serve placement. 
Samir Banerjee

Winning Percentage on 
different surfaces in 2021

Hard
9/13 (69.23%) 
Grass
7/8 (87.50%)
Clay
5/8 (62.50%)
Overall
21/29 (72.41%)
7) How tough will it be to play tennis actively when you pursue your economics or political science course at Columbia University? 
It will be very tough because Columbia is one of the top academic institutions. There is pressure to keep pace with the demands of coursework. However, it should motivate me to better balance my priorities. 
"Of all the prestigious Ivy League colleges, Columbia is the best at tennis", said Kunal Banerjee (father of Samir) in an interview earlier to The Indian Express. Interestingly, Columbia University has been the champion for the last 6 years in the National Collegiate Athletic Association (NCAA). 
8) How do you react when you lose a match? Do you analyze what went wrong? Or do you come back fresh for the next match and play your normal game?
Apart from the disappointment of losing, I do spend time analyzing my performance. "I have a good memory and can recall many details of key points I have played in past matches", reflected Samir Banerjee. It helps to break down what went wrong and how I can play the point differently the next time if presented with the same situation. Video analysis also helps.
9) Since you won the Wimbledon 2021 Juniors title, is there any chance that you will play the Wimbledon 2022 senior draw? As a qualifier or as a wildcard?
That is the goal but we shall see, I will have to be deserving of that opportunity which means I have to keep improving. 
10) You have trained in a lot of places, New Jersey, Florida, Frankfurt, and Kolkata. Which is your favorite destination to play?
My favorite destination from a tennis standpoint is Wimbledon, not because I was successful. I was only 11 years old when I visited the All England Club in 2015. 
I was overawed by its presence and history. Otherwise, I have enjoyed traveling to Kenya and Mexico internationally and to California within the USA.
11) What is your biggest career goal? To win a grand slam title? To win an Olympic medal for the USA? To play against any member of the Big 3 - Federer, Nadal, and Djokovic?
To win a grand slam. 
12)  If you want to steal a shot from any tennis player - what would it be?
Roger Federer's serve in his prime!   
Wrapping Up
Samir Banerjee will definitely reach greater heights in the years to come. Being an Indian-American, he will receive strong support from tennis fans in both countries. The 17-year-old has broken the shackles by becoming the Junior World number 2 after his Wimbledon triumph.
The teenager was impressive with his composure under pressure in the prestigious grand slam. He also handled the tight scheduling well by playing both the pre-quarters and quarterfinals at Wimbledon on the same day. The Indian American's stamina stood out strong despite playing singles and doubles matches back-to-back on 3 days at SW19.    
Trivia
How many Indian-origin players won junior grand slam titles? 
Player Name

Achievement

Ramanathan Krishnan
Wimbledon champion in 1954
Ramesh Krishnan
Won the French Open 
and Wimbledon in 1979 

Leander Paes

 

Clinched the Wimbledon in 1990 
and the US Open in 1991
Yuki Bhambri
Triumphed at the Australian Open in 2009
Who are the 4 players who won both boy's and men's singles titles at Wimbledon?
Bjorn Borg, Pat Cash, Stefan Edberg, and Roger Federer are the 4 distinguished players who claimed both the junior and senior singles titles at Wimbledon. Samir still has a long way to go to add his name along with the above-mentioned legends.    
Our hearty thanks to Samir Banerjee for managing his busy schedule to answer our questions for this exclusive interview. Wish him good luck in all his future endeavors.   
Featured Image Credits - Getty Images