Leonardo Bonucci and Giorgio Chiellini: The Formidable Italian Wall
We have witnessed some great defenders duos who have helped their team succeed in big competitions. Sportco analyses how the Italian defensive wall of Leonardo Bonucci and Giorgio Chiellini achieved stardom at club and country level.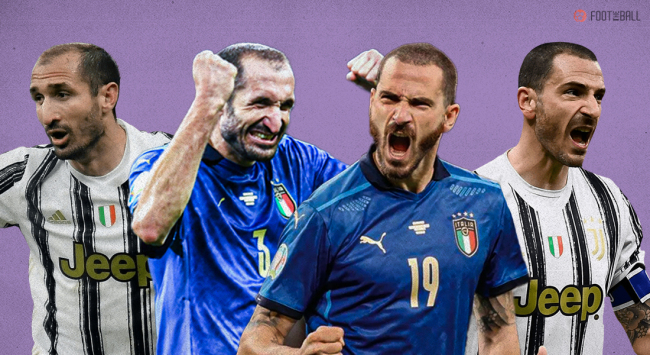 Leonardo Bonucci and Giorgio Chiellini have been some of the most iconic center-back duos. Both the defenders have been X-factors for their club and country throughout their careers. They are the only players who know each other's game inside out.
After Juventus' 1-0 victory over Mourinho's Manchester United in the 2018-19 Champions League season, the Portuguese commented, 
"Mr Bonucci and Mr Chiellini could give some Harvard University classes about how to be a central defender." - Jose Mourinho
Chiellini kickstarted his career with Livorno at a young age. He first started out as a midfielder, then switched to winger before he finally found his actual position and became a center-back. 
His playing style has made a great impression on top clubs from Italy. He has played for Roma and Florentina before joining Juventus, the most successful club of Italy, in 2005.
Bonucci joined Inter Milan in 2005. However, he was loaned to Treviso and Pisa, before joining Bari in 2009. Bonucci established himself there and became a key defender for Bari. 
His fluidity in defense and style of play made him a top defender in Italy. Many clubs were keen on signing him, however, he chose Juventus and formed one of the most formidable defenses alongside Chiellini. 
Leonardo Bonucci and Giorgio Chiellini: Guardians of the Old Lady of Turin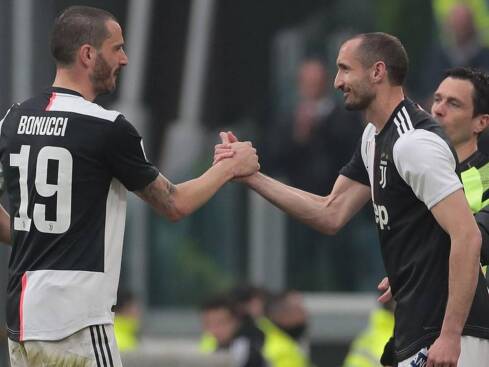 Giorgio Chiellini and Leonardo Bonucci spent nine years together in Juventus. Both the defenders struggled during their early stages at the club, be it a defensive error, losing a game, or heated moments in the matches. However, this made their understanding strong and their reading of games accurate. 
The duo forged a robust Juventus defensive pairing. The understanding between Giorgio Chiellini and Leonardo Bonucci was a key part for Juventus to win abundant trophies.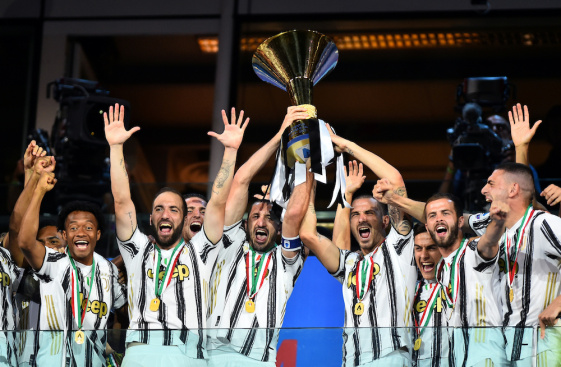 Bonucci's and Chiellini's careers at Juventus have been phenomenal, both have amassed a total of 15 Serie A titles, nine Coppa Italia, and ten Suppercoppa Italiana. Only one trophy eluded both the defenders, which was the Champions League. 
Albeit playing twice in the UCL final in 2015 and 2017, they couldn't get their hands on the coveted trophy. Leonardo Bonucci was named in Serie A team of the year four times, while Giorgio Chiellini was named five times. He was awarded Serie A defender of the year three times as well.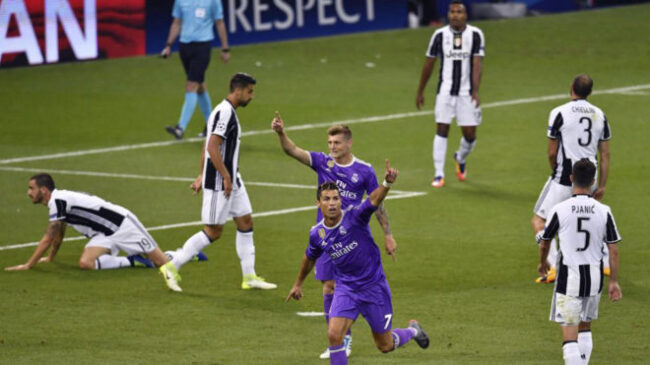 Chiellini was the most aggressive player. His aggressiveness kept the strikers at bay, and Bonucci would take the control of the backline. 
Both formed a perfect tandem for Juventus. In the 2020-21 season, Chiellini had won a total of 50 ariel duels, 51 interceptions, and 12 blocks. Bonucci had 55 ariel duels to his name, 70 tackles won, and 16 blocks.    
Overall Club Career Stats
| Stats  | Bonucci | Chiellini  |
| --- | --- | --- |
| Appearances  | 538 | 577 |
| Goals  | 33 | 39 |
| Assists  | 12 | 26 |
| Trophies  | 18 | 19 |
Italian Art of Defending  
It was a similar story for the duo in the national team. Giorgio Chiellini made his debut in 2004, while Leonardo Bonucci had to wait till 2010 to represent Italy. With the national team, it has been sort of a rollercoaster for the duo. 
Chiellini and Bonucci's careers at the national level were termed as failures following their exit from the 2009 Confederation Cup and an early exit from the group stage in the 2010 World Cup. 
However, Euro 2012 was their turning point, reaching the final of Euro 2012 only to be thrashed by a legendary Spain team 4-0. 
Since their 2006 World Cup triumph, Italy has had a poor run in World Cups, as they got eliminated from the group stage in the 2014 World Cup too. 
In Euro 2016, they had a good run defeating defending champion Spain 2-0 in the knockout stage. However, they lost to Germany in penalty shootouts ending their Euro 2016 Campaign.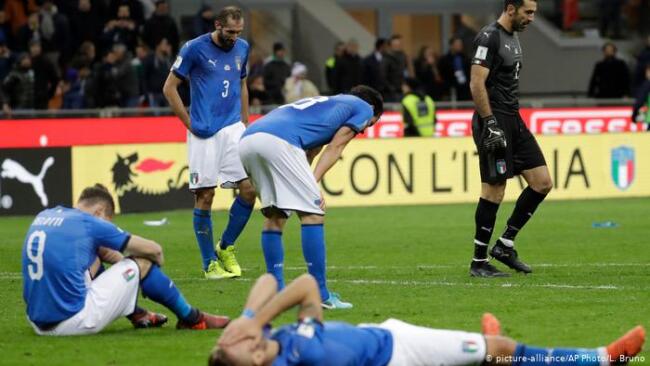 The Debacle of the 2018 World Cup: A wake-up call
Italy failed to qualify for the 2018 World Cup, the darkest day in their football history. 
Giorgio Chiellini and Leonardo Bonucci both had reached retirement age, and Euro 2020 was their only hope to shut the critics.
A country that failed to qualify for the 2018 World Cup had to rebuild from scratch and Roberto Mancini was the man who took the job to repair this side of Italy. 
The Italian squad was a mix of youngsters and experienced players. Great composure in the games and great understanding is what made Italy the most successful country in Euro 2020, it like was Italy rose from ashes and did the impossible.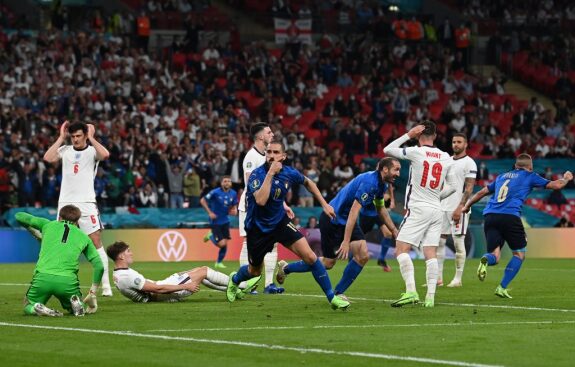 Winning the Euro 2020: It went to Rome!
Giorgio Chiellini and Leonardo Bonucci were the real stars for Italy at the Euros. Forming a telepathic understanding was a key factor in Euro 2020 to keep forays at bay. Italy kept three clean sheets throughout the tournament. The duo knew their responsibilities. 
When one goes out to intercept, the other stays back to sweep it away or block a potential passing option. When one joins the forward line in attack, the other covers the backline in case the possession is lost.
Giorgio Chiellini and Leonardo Bonucci: Euro 2020 Defensive Stats
| | | | | | |
| --- | --- | --- | --- | --- | --- |
| Player  | Clearances  | Headed Clearances  | Blocks  | Tackles  | Successful long passes |
| Giorgio Chiellini | 2.2 | 3.9 | 0.6 | 1.1 | 3.3 |
| Leonardo Bonucci | 0.5 | 2.0 | 0.5 | 0.3 | 6.2 |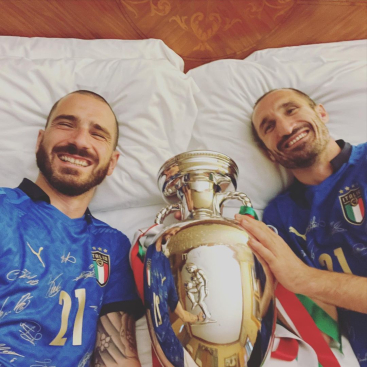 The Italians are ageless. Mancini picked both of them as he knew the duo complemented each other really well. When Leonardo Bonucci left Juventus for AC Milan, he struggled to play there as he quickly realized that he was less than half the man without Giorgio Chiellini. 
As Chiellini quoted about Bonucci in February, "By now, I think I know him better than my wife".