Thomas Frank: Manager Profile | Brentford Tactics | Style of Play | Formation
Thomas Frank is one of those managers whose tactics have turned Brentford from a mediocre club into an unstoppable force to reckon with in the Premier League this season. 
Since taking over the helms of management at Brentford, Thomas Frank turned 'The Bees' from below average to one of the efficient clubs in the Championship, before qualifying for the Premier League.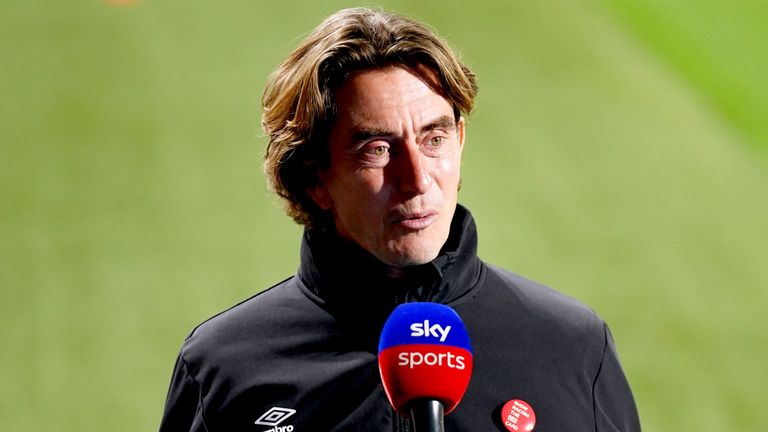 The club has done a great job in Premier League, already showing what they are capable of. As they sit in seventh place in the Premier League, and Thomas Frank should get great recognition for his excellent tactics with Brentford. 
His philosophy has well worked on players who have been diligent in every Premier League game, as we analyze his tactics and what is his preferred formation below. 
Thomas Frank Tactics at Brentford: 3-5-2 System of play
Thomas Frank has remained flexible with his tactics, before his promotion to Premier League, he executed 4-3-3 formation but made a change after being promoted to Premier League. 
T. Frank has used a 3-5-2 formation in every game of the Premier League, so he likes high-pressing and heavy-metal football, which is an attacking and possession-oriented game. 
This style of play means players rotate while playing an e.g. left-wing-back may take up the positioning of a central midfielder, as the central midfielder drifts wide. Frank expects high energy from his players, as you have to keep pressing until you win the ball back. 
High Pressing and attacking style 
Their attacking game is simple, create more space through wings as fullbacks / wing-backs play a key role in exploiting defense, he usually plays a vertical style of football which makes the area wider and exposes more space. 
The players create abundant chances through their aggressive press, once they win the ball back the players will start down the attack from the middle and continue toward the box at speed. 
In the Championship, the Bees scored 79 goals in their 46 league matches, more than any other team on the Championship side.  
Their Pressing game is to chase the ball relentlessly, as their name "Bees" quiet makes sense because their game is to swarm around opposition players like a pack of bees, buzzing and brewing until they sting and punch. 
However, Brentford's game doesn't revolve around high-pressing just to gain possession, once they win the ball, they quickly start attacking and score goals. Their main motive is to press high and score goals, 'pressing to score goals' 
When it's about keeping possession Brentford has managed to keep 54% of the possession in Championship, the fourth highest in the league. 
During possession build-up, the Bees build out from the back, as the deep-lying central midfielder often drops deeps to make space and offer his creativity, and full-backs push high with wingers to create more space in the wings and float around. 
While other midfielders use their vision to set the tone of the game by splitting the opponent's defenses with their through-balls. This gives more space to the false nine to score goals. 
The Danish coach has executed an attractive styles of play with high-pressing, intentional build-up, and a mix of verticality and press to score goals.  
We hope you enjoyed this detailed article on Brentford tactics under Thomas Frank? Which is your favourite Brentford moment from the Premier League this season, do let us know in the comments below?
Related Articles: Brendan Rodgers tactics at Leicester City