Brendan Rogers: Tactical Analysis at Leicester City | Style of Play | Formation
Sportco delivers you an in-depth tactical analysis of Brendan Rodgers and a comprehensive exploration of his style of play & tactics at Leicester City.
Brendan Rodgers took over the reins of Leicester City in 2019 which saw the club rise up from the ashes. 
The team had faced a huge dip after the departure of Claudio Ranieri, under whose leadership Leicester became the champions of the Premier League in 2015-16. 
With Rodgers' rapid change in the style of play, the team has attained positive results. Quick rotation and domination of possession enable them to exploit weaknesses with high pressing and make numerous counter-attacks through a wide space. 
Brendan Rodgers: Leicester City Tactics
Brendan Rodgers' astute administration gives us an insight into what Claude Puel's management lacked. Puel placed complete faith in the young blood of the team. 
An aging defense and comparatively weaker midfield didn't help to lift their performance. On top of that, Rodgers also had a frosty relationship with Jamie Vardy as in the second season he began to rest him more often.
Brendan Rodgers has rebuilt the team putting the right players in the right positions. Despite the absence of some of the high-profile players, he's getting the best out of his players. 
Intensive training has led to the players responding well to the changes. He has given full discretion to the players so that they can perform to their utmost potential. 
4-2-3-1 system of play
Brendan Rodgers has deployed flexible tactics at Leicester, having deployed a 4-4-1-1 formation earlier at Liverpool and now a 4-2-3-1 system of play at Leicester City with a preferred alternative of 4-1-4-1. 
Brendan Rodgers' aggressive approach of play with a 4-2-3-1 formation has proved to be a grand success for Leicester. He's had success with multiple clubs and his spectacular strategy has proved his tactical mettle for the good of Leicester City. 
The heavily loaded midfield implies a more possession-based system that employs a double pivot of two holding midfielders to provide an extra layer of defense at the back. 
It relies heavily on the pace of attackers, namely Vardy, who has been in phenomenal form upfront.
Key Players at Leicester City
Under Brendan Rodgers, Leicester City's tactics have revolved around building a strong foundation at the back, with the holy trinity of the deeper midfielder Wilfred Ndidi and center-backs Jonny Evans and Çağlar Söyüncü. 
Wilfred Ndidi, arguably the most important player of the team, has always been solid on the ball with great pass accuracy and long-range strikes. The pair of James Maddison and Youri Tielemens is often used as central midfielders. 
Kasper Schmeichel is comfortable on the ball and capable of launching long-ranging passes accurately as the goalkeeper for the Foxes. The wide attacking players for Rodgers usually consist of any two players out of Harvey Barnes, Demarai Gray, or Ayozi Perez.
Jamie Vardy is, at the moment, one of the important players at Leicester City. In the current system, you would observe Vardy spending more time in the opponent's penalty area to latch onto the pull-back pass or a cross from one of his fellow midfielders.
The adjustment in full-back positioning has enabled Leicester to escape the press in wider areas. 
Brendan Rogers tactics sage landed Leicester City sixth in the Premier League table last season and also claimed a FA Cup for the first time in their history outclassing Chelsea 1-0. Having lost four finals before.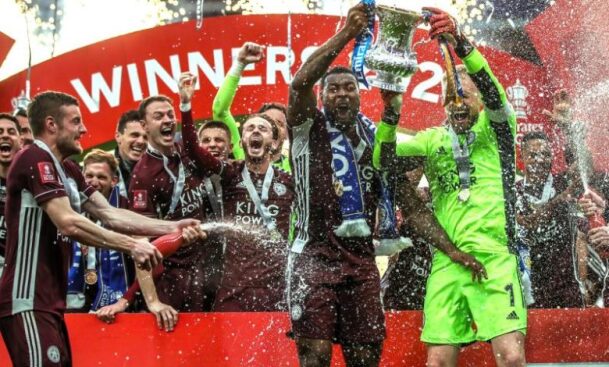 Leicester picked where they left off last season, winning community shield in a 1-0 triumph over Manchester City recently. 
They are looking impressive having made constant progress. If they sustain their current momentum, they will be in the top-four and might even challenge for the title this season. 
We hope you liked our tactical analysis of the football technician i.e Brendan Rodgers. Do check out some of our other manager tactics articles in the links given below.
Related Articles: Marcelo Bielsa Leeds Tactics | Thomas Tuchel Tactics