UEFA Champions League 2020/21 Draw: Quarter Finals and Semi Finals
The UEFA Champions League quarter-finals draw are out and we have some enthralling fixtures waiting to be played between the European elites. Just a day's gap and we have a new set of fixtures to think of. Who will go through? Who gets knocked out and more.
Taking all this into consideration, Sportco presents not only the UEFA Champions League draw but also predictions of how these fixtures could end up. We will be explaining to you in advance how the possible semi-finals could look too!
The UEFA Champions League Quarter-Finals draw are as follows:
1) Manchester City vs Borussia Dortmund
2) FC Porto vs Chelsea
3) Bayern Munich vs PSG
4) Real Madrid vs Liverpool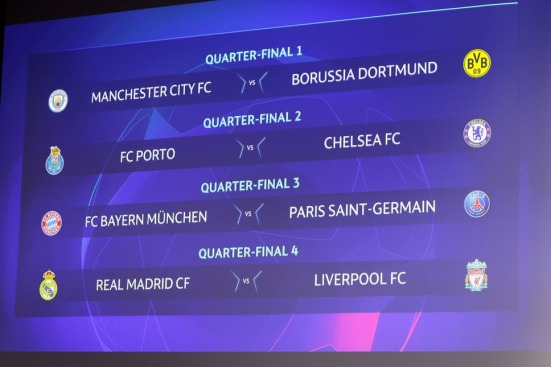 Manchester City vs Borussia Dortmund
Borussia Dortmund have not been anywhere near the promising sides in the Champions League this season but a victory over Pep Guardiola's Manchester City could open the doors for any possibility for the German side.
Not that they have to do much, just pass it to Erling Haaland and leave it to him. Manchester City have rubbed off all the doubts about their defense in this season, but stopping Haaland from scoring would be some job for the likes of John Stones and Ruben Dias.
FC Porto vs Chelsea
Anyone writing Porto off could be deemed not in his senses, especially after a fully fit Juventus side with the best player of the Champions League failed to break that underrated Porto backline.
On the contrary, it is also a fact that all the other participants in the competition would've wanted Porto as their opponent in the first place. However, the Portuguese side would be no pushovers in the Quarter-Finals for any opponent.
Thomas Tuchel's Chelsea have been an epitome of muscular yet simple football and Tuchel has a big opportunity to take his side to the semi-finals in a season that is not even his first full season as the Blues boss.
Bayern Munich vs Paris Saint Germain
Mauricio Pochettino and co will be eyeing to prove themselves as genuine title contenders and prevailing over last season's champions would be a statement. 
Bayern Munich vs PSG is anticipated to the fixture of the season because the teams were reckoned to face each other in the finals again. Neymar and Kylian Mbappe would be keen to make a difference in this fixture.
Will a manager change be enough for the Paris side to beat the two-time treble winners? or Will it be the Robert Lewandowski show again?
Real Madrid vs Liverpool
The moment Liverpool fans must have known about this fixture, bad visuals of the 2017/18 finals would come into their minds. The Reds will take on the Los Blancos and it will be fun to see how the 'Salah vs Ramos' battle pans out.
Despite Liverpool's struggles at the back, they have shown resilience in the Champions League. Some people could compare the pace of the competition with the Premier League, but taking nothing away from Jurgen Klopp and co, there is a reason Champions League is the biggest club competition in Europe.
UEFA Champions League Semi-final Draw possibilities
Real Madrid or Liverpool VS FC Porto or Chelsea and
Bayern Munich or PSG VS Manchester City or Borussia Dortmund.
Do stay tuned with Sportco for more updates, predictions, and news for these fixtures!