UFC 262: Charles Oliveira crowned the New King in the Lightweight division
The UFC 262 was one for the fans, with some amazing matchups and dominant displays from the fighters. All the fighters in the card performed, but we'll take a look at what went down in the co-main and main events.
Leading to the build-up of the main event, Tony Ferguson was set to fight against Beneil Dariush. 
Tony Ferguson was famous for his 12 fight win streak in the UFC, as he remained undefeated for over 5 years. He was named the UFC Interim Lightweight Champion of the world but he never got a title shot, which seemed unfair to many people. 
Unfortunately, Tony is now on a 3 fight losing streak after today's dominant performance by Beneil Dariush. 
The Iranian managed to put Tony down and control the ground game for 3 rounds straight, and even got hold of a nasty leg lock in the 2nd round which only displayed the toughness of 'El Cucuy'. It was a Unanimous Decision victory for Beneil Dariush.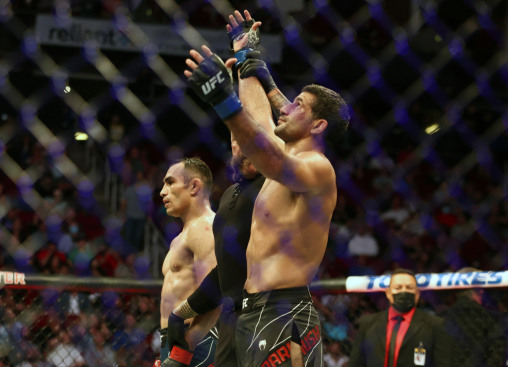 Beneil Dariush is now on a 7 fight winning streak, and adding Tony Ferguson to his resume would give him a huge boost to the title contention.  
UFC 262: Charles Oliveira vs Mike Chandler
The main event was one for the fans, explosive and unpredictable each passing second. It was a Championship bout between Charles Oliveira and Mike Chandler, the former Bellator World Champion. 
Right after the opening bell, Charles Oliveira landed a clean leg kick which led to Mike Chandler falling to the floor after which Oliveira attempted a takedown and was successful, only to get locked in a guillotine by Chandler but he managed to escape. Mike Chandler scored a brutal knockdown against Charles Oliveira by the end of the first round, he failed to finish the fight. 
Charles Oliveira came out in the second fight charging straight into Mike Chandler before knocking him down with a vicious right hook to the temple, a few follow-up strikes led to the fight being stopped. 
Charles Oliveira is now the reigning UFC Lightweight Champion of the World. Charles 'Do Bronx' Oliveira showed the fight world how important fundamentals are but more importantly, he showed what a heart he has after coming over the problems he faced in the first round against the former Bellator World Champion.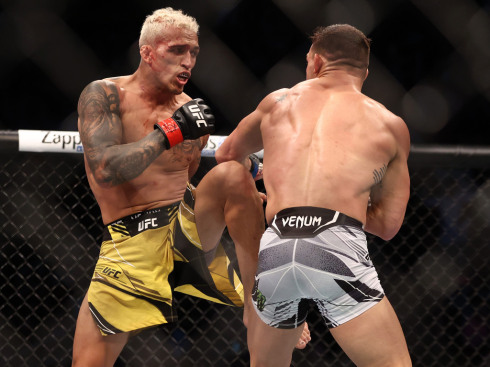 Conor McGregor is expected to fight against Charles Oliveira for the title if he manages to defeat Poirier in July. Dustin Poirier will also look forward to proving himself as the best lightweight in the world.