Conor McGregor: MMA Record | Fighting Style | Knockout | Quotes | Next Fight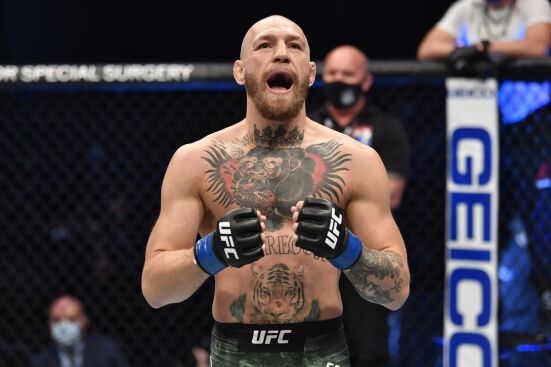 Conor McGregor was born in Dublin, Ireland. During his early days in MMA, he would also serve as a plumber for earning a daily living. It is safe to say, Conor McGregor has come a long way. 
In the two decades of the UFC, no one has brought attention to as much as Conor "The Notorious" McGregor has. 
His PPV numbers speak for themselves, even before fighting the great Floyd Mayweather, McGregor's PPVs were getting over a million buyers. It was still a great boost for the UFC superstar. 
What makes Conor McGregor so different from the other superstars? It is his personality and his fighting style, both are highly entertaining. Whilst his recent fights might tell you otherwise, Conor McGregor has been an absolute phenomenon inside the octagon. 
Fighting Style
The Irishman approaches his opponents in a disciplined way, he never barges into throwing punches. Conor McGregor is amongst the most disciplined strikers in MMA history, he picks his shots even when his opponents are down. McGregor is dangerous in fighting both on the outside and inside.
"Nobody can take that left-hand shot. He's powerful and he's fast, but precision beats power and timing beats speed."

– Conor McGregor (After knocking out Jose Aldo)
Conor McGregor's quote clearly shows that he never engages himself in a brawl. Conor chooses a chess match over a swinging competition. 
McGregor has fought with a southpaw Karate stance for most of his career but switched to a boxing stance against Dustin Poirier in their second bout, which resulted in him losing. 
Conor McGregor's ground game is a little underrated as people haven't seen much of it and also because he has tapped 4 times in his career. McGregor's takedown defense is good but fell short against the Russian, Khabib. 
Professional record
Conor McGregor is 22-5 in professional MMA and 0-1 in professional boxing. The best thing about the Irish is that he is a true fighter, who has never been afraid of losing. 
His loss in boxing came against one of the greatest boxers of all time, Floyd Mayweather. He still managed to land better shots than most of Floyd's other opponents, who were more trained and experienced in boxing than the Notorious. 
Out of his 22 wins in MMA, 19 have come from a knockout, and 1 was a submission victory. Out of his 5 losses, 4 were by submission, and 1 was by getting knocked out. 
What many disregard the fact that Conor Mcgregor is 5-1 in title fights, which is a great number especially if the only loss you've faced was against Khabib Nurmagedov. 
Remarkable Achievements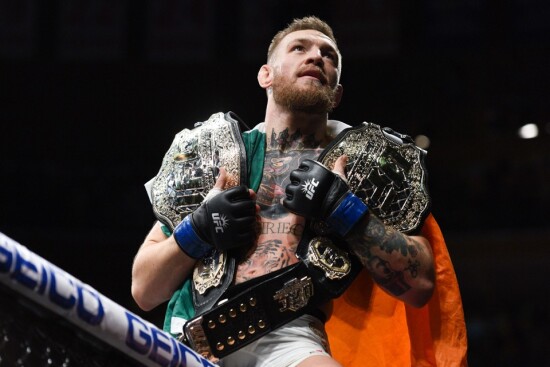 Conor McGregor was the first-ever fighter in Cage Warriors history to hold a world championship in 2 different weight divisions simultaneously.
The Irishman became the first-ever fighter in UFC history to hold a world championship in 2 different weight divisions simultaneously. 
Conor McGregor holds the record for the fastest knockout in a UFC title fight, against Jose Aldo, who was knocked out in 13 seconds. 
McGregor is the only fighter to have a knockout victory across 3 weight divisions, in Featherweight, Lightweight, and Welterweight.
"The Notorious" has the most knockdowns in a UFC World title fight (Interim excluded) vs Eddie Alvarez. 
Conor McGregor also holds the number 1 spot in the highest selling PPV events in UFC history. UFC 229: Khabib Nurmagedov vs Conor McGregor, 2.4 million buys. 
What's next for Conor McGregor?
It is tough to predict what's next for someone who's well on his way on becoming a billionaire soon. Conor McGregor has done well with his all his businesses and plans on doing more in the near future. 
Well even if McGregor does not fight a single round for the rest of his life, he would still live like a king so all props to him for still entertaining us. 
In July, Conor McGregor got his rematch set with Poirier, where he would be looking to redeem himself as the number one lightweight in the world. 
If the Irishman manages to win his bout, he would be looking to fight the winner of Mike Chandler and Charles Oliveira. He has also made clear that he would like to fight Usman, for the UFC Welterweight Championship, after winning the Lightweight division belt. 
If McGregor loses, he might call it a career and stop fighting. It is still unpredictable since he is the Notorious, for all one knows he might switch completely to boxing if he loses or even if he wins. Winning a boxing world championship has also been his dream. 
However his career goes from here, Conor McGregor will always be a legend in MMA history. He might not be the greatest ever but he is definitely up there in the top 10, even without a title defense so far.