Predicting the remaining bracket of the 2020 US Open
The unceremonious ejection of Novak Djokovic sent shock waves around the tennis world. I, however, am not here to discuss that. I am here to discuss how this incident has increased the aspiration of certain players and for us viewers, it has added the excitement of witnessing a new champion.
Since Marin Cilic's win in 2014, the US Open title has seen only three champions - Djokovic, Rafael Nadal and Stan Wawrinka. The Swiss is the only one who was a first-time US Open champion in this duration, his 2016 title being his third Grand Slam title.
The 2020 edition will finally see not just a new US Open champion, but also a first-time Grand Slam title winner.
Conditions playing a big role
It has been very dry and hot in New York. As a result, there have been longer rallies and more five setters. Heavy hitters like Milos Raonic, Jack Sock, Diego Schwartzman and John Isner bit the dust in early rounds.
The US Open quarter-finals and semi-finals should feature some scintillating action.
It is a pity that Daniil Medvedev and Dominic Thiem are in same half while Alexander Zverev will be in the other half.
On the other hand, Stefanos Tsitsipas must be cursing his loss against Borna Coric after being two sets up
These four are the hope of next generation, who are tipped to start ruling the courts once Federer, Nadal and Djokovic take a bow.
My predictions for quarter finals are on the basis of my game assessment, their form and earlier matches in the US open.
Quarter Final 1
Daniil Medvedev (3) vs Andrey Rublev (10)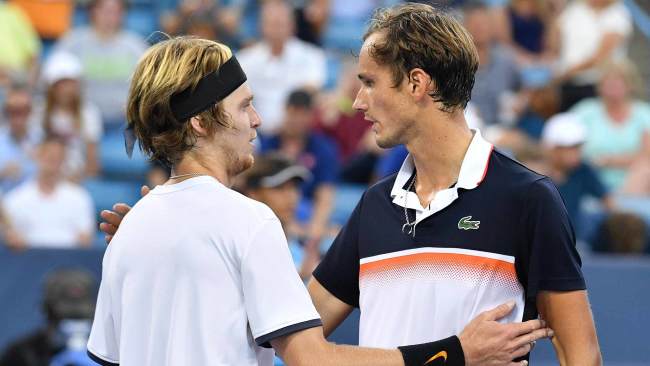 This is one match which you should not miss. 
On one side is lazy elegance of Medvedev, who creates points from both the flanks, on the other side is emerging star Andrey Rublev. 
The latter beat Matteo Berrettini with ease thanks to his smooth and error-free ground strokes.
Medvedev will have to play his aggressive net game to upset the rhythm. This match will be full of long grueling rallies.
Verdict: Medvedev to win in four sets
Quarter Final 2
Denis Shapovalov (12) vs Pablo Carreno Busta (20)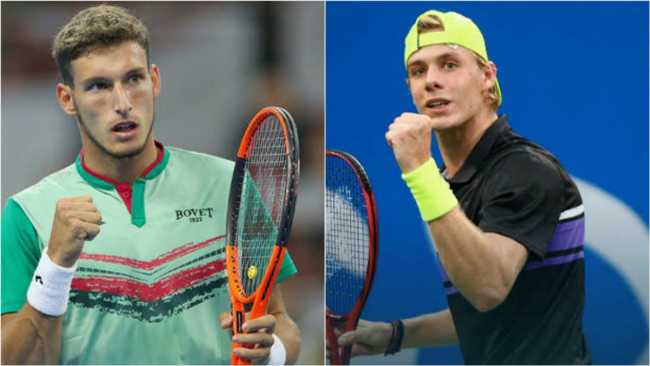 It is surprising to note that Denis Shapovalov is going to play his first grand slam quarterfinal. He has a good serve, nice ground strokes and excellent volley. His temperament, however, is to blame for his lack of results in Grand Slams.
On the other hand Pablo Carreno Busta has all the strokes but not of higher quality, but his percentage play and his retrieval frustrates everyone. One tends to hit lines to take points from him.
Both have played five-setters in this US Open. Shapovalov against Taylor Fritz and Carreno Busta against lowly ranked Yasutaka Uchiyama.
Head to head, Busta leads 3-1.
Reason is simple, Busta will keep returning the ball and Shapovalov will commit errors.
Verdict - Carreno Busta to win in four sets
Quarter Final 3
Dominic Thiem (2) vs Alex De Minaur (21)
Dominic Thiem deserved to win a French Open title and last year he should not have crashed out in the opening round of the US Open.
The Austrian is playing flawless tennis and his backhand is doing lot of damage.
Alex De Minaur is also finally showing his promise, but he had two tough matches against Richard Gasquet and Karen Khachanov which would have sapped his energy.
De Minaur is lanky and in the quarter final he doesn't stand a chance against hard hitting shots of Thiem.
Verdict - Thiem to win in straight sets
Quarter Final 4
Alexander Zverev (5) vs Borna Coric (27)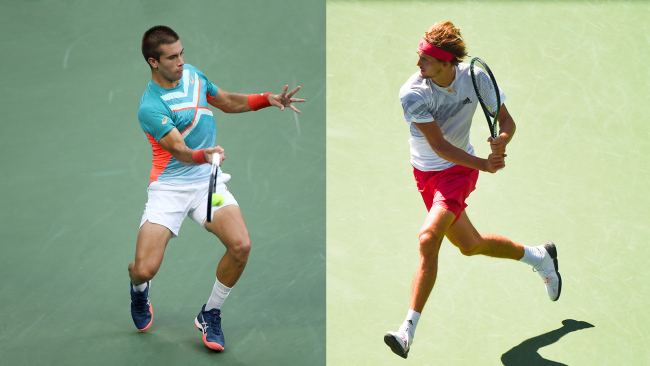 Injuries have plagued Borna Coric's career and 27th seed doesn't justify his game and play making capabilities. He is a counter puncher and in no situation he can be counted out. 
Zverev, on the other hand, is an enigma. As far as talent goes he is second to none.
In 2018 he won the ATP Finals by crushing all the big players and it was expected that he will win multiple Grand Slams in two years.That didn't happen.
His unforced errors and lack of percentage play has cost him matches which he should have won.
Verdict - Zverev to win in four sets but there is a high chance of an upset
Semi final 1
Thiem (2) vs Medvedev (3)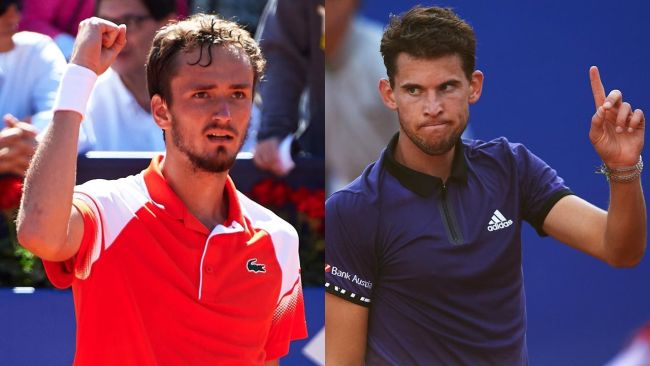 It is a pity that these two deserving champions are not meeting in finals.
It will be a long drawn battle of power hitting from baseline. Medvedev will feel the brunt of playing against Rublev, which will not be an easy match. 
I will be sitting glued to TV to witness power groundstrokes at their best.
Head to Head Thiem leads 2-1, however Medvedev won the last encounter.
Verdict - Thiem is going to win in 4 sets but it becomes 3-2 , I wouldn't be surprised.
Semi Final 2
Zverev (5) vs Carreno Busta (20)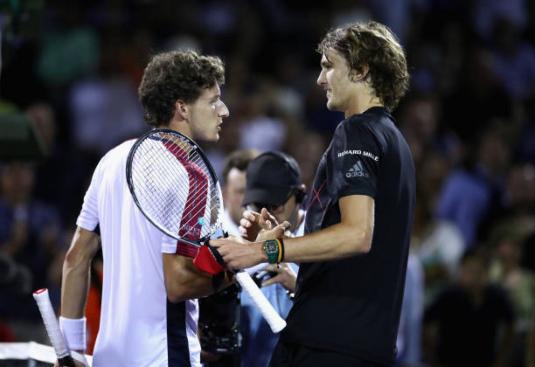 It is Zverev's time. He will be unleashing power groundstrokes to which Carreno Busta will have no answer.
The Spaniard has an effective serve so sets will be close. Carreno Busta will be relying on mistakes of Zverev but I don't see that strategy working.
Head to head, Zverev won the pair's only encounter in straight sets.
Verdict - Zverev to win in four sets
Final
Thiem (2) vs Zverev (5)
Thiem has already featured in two French Open finals. He wants to win a Grand Slam badly and this US Open is his best opportunity.
On the other hand Zverev has been expected to win a Grand Slam since 2018. Zverev has scalped Federer, Djokovic and Nadal in many tournaments but not at the biggest stage.
Head to head, Thiem leads 7-2
It will be a base line duel. Thiem with his variety of pace and spin can induce errors from Zverev .
Match will last a good four hours and a new Grand Slam winner will infuse energy into the men's circuit.
Verdict - Thiem to win in five sets
The absence of Nadal, Federer and exit of Djokovic has made this a very absorbing contest and we all are awaiting emergence of a new star.
Mark my words, this new champion will usher in a new era. Time of Nadal and Federer is over. Djokovic will stay at the top to eclipse Federer. It will be more interesting to see new faces at the top.
Happy viewing.