Vinicius Junior - Real Madrid's teenage prodigy aims to reach full potential
The man in form, Vinicius Jr, the Real Madrid teenager who has almost sent the Premier League Champions of the last season out of the Champions League wherein he scored two of the most noteworthy goals against the PL champions is Vinicius Junior. 
In the below article we cover his early career, stats at Real Madrid and in FIFA 21 and comparisons with Barcelona's Ansu Fati and Ousmane Dembele.
Vinicius Jr: Early Career
Vinicius Junior who's full name goes Vinicius Jose Paixao de Oliveira Junior was destined to be a future star when he stepped on the pitch as a 15-year-old teenager with Flamengo where he was earlier played a defensive role for the squad. 
At the age of 9 he was keen on futsal in his earlier stages but then he switched to football and since he has never looked back. 
At the age of 16 where he had already represented his country i.e. Brazil in U-15 and U-17 teams, he was then offered his First Professional Contract with Flamengo which had an astonishing €30m buyout clause. 
However, just after playing his 1st game for Flamengo,the scouts from the Big Leagues took notice of him. Flamengo immediately raised his buyout clause to €45m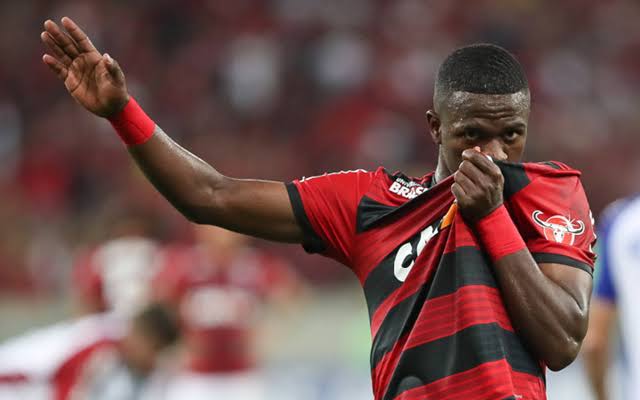 Hailed as 'The Baby Galatico' Vinicius Jr joined Real Madrid from his boyhood club on his 18th birthday as 18 is the minimum age for an international transfer. 
His transfer fee was around €46m which was considered to be the second most expensive transfer fee for a Brazilan player after Neymar. 
Talking about his contract, he was supposed to earn almost 7.5 million euros annually, which actually read in 2018 that he would be earning more than the Real Madrid trio of Marco Asensio, Casemiro, and Dani Carvajal. 
It came as a surprise in 2018, where Real Madrid which is known to buy established stars, is splurging out on a player who is yet to play in Europe.
Vinicius Junior is traditionally a left-winger but looking at his versatility at Real Madrid he can easily play as the striker or can replace himself on the position on Karim Benzema if required. 
The scouts majorly were impressed by his tricky feet, quickness, solid on-the-ball skills, and also great balance. 
In the Champions League first-leg game between Real Madrid and Liverpool, he was simply impossible to guard in one-on-one situations due to his ability to get past the defenders at a quick pace.
Vinicius Junior Real Madrid Stats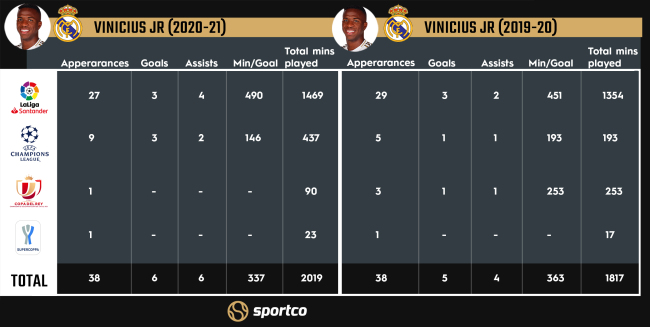 One of his major drawbacks for his less goal-scoring seasons for Real Madrid is his poor positioning during assists.  Vinicius Jr tends to be in an offside position. 
His high-speed attack may even lead to untimely moves and losing out on the ball position as well. Considering his age is just 19, there is a long career ahead of him and surely would be one to look out for. 
Vinicius Jr - FIFA 21 Potential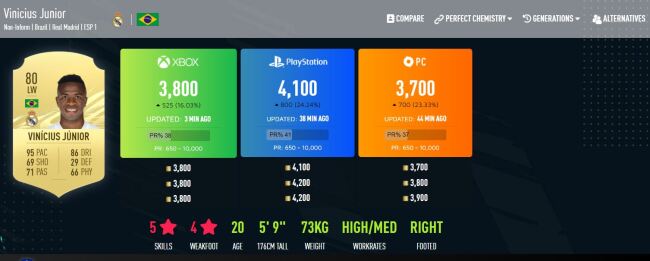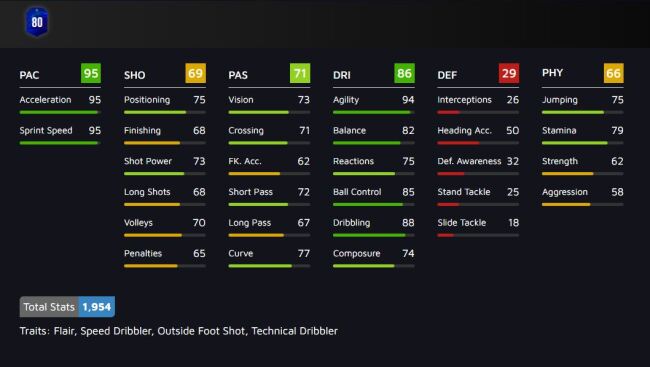 Vinicius Jr has been always compared to teenage stars of FC Barcelona namely Ousmane Dembele and Ansu Fati.
Ousmane Dembele, the €80m teenager from FC Barcelona has had a very sorry career, to be honest. He has been knocked off on several occasions sighting injuries and has missed a huge chunk of the Season. 
Let us compare the 2020-21 season for both the lads, how has it fared for both of them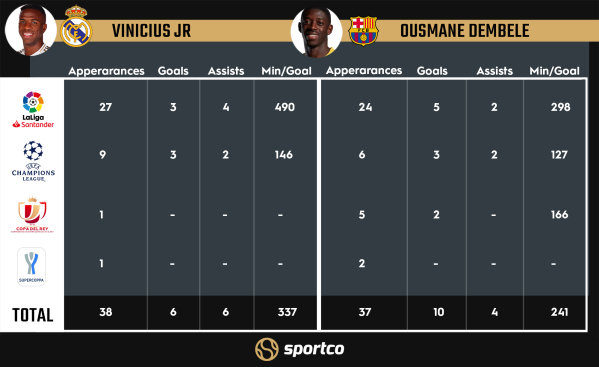 2021 has been much rewarding to Dembele in terms of goals scored, however, we see the overall game time he plays is comparatively much lesser than what Vinicius Jr plays for Real Madrid. Dembele usually comes off the bench and not in crunch situations as such. As his health improves, Dembele might improve.
Comparing Vinicius Jr and Ansu Fati.
2020-21 season has not been rewarding to Ansu Fati. With him being out indefinitely with a knee injury, we would be considering 2019-20 statistics as he has just played 7 games this season for FC Barcelona