Why Erling Haaland is so special?
Erling Haaland has been marvelous this season for Manchester City already scoring almost 40 goals this season.
Erling Haaland is widely regarded as one of the most exciting young footballers in the world today. He has made a name for himself with his incredible speed, strength, and scoring ability, and has already broken numerous records in his young career.
Despite only being 21 years old at the time of writing, he has already scored more than 100 goals in his career and shows no signs of slowing down. He is a natural finisher and has the ability to score from almost any angle or distance, whether it's with his head or his feet.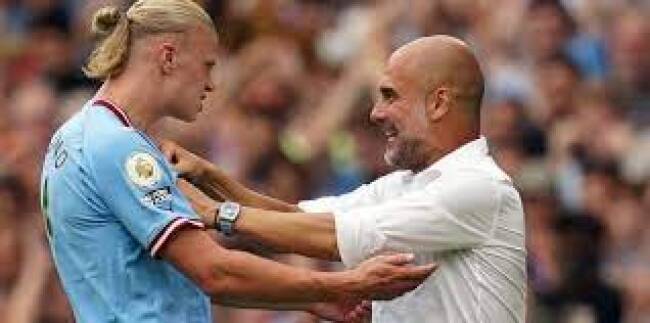 Haaland's incredible goal-scoring ability is reflected in the numerous records he has already broken. For example, he became the first player in history to score six goals in his first three Champions League matches, and he also became the youngest player to score 20 goals in the competition. In addition, he has scored more goals than any other player in his first 50 games in the Bundesliga and has already broken several other records in his young career.
Erling Haaland already has more career hattricks than some of the footballing greats like Samuel Eto'o, Fernando Torres, Thierry Henry, Wayne Rooney, and Didier Drogba. 
People thought Haaland is a German league player, and he can't survive in Manchester City as the league in England is faster, more physical, and more technical. But ever since he joined the club he's been on a stroll.
He made look Premier League so easy that he already has six hattricks for Manchester City. 
He also broke the club legend Sergio Aguero's record of scoring the most number of goals a season. He even became the first-ever City player to score five goals in a Champions League game.
All the city players, coaches, and most importantly fans expect Haaland to help them realize their lifelong dream of winning the Champions League. 
Manchester City who has been one of the most successful clubs in England have done everything and won everything in domestic football, but every time they are falling short to grab their hands on a coveted European trophy, and Haaland is expected to help them by resolving their goal-scoring woes in knockout stages of the cup competition.
Haaland isn't just hyped, he lives up to the hype. 
This season for City he has scored 10 goals in 6 games in UEFA Champions League, making it one of the deadliest records in World football. Haaland is often compared to his French counterpart Kylian Mbappe. 
Haaland has also overcome all the fastest records that Mbappe had in the competition.
Erling Haaland has already scored more than forty goals for Manchester City. The city is chasing Arsenal to win the Premier League and they are also in contention to win FA Cup and Champions League. The fans highly expect Norwegian robot Erling Haaland to keep banging goals till the end of the season.