The 2020 French Open still has more surprises to give
223rd ranked Hugo Gaston beating three-time Grand Slam champion Stan Wawrinka in a five setter, followed by him taking 2020 US Open champion Dominic Thiem to five sets tells the story of this year's French Open.
The other surprise has been 183rd ranked Daniel Alamaier who ousted No. 7 Matteo Berrettini in straight sets. He had also got the better of fellow German and 30th seed, Jan Lennard Struff, in straight sets. 
Another star in making is Jannik Sinner, who played flawless tennis in beating sixth seed Alexander Zverev seed in four sets. The baseline duels of that match should be shown to aspiring tennis players. The other players to create ripples are Lorenzo Sonego, Marton Fucsovics and Pablo Carreno Busta.
Novak Djokovic and Rafael Nadal have had a smooth path to quarterfinals without losing a set.  Probably too smooth for their own good.  In quarters both have tougher opponents and they may face problems.
In quarter finals out of top 10 players only four are still in in the fray and surprisingly one unseeded player is there. The reasons for such tumultuous turn of events is as under:
1. Fluffier balls
The new balls allow for longer rallies; service is no longer the potent force as before. Number of aces hit by players has really reduced. This has forced players to earn the points by making the player run around and exhausting him.
2. Colder Temperature
Windy and colder temperature has reduced the ball speed so hitting a ground stroke winner is a problem. Drop shots, which had become dinosaur in current scheme of play have resurfaced big time.
3. Lack of match practice
The players are tentative; the rhythm to hit winners is missing. Due to this positioning has become the key element.  Unforced errors are the bread winner for winning. The players are getting tired and they are giving up the fight. Wawrinka losing 0-6 in final set, Casper Ruud losing 1-6 in final set and two walkovers due to fatigue are the examples of the same.
Quarter final 1
Diego Schwartzman (12) vs  Dominic Thiem (3)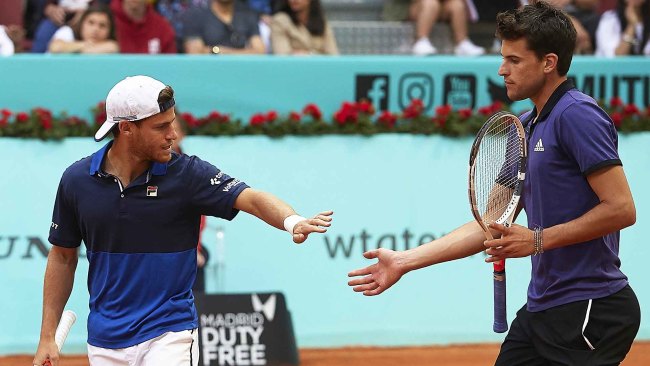 The base line duels will be worth remembering. 
Schwartzman is the one, who thrashed Nadal on clay in Italian Open in quarter final only, that too in straight sets. He is the shortest player in the fray but he is one of the hardest hitters and he moves like a gazelle. 
On the other hand is Thiem, the current US open champion, whose powerful ground strokes axed Djokovic in last year's French Open. Head to head,Thiem leads the battle 6-2 and on clay, 2-1.
In new playing conditions there is nothing to choose between them and it will be a close match.
Verdict - Thiem wins it in 4 sets
Quarter final 2
Rafael Nadal (2) vs Jannik Sinner
Nadal with 12 titles at Roland Garros is a goliath, who is going to face a potential David, in the form of Sinner. 
The Italian is playing unbelievable tennis and his ground strokes are amazing. Sinner could dent the fast services of Zverev and that was a revelation. His inside out forehand will attack Nadal's forehand.
Sinner is one player who is able to hit winners but Nadal has the retrieving capabilities to blunt that.
I am very excited to view this match as I have always believed that sinner is future Grand Slam champion
In my earlier article for the US Open I had written that time for new players is on the horizon and I feel that Nadal may be defeated by Sinner.
Verdict - No clear cut verdict, but I'll go with 60% win probability for Sinner
Quarter final 3
Andrey Rublev (13) Vs  Stefanos Tsitsipas (5)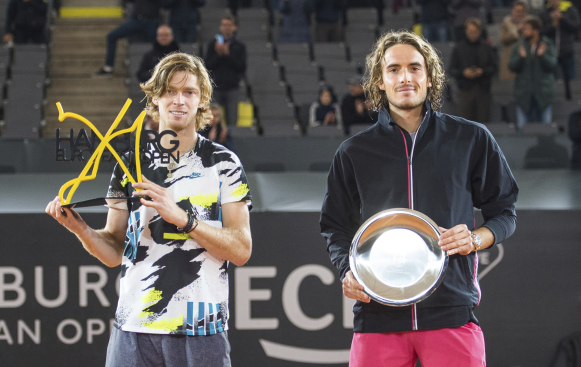 A repeat of Hamburg open finals where Rublev defeated Tsitsipas . It was agonizing for Tsitsipas as he was serving to win the match and Rublev broke the apple cart. 
The two players have similar playing styles and both generate good topspin from the forehand as well as backhand.  
Tsitsipas has had a smooth sailing up to the quarterfinals. 
On the other hand Rublev was two sets down against Sam Querrey in the first round. Rublev showed his grit and composure in sniffing out the challenge. His match against Fucsovics in the fourth round also tested his temperament.
Rublev, however, is lacking the power needed to hit winners. He is playing percentage play and expects his opponent to commit mistakes. 
Head to head, Rublev leads 3-1 so people may go for Rublev but I feel he is tired
Verdict - Tsitsipas to win 3-1
Quarter final 4
Novak Djokovic (1) vs Pablo Carreno Busta (17)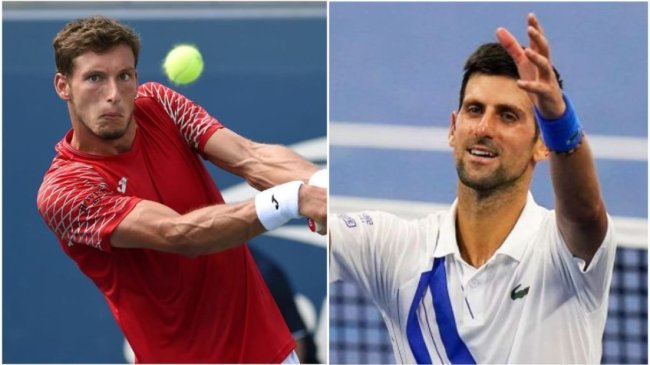 Carreno Busta is a percentage player and he recorded a good victory against Roberto Bautista Agut.
The Spaniard would still be ruing his loss in the US Open semifinal where he was 2-0 against Zverev  and then lost. 
Carreno Busta will also remember the last  matchup against Djokovic where he won the first set and in disgust Djokovic unknowingly hit the line judge and got defaulted.
Carreno Busta does not have winners and he keeps retrieving the balls and expects other player to commit unforced errors. Djokovic is not the one to commit such errors and I expect a smooth sailing for Djokovic.
Verdict - Djokovic winning in straight sets
It will be a wonderful showing at French Open. New combinations, youngsters challenging the authority of stars, the drop game and percentage play, all this will add to the excitement.