Bengaluru clinches its maiden Indian Super League trophy after beating Goa by a solitary goal
Bengaluru FC won their maiden Indian Super League title on Sunday at the Mumbai Football Arena as they beat FC Goa 1-0 in the final, courtesy an extra time header from Rahul Bheke. The match was all cagey and stuck till Bheke jumped up to shoot a header into the far corner in extra time and get Bengaluru their breakthrough and the winner.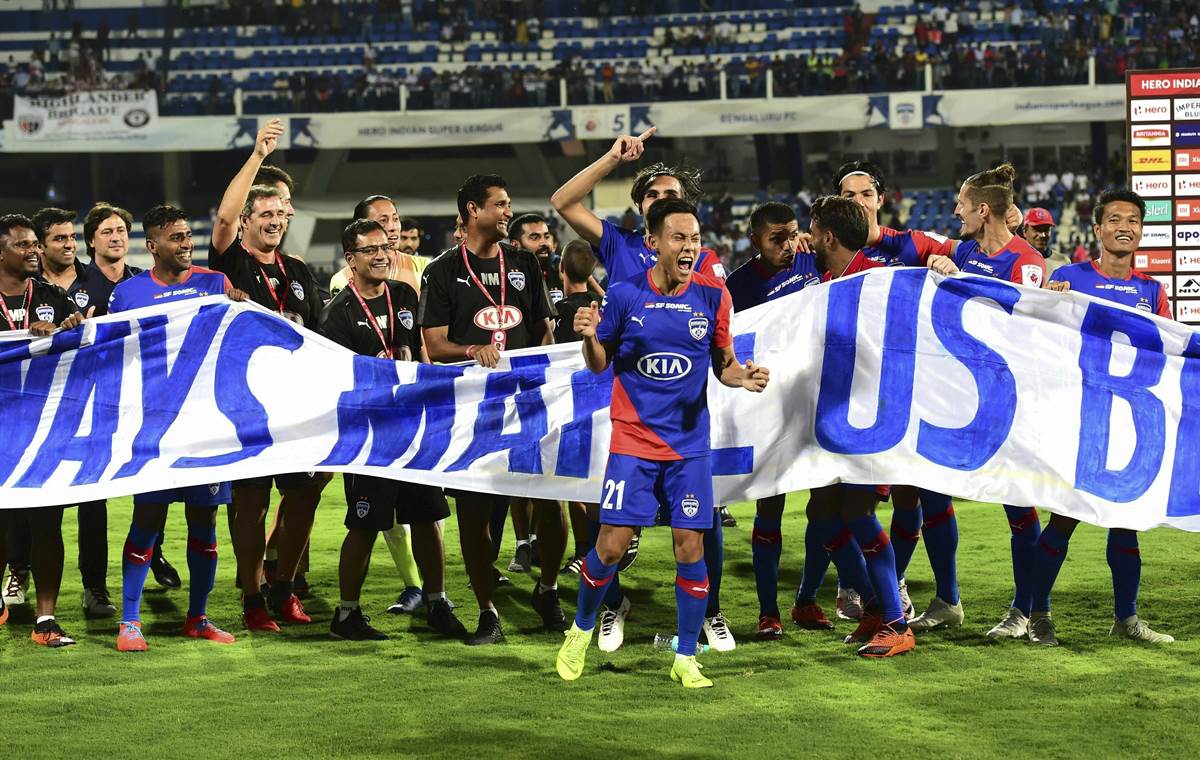 The final, as expected, was intense as both Bengaluru FC and FC Goa looked to take an early charge. Both teams exchanged blows early on but failed to have a shot at target. Chances fell for either teams with Corominas and Jackichand Singh at the heart of Goa's attacks while Miku and Sunil Chhetri were in it for Bengaluru.
Despite some good runs and little tricks and shines, neither team could really outshine the other. Both Bengaluru and Goa failed to inspire any brilliance as either teams couldn't find the boots to shoot on target
Right at the stroke of half time, Goa had a beautiful move, which ended quite tragically. It was a through ball on the left flank that Mandar Rao Dessai ran hard towards. While running, Mandar injured himself with what looked like a hamstring injury and had to be subbed off. Both teams went into the break with the scoreline reading 0-0.
Goa began the second half on the forefront, taking far more initiative than Bengaluru. In the second half, Bengaluru failed to get Chhetri into play and were mostly astray while Goa were able to get through the Bengaluru FC defence only to run into the high wall, Gurpreet Singh Sandhu. In the 81st minute, Miku had the chance of the match when Chhetri's lobbed header was cleverly put into his path by Xisco. Miku had only the keeper to beat but Naveen dived the right side and Miku hit the post to lose a big chance.
Towards the end, both Bengaluru and Goa had big chances, but they failed to make it count and 90 minutes of football ended at 0-0. The extra time began in the same manner with either teams failing to be a huge threat. The game was all open till a moment of madness from Jahouh that got him a second yellow and got him sent off.
Miku had brought him down but what should have been a free kick for Goa turned around as Jahouh shot his boot in Miku's chest. The first half of the extra time got over at 0-0 with Bengaluru getting a one man advantage. In the 118th minute, Rahul Bheke rose towards the ball and shot a brilliant header into the far corner to become Bengaluru FC's unlikely hero on the night.
It was a huge task for Goa from there with a man less to count and Bengaluru FC went on to win the elusive trophy.