Atletico Madrid: A season to remember | Impact of Luis Suarez | La Liga Stats
The Spanish top-flight witnessed one of its closest finishes from the last decades as Diego Simeone's Atletico Madrid held to their marginal lead and were crowned as the La Liga champions.
The Rojiblancos' title conquest came for the first since the 2013-14 La Liga season and only their second win over 24 seasons in Spanish football.
Atletico Madrid also fell short of the La Liga title in the 2017-18 and 2018-19 seasons, finishing second. So, who were the pivotal members of the club? How did the manager contribute to their success? What was the impact of Luis Suarez? What do the stats say about Atletico Madrid this season in the La Liga? Let's dig deep into these aspects.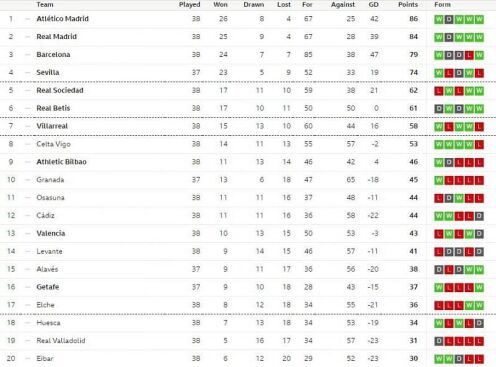 Talking about the La Liga points table first, Atletico Madrid finished two points clear of their city rivals Real Madrid and seven points clear of Barcelona, who have been very dominant in the league since the last decade.
Both Real Madrid and Atletico Madrid were trailing at half-time in their last games of the La Liga 2020-21 season, however, both sides took authority of the second half and emerged victoriously.
But how many of you can recollect the time when Atletico Madrid were leading by a hefty point difference in the league? Luis Suarez and Atletico Madrid were unbeaten in their first 12 La Liga games, while Luis Suarez's ex-club Barcelona had already succumbed to four losses and a draw.
In this interval, even Real Madrid stumbled with two losses and three draws, winning the rest. Also, in these 12 games, Atletico Madrid had nine wins, two draws, and a loss. This shows that Atletico Madrid were at 29 points after the first 12 games, while Real Madrid and Barcelona were 24 and 22 respectively.
Atletico Madrid lost just four games in the top-flight, level with Real Madrid but had an extra victory in their bag, while the Los Blancos had a draw. 
As far as the other seasons were concerned, Atletico Madrid are known to have a stubborn and robust defense but in almost every season, it was their offensive duties that used to let them down.
Impact of Luis Suarez
Luis Suarez was that additional firepower that Atletico needed upfront. He not only strengthened the team going forward but he also proved his worth despite Barcelona rating him as "finished."
At the beginning of the season, Luis Suarez was their most impactful player on the pitch, scoring 16 goals and two assists in 12 league games, already proving his worth to his former club who let him depart for a rival club for free.
The significance of this exceptional start by Luis Suarez in a new team and a system is commendable because the Uruguayan finished the season with 21 goals and three assists. 
This proves how he had set the tone for Atletico Madrid as the La Liga season commenced and inspired others to start contributing more in their games.
Luis Suarez was seen in tears post-Atletico Madrid's title win and this was one of the major reasons why the ex-Barcelona striker was so emotional. 
Suarez quotes, "Barcelona didn't value me and Atletico opened their doors for me. I will always be grateful to this club for trusting in me."
Statistical dominance
Atletico Madrid may not have dominated everything within the La Liga stats but they did show teams how being clinical with opportunities can be fruitful. 
Shots on target:
The Rojiblancos were second in shots on target per match to Barcelona with 243 shots in all (6.4 per match). 
Shots per game:
The La Liga champions just had 186 shots (4.9 shots per match), while Real Madrid had 176 shots (4.6 shots per match) that proves how both the Madrid clubs had lesser shots compared to Barcelona but they were more clinical.
Goals Scored:
Barcelona scored 85 goals, while both Real Madrid and Atletico Madrid netted 67 goals each in the La Liga 2020-21. 
Chances Created:
Atletico Madrid were third in big chances created (66), while they were sixth in big chances missed (43) which proves they were more clinical as Barcelona and Real Madrid were ahead in big chances created (87 and 71 respectively) but also missed many (72 and 55 respectively).
Goals per game:
Atletico Madrid scored 1.8 goals per match, while Barcelona and Real Madrid scored 2.2 and 1.8 respectively in the La Liga this season. 
Possession and pass completion:
Barcelona topped the La Liga charts for both pass completion (639 passes/game) and average possession per game (65.8%). Atletico Madrid under Simeone being more of a counter-attacking side, are more direct in their style of play. 
Hence, Atletico's pass completion rate of 83% and average possession per game of 52.3% could be deceiving stats to any team considering how dangerous they are on the break.
Goals conceded:
Barcelona conceded 38 goals, while Real Madrid and Atletico Madrid conceded 28 and 25 goals respectively.
When we compared goals conceded, the Madrid clubs were on the same level (1st, 0.7 goals conceded per match) but Barcelona dropped to joint-fourth with 1 goal conceded per match.
Not to forget, players like Yannick Carrasco, Marcos Llorente, Angel Correa, and Kieran Trippier were also the standout performers for the team, while Jan Oblak stood strong in goal maintaining Atletico Madrid's image of a side that defends very well.
What do you think? Will Simeone and co retain the La Liga title next season? or will Real Madrid or Barcelona take the title charge again?
Stay Tuned for more updates.