AFCON qualifiers: Bizarre Gambian gamesmanship keeps Aubameyang and Co. stranded in airport
By the time this article is published Gabon would have completed their crucial AFCON qualifying match away to Gambia, the second match between the two sides in four days. 
The Gabonese players, including star player and captain Pierre-Emerick Aubameyang, had little idea what was waiting for them upon arrival at Banjul's Yundum international airport late on Sunday night.
Having arrived at 11:30 p.m local time in the Gambian capital the players' passports were taken away and the team was told not to leave the airport until further instructions. 
The Gambian authorities cited 'administrative problem' for the delay but the players were forced to sleep on the floor of the airport using their luggage as pillows until government intervention allowed the Panthers to head for their designated hotel at around 06:00 A.M the next day, just 10 hours before the scheduled kick-off.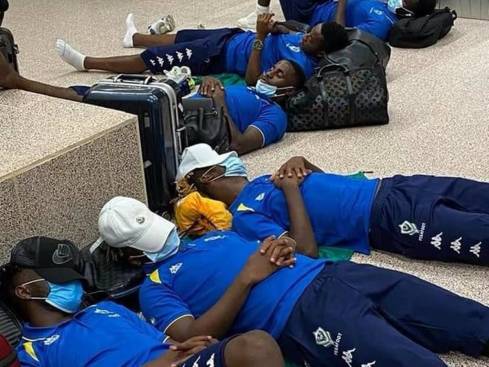 Gabon beat Gambia 2-1 on Thursday in Franceville with the Arsenal striker, Aubameyang, scoring the crucial winner and the return leg at Banjul is set to be a hard fought game given that a home win for Gambia would keep the scorpions firmly in the race to qualify for Cameroon 2022.
The high stake involved in the tie is enough reason to believe the Gambians set this up intentionally to rattle their opponents but the circumstances are still bizarre given that we are in 2020 and in the midst of a raging pandemic when national federations are working shoulder to shoulder to maintain players' safety as the main priority. 
The CAF certainly has to initiate an enquiry and punish the Gambians so that such things do not get repeated in the future.
This incident is absolutely unacceptable when international players are getting infected with Covid 19 while on international duty despite the presence of bio secure bubbles and the clubs would be furious that their players had to sleep on airport floors in this era of co-operative football globalization.
If this is a gamesmanship on the part of Gambia it will certainly backfire and the CAF will be prudent enough to punish the football federation.
"Nice job CAF, it's as if we were back in the 1990s," Aubameyang twitted in a veiled attack on the African football confederation. Although the CAF has not commented upon the incident but Gabon's star player and captain showcased his utter frustration on social media as the situation unfolded. The 31 year old was critical that CAF failed to intervene even after the players were kept stranded the whole night and made to feel like 'hostage'.
"It will not demotivate us but people need to know and especially that the @CAF_Online take these responsibilities," an angry and disappointed Aubameyang vented his fury on twitter as Patrice Neuveu's tired looking players and officials remained in the airport at 04:37 A.M.
Aubameyang later quoted, "Just want to know why Gambia keep our passports for Hours and they keep us at the Airport are we hostage or what ? are you gonna close your eyes ? Want to see the Next Episode of this Film."
The Gabon team was finally allowed to leave the airport in the morning and Aubameyang confirmed that with a further tweet, "Finally in the bus, see you later. Thanks for the extra motivation Gambia."
Picture credit: Getty images