Controversy at Madrid continues, is Benzema innocent?
Karim Benzema's controversial incident involving Vinicius Jr. puts a shadow over his record-breaking achievement.
The Madrid dressing room's atmosphere looked tense even though the Los Blancos were pretty convincing in the El Clasico.
What spoiled the party for Madristas was Isco's straight dig at the Real Madrid boss.
However, in-house fighting did not stop there. The 13-time UCL champions traveled to Germany for their second group stage game of the season against Borussia Monchengladbach.
Real were hoping to make things right after a shocking defeat against Shakhtar Donetsk and the same disappointment continued as they found themselves down by a goal at half-time.
'D-Controversy' began from here as star striker Karim Benzema appeared to be instructing the left-back Ferland Mendy not to pass the ball to winger Vinicius Junior who plays on the same flank as Mendy.
A clip went viral that showed Benzema badmouthing his fellow team-mate in French. The controversy caught up real heat after people figured out what Benzema was trying to say.
Benzema appeared to instruct Mendy to not pass the ball to Vinicius. The Frenchman's exact words were "Brother, don't pass to him. On my mother's life. He is playing against us."
A hard pill to swallow for the Madrid fans but the team did look to have no chemistry between them as they were two down. Zinedine Zidane then sent on Eden Hazard on the pitch to add more threat and fortunately, Madrid managed to get the two goals back and get a point out of the game.
Karim Benzema becomes part of Elite group: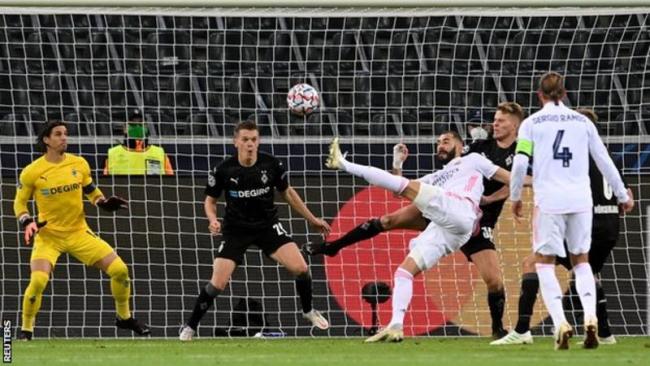 Benzema did make history as he equaled Lionel Messi's record of scoring in 16 consecutive seasons.
To add to everything, Benzema also denied criticizing the youngster, a source said.
The Madrid boss also said in his post-match conference how he felt about his team's performance and without a doubt, Zidane was nowhere near convinced that his team was at their best today.
He did acknowledge their grit to get back in the game but openly acknowledged that this is certainly not the level Madrid should be if they want to win their 14th title or to even qualify for the future rounds of the competition.
Featured image credits- rt.com