Manchester United vs Leicester City: Head to Head Record | Stats | Previous Results | History
The English top-flight is set for a nail-biting finish as Man Utd host the Foxes, Leicester City at Old Trafford on Thursday. 
With the top four mathematically confirmed for Man Utd, there could've been chances for the Red Devils to rotate a lot for this game, but because any point dropped would directly confirm Manchester City as the Premier League winners, we can ensure an action-packed fixture is on the cards.
Whose side are you on? Will the Red Devils prevail again? Or Will the Foxes play again with their Champions League hopes? 
Let's analyze the last five meetings between Man Utd and Leicester City.
1) Leicester City 3-1 Man Utd (21 March 2021)
Man Utd visited the King Power Stadium hoping to qualify for another semi-final. On the other hand, Leicester City had only one trophy to toil for. 
The game commenced with both sides trying to keep the ball as much as they can and regulate the game, but an error from Fred put the Foxes ahead as Kelechi Iheanacho pounced and scored.
Mason Greenwood brought Man Utd back in the 38th minute of the game as he scored from a phenomenal counter and after a clever dummy from Donny Van De Beek.
The second half embarked with more intent and urge from Man Utd but they were struck on the counter. A perfect strike from Youri Tielemans put Leicester City ahead and Ole Gunnar Solskjaer and co lost their focus.
Brendan Rodgers' army fired again in the 78th minute as Iheanacho made a statement and ascertained himself as a regular starter for the Foxes for the future games.
2) Leicester City 2-2 Man Utd (26 December 2020)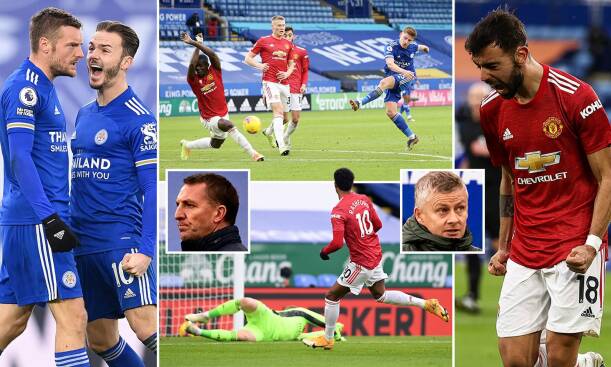 Boxing Day clashes are renowned for the unpredictability they provide and this meeting between Man Utd and Leicester City was another game added to the list.
The Red Devils had an opportunity to go ahead in the opening five minutes of the game as Bruno Fernandes set up a marvellous ball for Marcus Rashford who only had to direct the ball into the net. 
However, Rashford couldn't emulate his idol, Cristiano Ronaldo, as he heads it, and Leicester was handed a warning.
However, Rashford nullified his miss with an easier finish by a cheeky ball from Fernandes, and a brilliant play from Daniel James to put Man Utd ahead in the 23rd minute.
Just eight minutes later, Harvey Barnes equalized for Leicester City from a rare Fernandes error as he lost the ball midway, causing the Foxes to counter as Barnes whacked the ball from his weak foot, leaving no chances for David De Gea to recoup.
The game was brought to life again as Bruno Fernandes scored from a well-thought Edinson Cavani pass as Man Utd went ahead and were likely to go home with all three points. Cavani exhibited instant impact as he set up the Portuguese just four minutes after his introduction.
However, more drama was yet to be witnessed as a Jamie Vardy shot clipped Axel Tuanzebe and found the net to level things for the foxes.
The draw meant that United had lost two points despite leading on both occasions. 
3) Leicester City 0-2 Man Utd (26 July 2020)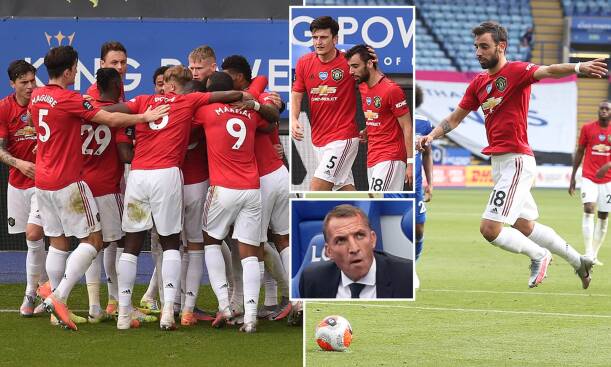 Another meeting at the King Power Stadium but this time it was the ultimate game of the Premier League campaign and a triumph or a draw would've confirmed Man Utd as Champions League participants in the following season.
Leicester City, on the other hand, needed nothing less than a victory at home after they stirred up an emphatic lead post lockdown. 
After a tight first half, Man Utd broke the deadlock from a Bruno Fernandes penalty as Jonny Evans tripped Anthony Martial who was inches away from putting the Red Devils ahead.
However, this way or that, United took the lead in the 71st minute. As Leicester City started crowding the Man Utd half, they were caught up in another counter and thereby losing Jonny Evans to a red card after he was sent off for a heavy tackle on Scott McTominay.
As United looked to see out the game, Kasper Schmeichel was dispossessed by United's local boy Jesse Lingard who finally scored and got something to cherish after an emotionally challenging season for him.
4) Man Utd 1-0 Leicester City (14 September 2019)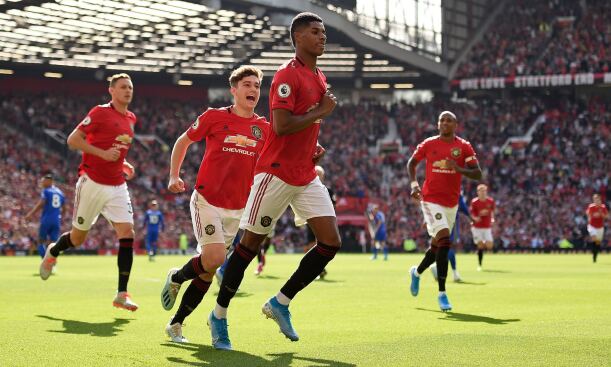 This encounter between Man Utd and Leicester City was crucial as the Red Devils were chasing a top-four spot after a poor start to the season. Marcus Rashford broke the deadlock with an 8th-minute spot-kick after Caglar Soyuncu leaned on him and brought him down. 
As expected, Rashford successfully put the ball past Schmeichel and that goal turned out to be the winner.
5) Leicester City 0-1 Man Utd (3 Feb 2019)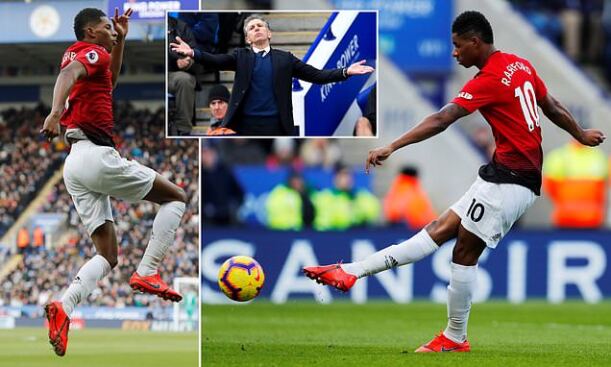 Another game that was decided on the verge of a single goal, and guess who was the goalscorer? Marcus Rashford. 
However, this time it was a sumptuous ball from Paul Pogba that was controlled with great composure and fired past Schmeichel. Leicester City were unable to come back in the game and after some close calls, Man Utd took the three points at home.
Last 5 Head-to-Head Meetings
Man Utd Wins
3
Leicester City Wins
1
Draws
1
Biggest Wins in Recent History:
1) Leicester City 5-3 Man Utd (21 Sept 2014)
2) Man Utd 4-1 Leicester City (24 Sept 2016)
Key Facts and Records:
Leicester City have not won at Old Trafford since 1998 (23 years ago)
Man Utd are unbeaten against Leicester City in their last 12 Premier League meetings, their last defeat coming in that memorable 5-3 loss in 2014.
The Red Devils are unbeaten in their last 14 matches in the Premier League.
Prediction: Man Utd 2-1 Leicester City
So will Man Utd avenge their latest loss this time? Or Will Leicester City hold their third position strong? Stay Tuned for more updates.