Cryptocurrency - Digitization of the World of Football through Fan Tokens
By the start of 2021, Cryptocurrency has become a household phenomenon with the rise of digital currencies. The Cryptocurrency bug has bitten the Football world as well in the last couple of years. 
More and more Football Clubs are integrating cryptocurrency to raise funds and enhance their fan engagement experience through social platforms.
The entire concept of Cryptocurrency is based on Blockchain technology. Blockchains are blocks of information or transactions that are secure and transparent. They are stored on a network of computers around the world with the help of a decentralized system. 
The information cannot be altered or tampered with, which provides 100% transparency and security to the user.
Cryptocurrency enters the World of Football:
Some of the big names in World Football including FC Barcelona, Paris Saint-Germain, Juventus, Athletico Madrid, AS Roma have imbibed this new form of currency to engage with their millions of fans worldwide.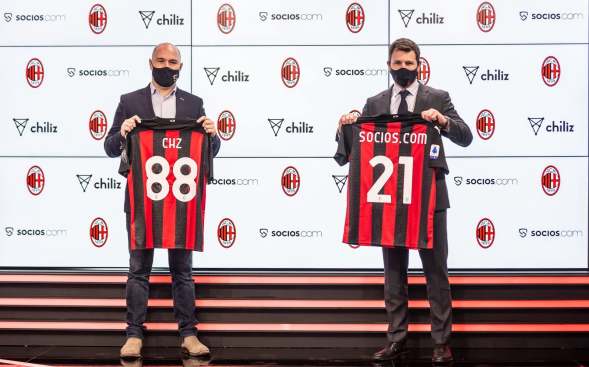 Italian giants, AC Milan are the latest Football Club to join the Cryptocurrency bandwagon. They have partnered with Chilliz, a fintech blockchain company to launch the $ACM crypto to reach their 400 million fans across the globe through Socios.com (a social platform to purchase 'fan tokens').
Portuguese club SL Benfica in 2019 became one of the first football clubs to allow the use of cryptocurrencies for the purchase of tickets and merchandising
What are fan tokens?
Fan Tokens are digital assets that represent your ownership of voting rights and give you access to earn unique club-specific rewards and experiences. 
Imagine investing in stocks of a big company in the stock exchange, this is something on similar lines.
How are these Fan tokens useful?
These tokens are fungible, meaning that like other cryptocurrencies, they can be exchanged for other 'goods', such as VIP experiences, exclusive club merchandise, matchday tickets etc. 
These tokens are tradeable as well depending upon the market valuation of a single club token (this would be highly related to the club's on-field performances or activity in the transfer market)
In the past, football fans have used cryptocurrency fan tokens as a way to engage with their favorite clubs in a number of ways. 
An ideal example would be of fans of Cyprus-based club, Apollon FC, choosing the team's first opponent for a friendly match, and even deciding on the club's home and away strips for the 2020/2021 season.
Cryptocurrency enters the Football Transfer Market:
David Barral, a former Real Madrid B team striker, has become the first-ever player to be purchased using cryptocurrency. The 37-year-old has officially signed for Segunda B side DUX Internacional de Madrid in a deal done entirely through the use of bitcoins.
This move was made possible by DUX Internacional de Madrid's sponsors, Criptan, who facilitated the move. Criptan is a local platform for the purchase and sales of cryptocurrencies. 
Most clubs are still in the process of testing the unknown waters, but we will definitely witness the trend of football player transactions taking place through digital currency in the future.