Dhoni's World Cup semi-final run out was the biggest trauma: Pandya
Recalling MS Dhoni's run-out in the semi-final of the ODI World Cup 2019; Hardik Pandya has said that it was like a "trauma" for him and the Indian team.
Chasing down the target of 240 against New Zealand, the Indian team was inching closer when Dhoni got run out in the 49th over of the game, ending India's hopes of advancing to the final.
The required run rate at that stage was well over 14, but Pandya reckons it was still within Dhoni's reach because of his experience of batting in such situations in the past and also because of the bowler he was likely to face in the 50th over.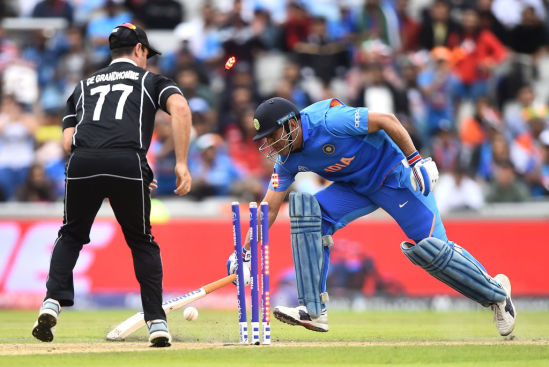 Jimmy Neesham had to bowl the 50th over as all the front-line bowlers of New Zealand had already completed their quota. Pandya says the Indian team was fully confident that Dhoni would pull it off against Neesham.
Pandya reckons it was a matter of a couple of sixes and he was backing Dhoni to send the ball into the stands twice. But, it wasn't to be, as Martin Guptill hit the bull's eye from an awkward angle.
Dhoni played the ball towards square leg and tried to come back for the second run, probably thinking that Guptill wouldn't be able to hit the stumps, as he only had one stump to aim at from the backward square leg position.
But, Guptill shocked everyone with a direct hit, putting the final nail in India's coffin. According to Pandya, it was a "miracle" throw from the New Zealand opener.
"The biggest trauma was when MS got out. I just knew with that person we knew, he has done so many times and he is going to do one more time. It was a miracle throw from Martin Guptill. Otherwise we were still confident." Pandya was quoted as saying by India Today.
"I knew Jimmy Neesham was going to bowl. And MS has 14 years of experience and that guy is chilled out. Mahi Bhai does not get much into the situations. I kind of knew that MS will find a way to score 2 sixes." Pandya added.
Featured Image Credits: Scroll.in