Borussia Dortmund vs FC Barcelona: Champions League Preview and Prediction
Europe's biggest club competition is back in business as the Champions League kicks off tonight. We've got a tantalizing fixture on the cards as FC Barcelona travel to the Westfalenstadion to take on Borussia Dortmund.
After a disappointing semi-final exit, the Catalan side will be raring to go and silence their critics this season. FC Barcelona's exit was a dramatic one as they conceded a first leg three-goal lead with Liverpool scoring four in the second leg and qualifying for the final.
Dortmund, on the other hand, were knocked out by Tottenham in the Round of 16. Lucien Favre's side were expected to do better, considering their form last season but the quality felt lacking in the Champions League.
Group F is the 2019-2020 Champions League's proverbial "group of death" as Internazionale is the other European giant rubbing shoulders with the Blaugrana and the Die Schwarzgelben. Rounding up the group is Slavia Prague; the minnows can cause a shock on their home turf. All in all, it is a tough group for the teams to maneuver through.
Dortmund have started the 2019-2020 campaign on a strong note. They've won three of their four Bundesliga games so far and are currently sit second on the table. The one blip has been the loss to Union Berlin.
A Lionel Messi-less FC Barcelona have had a lukewarm start to the season. In four La Liga games, they've won two, lost one and drawn one. 
The Catalans sit fifth on the table and Messi's presence has been missed at the Camp Nou outfit. Barca started off their season with a loss to Athletic Bilbao but have gained steam, defeating Valencia, 5-2, in their last outing. 
Messi has been declared fit for this fixture and this will be a big boost for Ernesto Valverde's men. Whether the Argentine will start or not, that we'll only come to know an hour before kickoff.
Key Battles
Jadon Sancho vs Jordi Alba
English winger Jadon Sancho has been on a steady rise in the footballing world. This game will be a major opportunity for him to show that he can ball with Europe's best.
The Englishman's electric pace and an ever-improving end product has helped him amass three goals and four assists in six games. He also bagged a brace against Kosovo while on national duty for England this past week.
Sancho's pace will be a tough prospect for veteran defender, Jordi Alba. That being said, Alba is no pushover and his reputation as one of the finest left-backs in the game is well earned. The Spaniard is an expert reader of the game, as evidenced by his stats, and a suffocating marker.
Sancho will also have to track back to contain Alba's offensive work. The Spaniard's overlapping runs allows Barca to put pressure on opposing defenses. Alba's tendency to support the offense, however, will also create space for Sancho to work with. The former Valencia man will have to sacrifice some of his attacking instincts to blunt the danger Sancho poses.
Axel Witsel vs Frenkie de Jong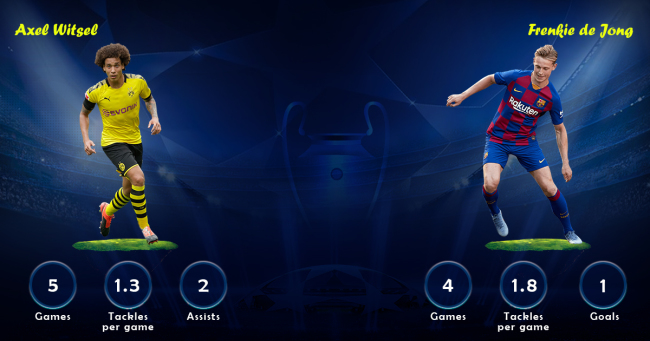 Both Dortmund and Barca will feature very similar box-to-box midfielders who'll be battling for midfield supremacy.
Favre has tinkered with his midfield early this season but Axel Witsel has given solid performances. The Belgian has found the net twice in five games so far. To go with his offensive output, he's also averaging 1.5 tackles per game, highlighting his ability to break the opposition's play.
Frenkie de Jong is a midfielder in a similar mold as Witsel. He's adept in both offensive and defensive functions and can drive forward. While the Dutchman is still adapting Valverde and FC Barcelona's style, there's no doubt of his ability.
The former Ajax midfielder has a tough job ahead of him as he'll have to be wary of Dortmund's sensational counter-attacking speed. His reading of the game will have to be precise so as to prevent the home side from catching the Blaugrana's defence off-guard.
Witsel, on the other hand, will have to closely mark de Jong's supporting runs near the box and help out the Dortmund defense. He'll also have to contend with Arthur Melo's playmaking skills in order to prevent quality delivery to Barca's deadly forwards.
Manuel Akanji vs Luis Suarez
A tall and burly defender against, arguably, the craftiest forward of his generation.
Swiss defender Manuel Akanji's strengths are visible from the get-go. His strength and size make him a formidable foe for a classic number nine with the Swiss getting out on top most of the time.
Against Suarez, however, Akanji is up against a multi-tool attacker who excels at getting past his man. The Uruguayan is not the same dribbler as he was in his prime but remains a terror in and around the box. Suarez's talent can expose Akanji's lack of agility. 
The toughest part for the Dortmund defender, however, will be to keep a check on Suarez's runs. Antoine Griezmann is bound to draw bodies towards him which will create openings for the Uruguayan forward. For Favre, it is imperative that Suarez is not left wide open considering the latter's finishing prowess.
Prediction
A Dortmund-Barca game is bound to be an entertaining one. Both teams have great firepower up front which should ideally lead to a high-scoring encounter.
Where the Catalans have the likes of Suarez, Griezmann and Messi in their corner, the home side can call on the likes of Paco Alcacer, Marco Reus and Sancho to plunder in goals.
Dortmund's home advantage is a big factor in this game, especially when you look at the Blaugrana's fragility away from home (Anfield, anyone?). Then again, the Catalan side's overall quality cannot be ignored as well. They are perennial Champions League favorites for a reason.
Then, there's the Messi factor. While the Argentine legend has been declared fit for this game, I expect Valverde to ease him into the side. It's a long season ahead and Valverde will be cautious with his best player.
Keeping all these facts in mind, I am expecting a 2-2 draw at the Westfalenstadion.
Predicted Score: Borussia Dortmund 2-2 FC Barcelona